In the age of 'vibey' Instagram-friendly cafes, perhaps nothing can beat old-school, old-world charm. However, while you might be thinking of no-frills coffee shops with their $1 and under Kopis, coffee brand Bacha Coffee might have a slightly different idea of 'old-school cham'.
In the last few months, if one has walked through the airport or gone shopping in prime locations like Marina Bay Sands or Ion Orchard, they might have noticed the latest Bacha Coffee store. Complete with checkerboard, marble-like flooring, gold lined countertops and elegant lighting, these "Coffee Boutiques", as they are called, look like they belong in something like a historic palace. Entering one of these opulent stores, one would notice that the chinaware used to serve each cup of coffee appear intricate and sophisticated, as do the gold pitchers that the waiters, dressed impeccably in white suits, skilfully pour into your glass. Prominently displayed in every store is the Bacha Coffee logo, an intricate coat-of-arms with the French words "Maitre du Moka", "1910", and "Marrakech" (a city in Morrocco) written on it. To really drive home how seriously Bacha Coffee embraces its positioning as an old-school luxury brand, one has to check out Bacha Coffee's flagship store. Located in the main throughfare of Changi Airport's Terminal 3 transit area, and rather pompously named "The Arch", the store, rises two stories high, and is decked out with (you guessed it!) arches and stained-glass windows.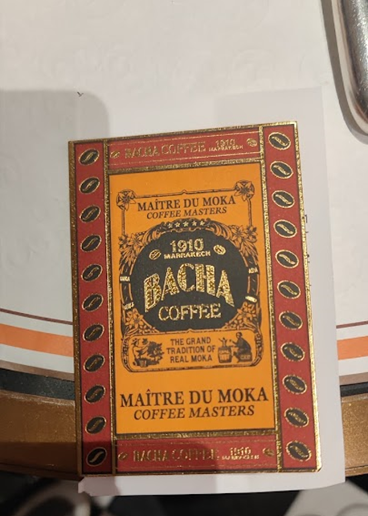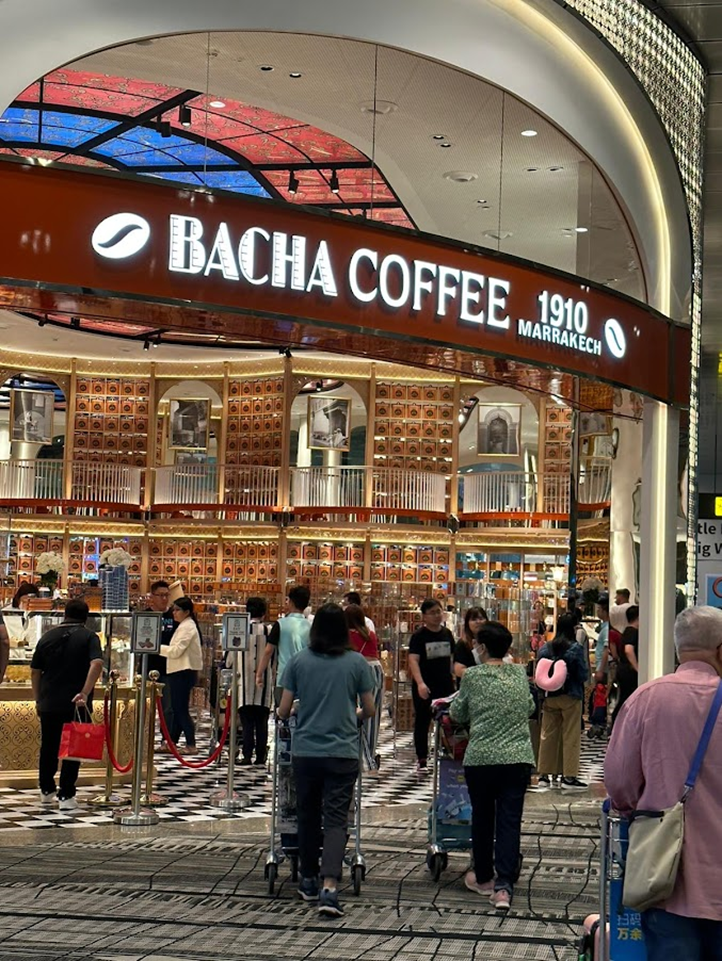 All these elements—the logo, the impressive store fronts, even the packaging of Bacha Coffee, implies that it's some sort of foreign, old, and sophisticated brand. And while I am no purveyor of what is sophisticated or not, the reality is that things are not so simple.
Instead, Bacha Coffee is a Singaporean company.
It is owned by V3 Group, which owns other well-known Singaporean brands like OSIM International (which specialises in massage chairs). But the more interesting sister company of Bacha Coffee under V3 Group, is TWG Tea, which, like Bacha Coffee, has a rather interesting way of branding itself, in terms of their logos, store designs, and even product offerings.
I think a visual comparison between the two brands might illustrate my point nicely: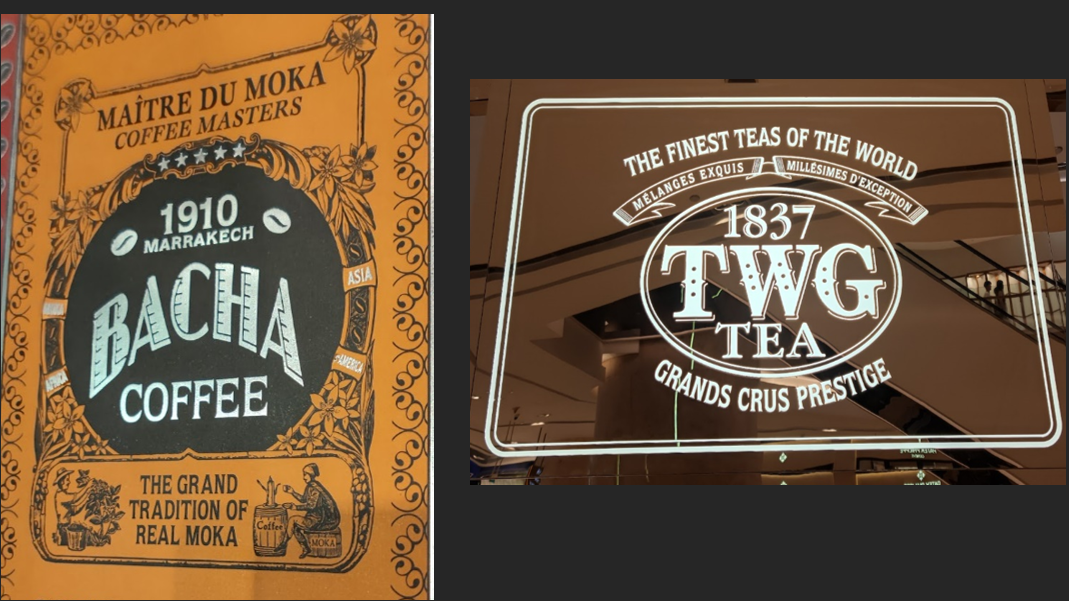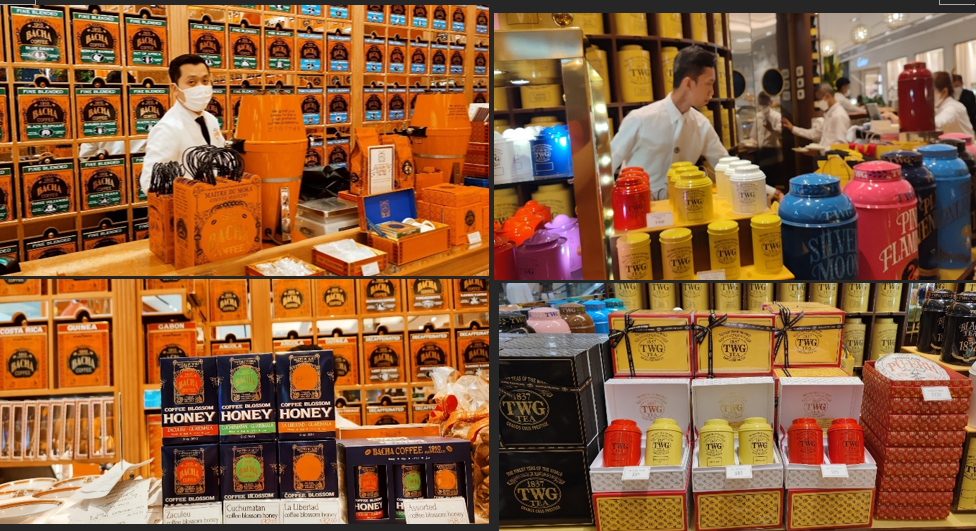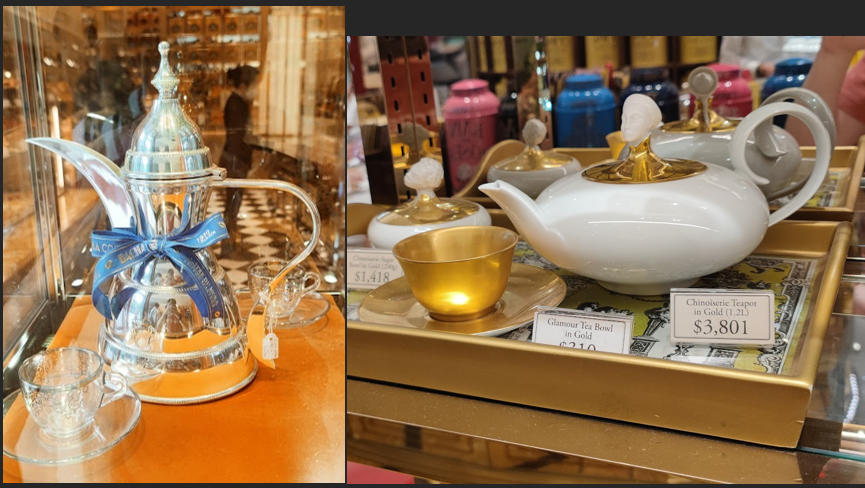 TWG v TWG: A Hong Kong Lawsuit
Similarities in branding aside, the reason I highlight TWG is TWG's use of the year "1837" on their logo.
The first thing to note is that unlike most establishments that place a date on their logos, there is no use of "estb" or "founded" next to the "1837" sign. And that is because TWG was not in fact founded in 1837. Instead, it was created in the ancient year of 2008, when the first TWG store opened in Republic Plaza.
Instead, TWG website's "About" page states that TWG "was established in Singapore and celebrates the year 1837 when the island became a trading post for teas, spices, and fine epicurean products".
What does that mean? It means that "1837" just refers to the year that the Singapore Chamber of Trade and Commerce (now known as the Singapore International Chamber of Commerce) was founded.
But is there a connection between the Singapore International Chamber of Commerce and TWG Tea? Nope! Granted, it does clarify on the same page that TWG was established in 2008, but the prominent display of the year "1837" in almost all of TWG's branding and advertising would suggest to most that TWG was indeed established in 1837.
And that is not just my opinion, but that of Hong Kong's judiciary, when TWG was sued in in the Hong Kong High Court case of Tsit Wing (Hong Kong) Co Ltd And Another v TWG Tea Company Pte Ltd And Another HCA2210/2011.  Now, the bulk of that case had nothing to do with TWG's 1837 iconography, although it is quite an entertaining case to read about if you have the time. In short, when TWG entered the Hong Kong market, there was another tea and beverage company called Tsit Wing Group that had already registered a trademark for the "TWG" abbreviation. Thus, Tsit Wing sued Singapore's TWG Tea's for infringements of its trademark.
However, where discussion of TWG's '1837' branding came up in the case, the presiding judge Justice John Saunders had this to say at [27] of the case:
"I have no doubt at all that the use of the French language to describe the quality of the goods on offer, and the particular words chosen, were intended to add to the aura of old-world luxury of the brand, and intended to be reflected by the cartouche style of the chosen sign.  Equally the inclusion of the date "1837" in the sign was plainly intended to convey a sense of long establishment."
Later, at [86], Saunders J criticised TWG Tea for branding itself in this way, holding that:
"The real intention of the choice of [1837] was in fact to give an impression that the company had existed since that time.  The only way a person might discover the "real" reason for the date, being a celebration of the founding of the Singapore Chamber of Commerce is to be told by someone from TWG Tea, or to find the appropriate reference on TWG Tea's website.  A customer reading the Tea Book while having tea in the tea shop would not learn this obscure background fact."
Where this "1837" branding becomes relevant was because the Justice John Saunders held that use of the year "1837", among other things, meant that the company was "not operated on the highest moral level"[1] and its continued use of the 'TWG' abbreviation in Hong Kong would lead to a 'dilution of Tsit Wing's goodwill'[2], and that Tsit Wing 'should not be subjected to the risks of being associated with a business such as TWG Tea'.[3]. Ouch.
The Origins of Bacha Coffee
Now, I had previously known about TWG's rather interesting method of branding itself for a time, and I had vague knowledge from the news about their legal tussles with Tsit Wing. So, when I walked first found out about Bacha Coffee while walking down the transit area of Changi Airport's Terminal 1 (there is a TWG and Bacha Coffee outlet side by side each other there), I couldn't help but notice the rather uncanny similarities in their logos. And when I found out that Bacha Coffee is a sister brand of TWG, I immediately thought that the "1910" on Bacha Coffee's logo could be another marketing gimmick. After some digging, I have indeed, concluded that this is likely to be the case. But at the same time, it turned out to be a lot more interesting, and complicated than I expected.
Looking at Bacha Coffee's website, its 'About' page provides a slick timeline of events that one can scroll through. The first item on the timeline states directly that "Bacha Coffee was founded in Marrakech in 1910".

Now, when you scroll through the timeline, it turns out the event that Bacha Coffee refers to as its 'founding' is the building of a palace called the "Dar el Bacha", which was indeed built in 1910.
The timeline further states that the palace fell into a "deep and enchanted sleep" (i.e. it closed) in the 1940s, before jumping to the year 2017 where it describes the restoration of the Dar El Bacha Palace, the 'reopening' of Bacha Coffee in 2019, and its subsequent expansion. Intersped between descriptions of these events are high quality photographs of the Dar El Bacha palace, various modern day Bacha Coffee stores, and large-font quotes about the palace's restoration process.
Curiously, none of these quotes are attributed to any particular individual.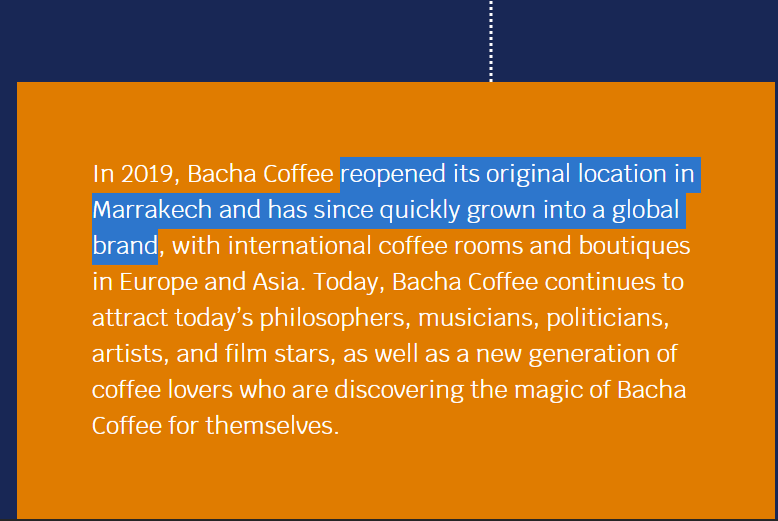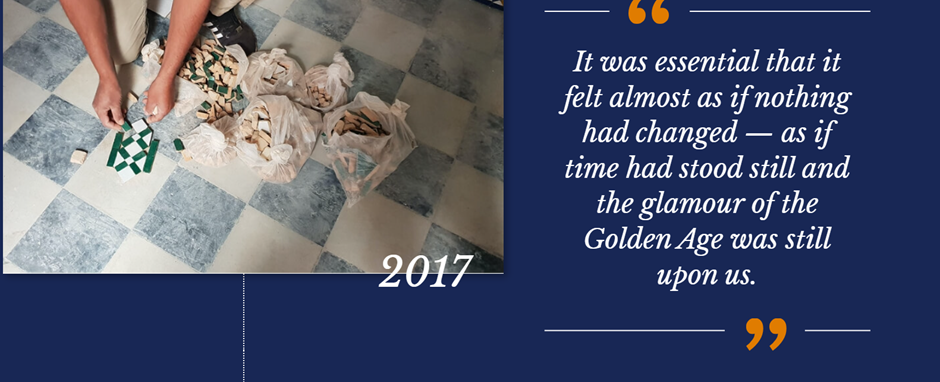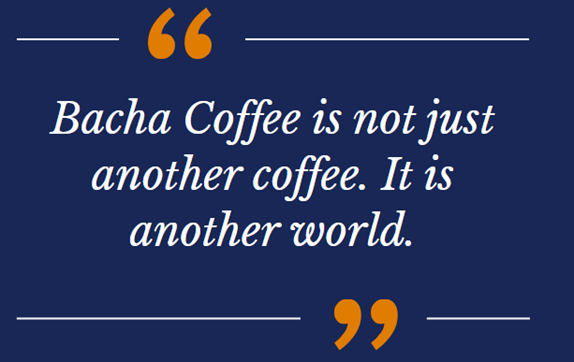 At first glance, I was rather confused. After all, it really did look like there was credence to Bacha Coffee's claim to have originated from the year 1910, and looking at their outlet locations on their website, there did indeed exist a Bacha Coffee outlet within the Dar El Bacha Palace in Morocco. But then again, the brand Bacha Coffee was a brand owned by the Singaporean V3 Group. So what gives?
I decided to check out the official website for the Dar El Bacha palace, which is now a museum and tourist attraction. The museum's website itself, while relatively sparse, does not reference the Bacha Coffee brand, save a small section advertising a café within its walls, describing it as "a small, but charming café located in the heart of Marrakech". While the words "Bacha Coffee" are never mentioned, the website includes a hyperlink to Bacha Coffee's website.
On the English language version of the page, the website simply states:
"Coffee has long been a part of the culture in Marrakech. For centuries, it has been enjoyed by locals and visitors alike. Coffee has been a part of the culture since the 15th century, when the city was part of the powerful Saadi Dynasty. Coffee was a popular drink among the people of the city, and has remained so ever since. Coffee is a staple of Marrakech culture, and can be found in almost every café and restaurant in the city."
This was not really helpful in tracking down the history of the brand. However, when I switched over to the French language version of the page (and translated it), more details were provided. It states:
"The history of Dar El Bacha Coffee goes back several decades. Founded by a family with a passion for coffee, the brand has evolved into one of the most respected names in the coffee industry in Marrakech. It all started with a small family cafe where family members honed their skills in the art of roasting and brewing coffee. Over time, their reputation spread, and the café became a popular destination for coffee lovers in the region."
This was rather interesting. If this website was right, it would mean that the Bacha Coffee outlet would have been around for decades, long before TWG or V3 Group ever came into existence. I began to think that it might be possible that Bacha Coffee as a brand might have indeed originated from 1910, and perhaps V3 had bought over the brand, or the distribution rights to it. At the same time, where does the palace come into this, and what is its link to the Bacha Coffee brand?
I tried searching around the internet for more information, but not much turned up. Information about the history of the Dar El Bacha Palace was sparse, and there was practically nothing on any pre-2019 iteration of Bacha Coffee. Bacha Coffee's website also was not clear about any of this.
Wordplay
However, I did notice after several read-throughs of Bacha Coffee's 'About' page that it uses some rather slick wordplay to draw a connection between its brand, the year 1910, and the palace itself. Reading between the lines, it gradually became quite clear to me that there was not much of a link at all.
Going back to the beginning, the "1910" that appears on Bacha Coffee's branding refers to the date the palace in Marrakech was built rather than Bacha Coffee as a brand in its own right. I realised that at no point on the website, or in any other external source I could find on the palace, was it indicated there was any establishment selling coffee at that time (or even any connection to coffee at all). It just states that the building of the palace "united the greatest cultural and political minds of the century over glittering pots of 'coffee of Arabica".
Translating this into proper English, it probably means that at the point in time when the palace was built, there was probably no café within the palace that sold coffee. Instead, people lived in and visited the palace, and probably had coffee while they were at it.
Next, Bacha Coffe's website describes the palace's restoration in very flowery language.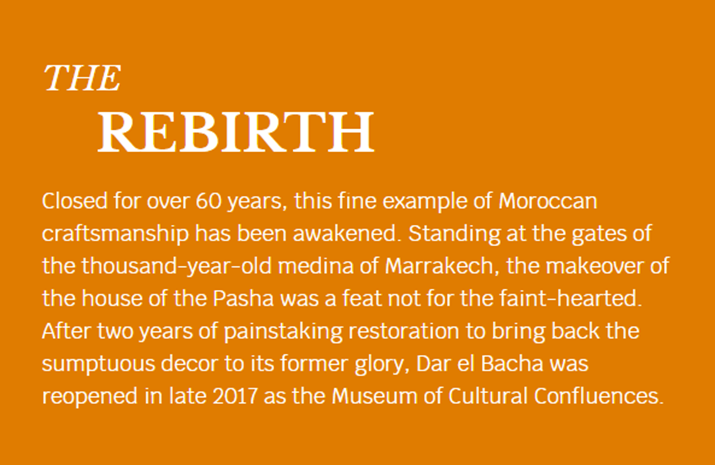 The next slide in the timeline is, in my opinion, rather disingenuous of Bacha Coffee. It states that
"To restore the courtyard and adjacent private rooms of this listed historic monument, Bacha Coffee brought together numerous experts in their fields. Architects, historians and craftsmen of all trades worked together to preserve and revitalise Bacha Coffee. This included the installation of the spectacular glass roof, the decoration of every room, and placement of every chair and table."
(emphasis mine)
The placement of this paragraph right below that of the restoration of the whole palace (as a museum) could suggest to the average reader that Bacha Coffee (the brand) was responsible for the restoration of the entire palace. But reading closely, it seems that all Bacha Coffee actually did was to 'restore the courtyard and adjacent private rooms'. As it turns out, the Bacha Coffee outlet within the palace is located within the Palace courtyard, and some rooms next to it.  In other words, Bacha Coffee was responsible for restoring and designing the part of the palace where the Bacha Coffee store is located. However, by placing it right underneath the paragraph about the entire Palace's restoration, it makes it seem as though Bacha Coffee the brand and the Palace are one and the same, which they are not. And all the rest of Bacha Coffee's supposedly rich history really is just the history of a particular palace in Morocco. Ultimately, the rest of the Palace – bar the Bacha Coffee outlet – is really a museum, unrelated to the brand.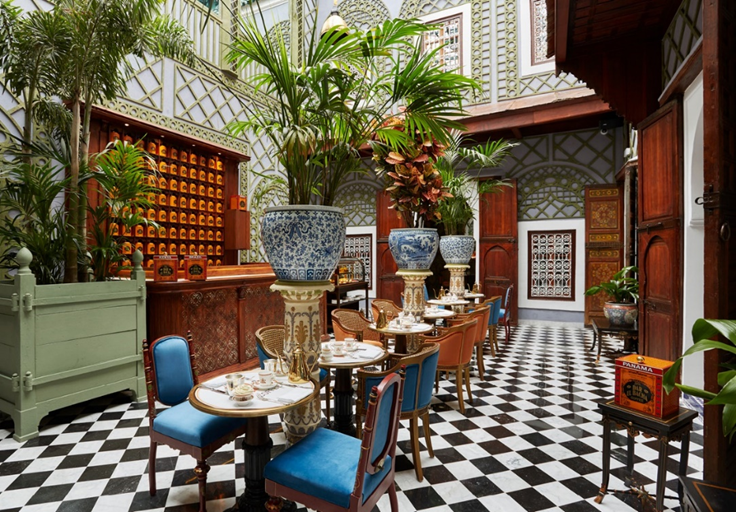 However, there is one little unsolved mystery, which is that there did appear to be a café on the grounds of the Dar el Bacha Palace which long pre-dated Bacha Coffee as a brand, and which has transformed into the Bacha Coffee as we know it today (the Singaporean brand owned by V3). So how and when did this 'family-owned' café come to be under the Bacha Coffee brand?
Digging a little deeper, I came across an interview with the founder and CEO of V3, Taha Bouqdib, on Tatler Asia, where it talks a little of how the brand came to be.
It states:
"After successfully dominating the luxury tea industry, Bouqdib turned his sights towards the burgeoning coffee industry and thus created his latest concept Bacha Coffee in 2017. "I was in Marrakech with the King of Morocco, when I first learned of the heritage brand at the historical palace of Dar el Bacha, which means "house of the Pasha". The story captivated me in an instant. I was fascinated by its history and was interested to revive it on a global scale," Bouqdib says.
As he was already based in Singapore and had seen the island's booming coffee culture, he decided to open Bacha Coffee's first international post here."
While this little excerpt does not state how Bouqdib came to own the existing café within the Dar el Bacha palace, one might infer that he probably bought over or invested in the store, rebranding it into the Bacha Coffee we see in Singapore today.
Thus, to sum up the history of Bacha Coffee, there does appear to be a 'Bacha Coffee' located within the Marrakech palace itself (although it quite likely does not date all the way back to the year 1910). However, from the looks of it, a café had previously existed there for a period of time before coming under the V3 Group sometime in the late 2010s, before launching it as a brand in Singapore.
Taste Test
But ultimately, the most important question is: How does Bacha Coffee taste?
I decided that after going down such a deep rabbit hole into the history of Bacha Coffee, I owed it to myself to find out what the hype was all about.
Thus, I enlisted my good friend, Mr Li Minghan (whom I consider a coffee aficionado) to come down with me on a Sunday afternoon to Bacha Coffee's ION branch.
When we arrived at about 3 pm, there was a huge line going right out of the door.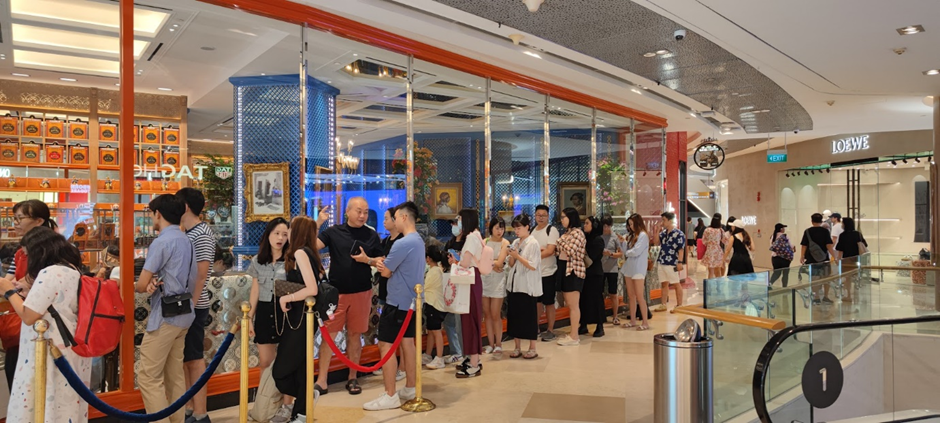 However, considering the sunk costs that I had already put in to write this article, there was no turning back, and we settled into queue, entertaining ourselves by marvelling at Bacha Coffee's store design, and listening to Minghan's opinions on the different types of coffee.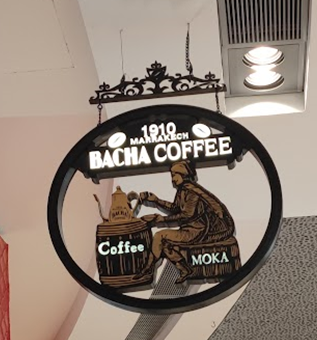 "The difference between a single-blend and mixed-blend coffee is that it's easier to make a tasty mixed-blend coffee as the different types of beans can cover up for each other's imperfections," Minghan told me, "It's harder to do that for single-blend coffees. But that's why specialised coffee places do mostly single blends".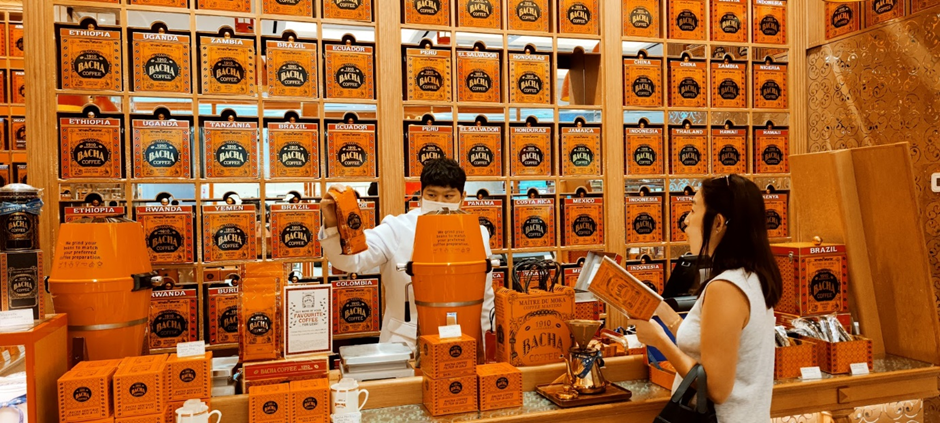 "Bacha Coffee sells a lot of mixed-blend coffees".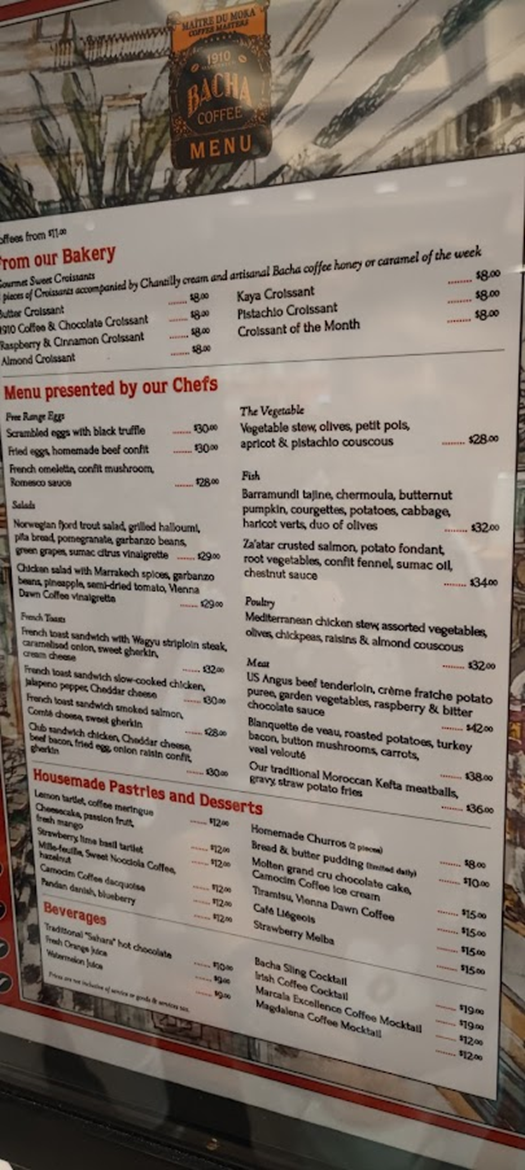 It took us about an hour to get to the front of the queue, but once we got inside, the service was excellent, with the waiter going to the extent of pulling out my chair and tucking me in.
Pulling up Bacha Coffee's drinks menu, I was astounded at the number of coffees they had on offer. As I had no idea what most of the words on the menu meant, I let Minghan do the choosing, whereupon he picked a Guatemala Sierra Madre Coffee (single-blend of course), and a pair of jam-filled croissants.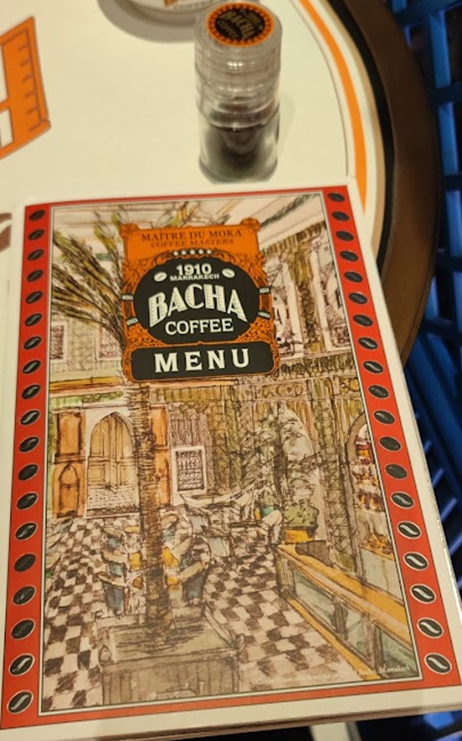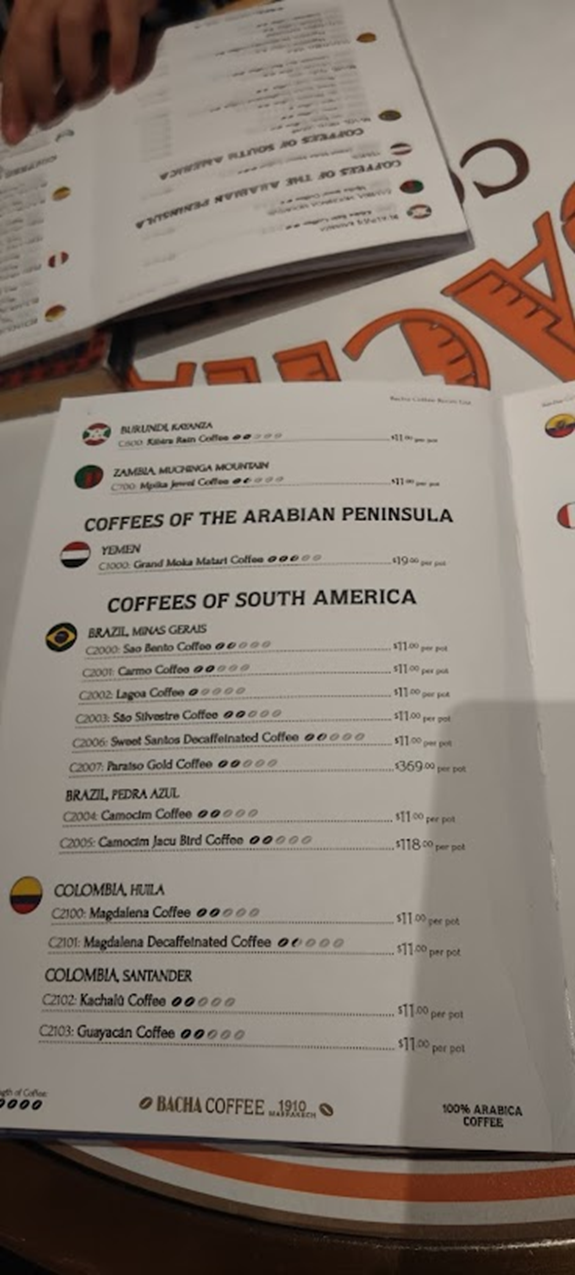 Soon enough, the waiter arrived with an ornate, gold-coloured pot, before pouring out our coffee in a long, smooth line, into our waiting cups.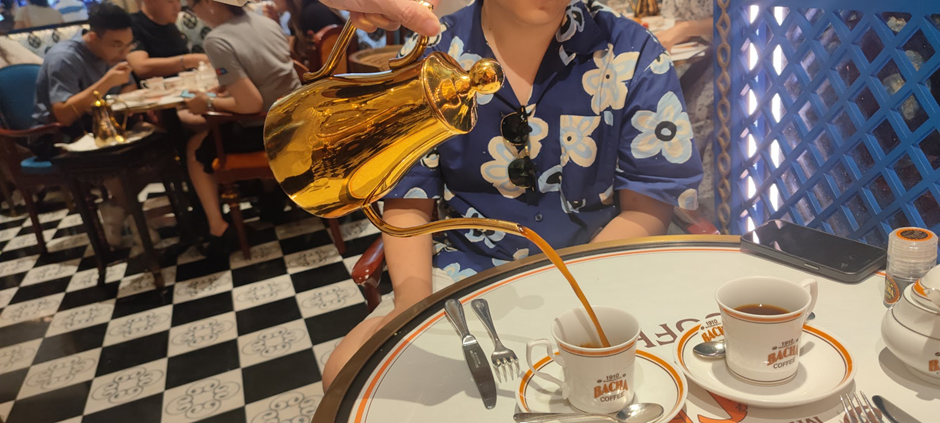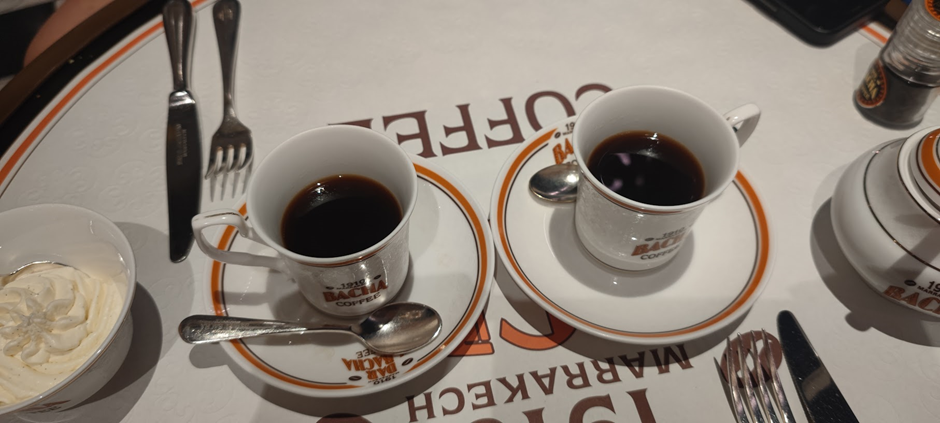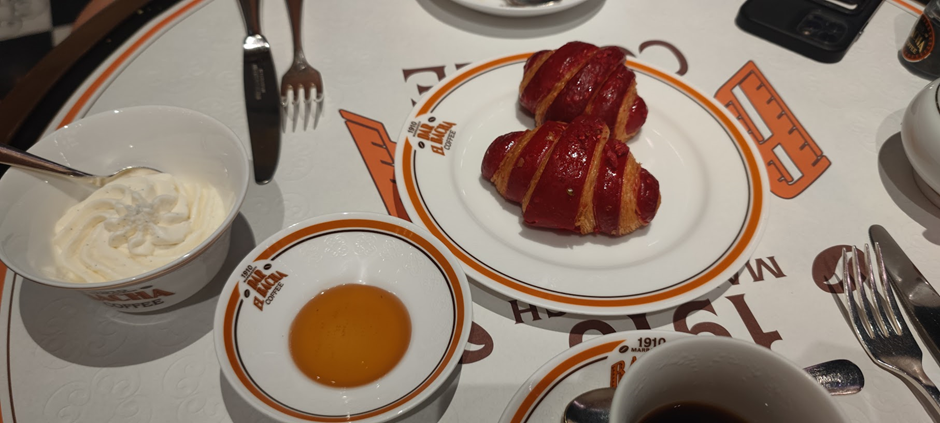 After the waitress had poured out our cups of coffee, she left the pot at our table, which we could pour at our own leisure. That pot was able to provide around 5 cups of coffee between the both of us, which I felt was pretty generous. The coffee was served black, but came with a serving of whipped cream which we could add if we preferred our coffees milky.
The jam filled croissants, which arrived shortly after, came with a further side of honey. Not that they needed any further sugar, as the croissants on their own were already very sweet. I would say that the honey would have been overkill had we only ordered the croissants, and I have a sweet tooth. As it was, however, the sharp bitterness of the coffee provided a nice balance to the croissants, and the fact that the pot could provide several cups of coffee per person allowed us to experiment with different permutations of the ingredients before us.
It was all rather delicious.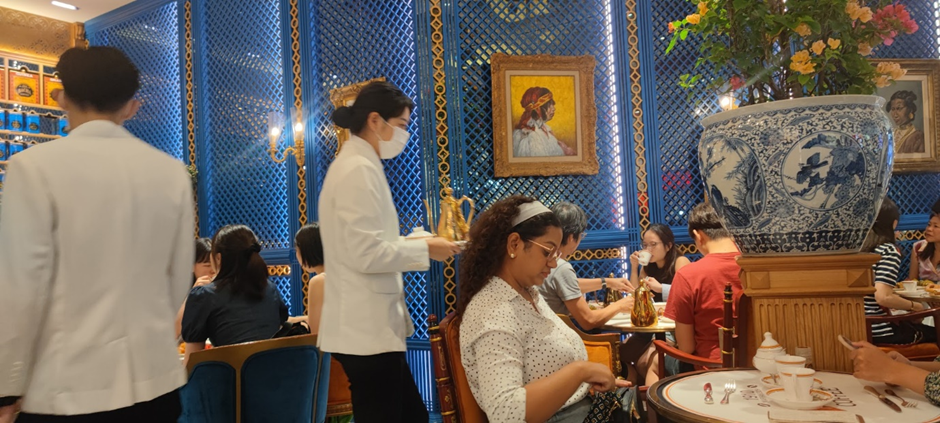 In total, our extended coffee break cost us about $22 (for the both of us), which I felt was a little steep, but reasonable.
"I feel like I just had a gentrified Ya Kun," Minghan said after we left.
All in all, I had an enjoyable time at Bacha Coffee.
What to make of this?
I must admit, that despite my misgivings about the way Bacha Coffee and TWG brand themselves, they nonetheless have a solid product. It is just that knowing what I know now about TWG and Bacha Coffee, it becomes endlessly amusing to me to observe all their efforts to cosplay as some sort of historic international institution of coffee beans or tea leaves.
I am not writing this article to criticise Bacha Coffee or TWG. Conversely, I think it is a rather clever way to brand themselves. And for Bacha Coffee in particular, I have to admire the lengths that Bacha Coffee went to justify the '1910' in their logo. There is at least, a much stronger link than 'celebrating' the founding of the Singapore Chamber of Commerce, as it was with TWG.
And as far as I could tell, considering how packed Bacha Coffee and TWG stores are during the weekends, it shows that their branding is very effective. Much the same way that a room in Raffles Hotel would cost more than its more modern neighbours in the CBD, it appears that making a Singaporean brand look older and more foreign than it is makes it more premium.
What I think is somewhat regrettable, is why Singaporeans seem to immediately associate something old and foreign as being more valuable, and thus worth paying more for than something local. While I don't dispute the intrinsic quality of the coffees or teas on offer, there is clearly a reason why the marketing and business development people at V3 Holdings have chosen to position Bacha Coffee and TWG in this manner.
But perhaps I am not being entirely fair to these brands. TWG and Bacha Coffee are not solely aimed at Singaporeans. TWG for example, has branched out to many countries overseas, and has become one of the more well-known Singaporean brands internationally, even if most of its consumers do not actually know it comes from Singapore. Clearly, the branding works not just on Singaporeans, but for consumers from 4 separate continents. And while Bacha Coffee is not as established, it is a much newer company and may in time prove as successful. Perhaps one day Bacha Coffee will put us on the world map for its world-famous Moroccan coffee.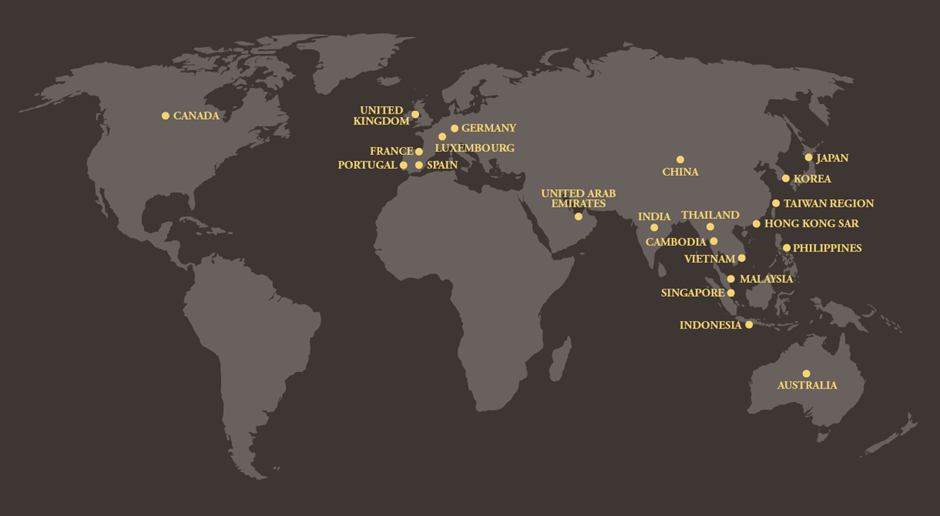 ---
[1] Tsit Wing (Hong Kong) Co Ltd And Another v Twg Tea Company Pte Ltd And Another HCA2210/2011 at [157]
[2]Ibid at [159]
[3]Ibid at [158]