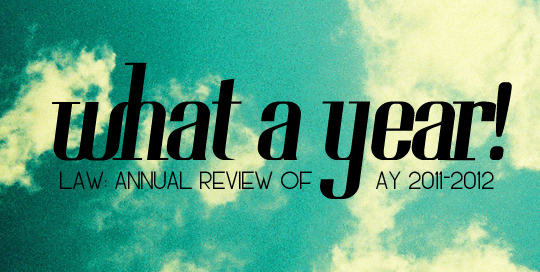 Time flies. One moment you're 9gagging in the introductory lecture for (insert Law Module here), the next you're gagging at the amount of readings you have to cram into that over-saturated brain of yours for the examinations.
As the seconds inch closer to your impending doom, you're panic-stricken. You momentarily lapse into Amnesia and you wonder: what happened all this while?
Well, fear not. Here is a recap of the year that flashed past in a blink of an eye, featuring the top 10 highlights of AY2011-2012:
10. Summit Sweethearts and The Mee Pok Man
When The Summit reopened for the new school year, many were surprised to see two fresh-faced young ladies at the counter, smiling sunnily and chirpily asking: "coffee, tea or m..ilo"? The vendors were dressed in rich green hues. A reorganization of seats made the place seem bigger. Signboards featured rainbow-coloured borders. Suddenly it felt like spring.
Cheryl and Vivien, both in their early twenties, had taken over the management of The Summit and the Western stall respectively. It is their first foray into the food business, one which they embarked on with zest and passion. As Cheryl herself said to us in our first ever feature article on Justified: "The Summit is like our baby; it is here that we want to hone our management experience and skills, with a view to expanding our business to other places such as schools and institutions."
The Summit now has a greater variety of fruits and more combinations of juices. The health-conscious rejoiced at the availability of salads, couscous and yogurt at the Western stall. Those who couldn't care less indulged in crispy fried fish and generous servings of fries. We even had the pleasure of feasting on delicious fishball noodles from Adam Road without making the arduous trip downhill.
However, change is the only constant. Change is inevitable, except from a vending machine.
Wendy and Jeffrey, the masters at preparing mee-kia and bak chor mee, decided to return to focus on their main stall at Adam Road after only a semester. Managing their family and shuttling between two stalls had proved to be too difficult to manage, as Wendy disclosed in an interview with Justified.
The affectionately-termed "Summit Sweethearts" (or to some, "Summit Girls") would not be extending their contract to manage our main source of sustenance. Their last day at The Summit is 10th May. Even though their tenure of The Summit has been short-lived, their attempts to invigorate taste-buds here at BTC were commendable. We wish them all the best in their future endeavours!
09. Angsana Sprouts to Provide Shelter and Study Area
Not so long ago, 9.55pm was the most dreaded time of the day for patrons of the CJ Koh Library. This was when music blared loudly throughout the compound, its unpleasant nature driving a few nuts and everyone out of the place. Muggers stumble out of the library, struggling with their possessions, not unlike someone who have just been evicted by the landlord. Some are bleary-eyed from all the reading; some are reeling from sudden enlightenment of the holding of a case right before the cacophony; others, having being jolted out of the rare productive momentum (which seem to only occur just moments before the library closes), look distressed.
Many wander, aimless like the homeless. The issue here is: where can I go to continue studying?
By this time, the air-conditioning system in Block B would have been switched off. And Block B is a very long trek away from the library.
Studious students rejoiced when the Angsana study rooms were completed. The conversion of space into conducive study areas is a much-needed and well-received one in the Bukit Timah Campus. This area is opened for twenty-four hours, is fully-air conditioned and is furnished with comfortable seats. There are now less frustrating events to vitiate the efforts of the hardcore law student striving to stick to his revision plan. Some have migrated from the library to claim proprietary interests in corners of the Angsana. Others have set up base camps there for their Finals battle. Either way, there are more options for people to study.
May the bell curve be ever in your favour!
08. Glory, Glory Women United
Talk about the Inter-Faculty Games (IFG) and Law Faculty would usually be nowhere in the news. However, all that changed when our girls won GOLD for the 2011 IFG Women's soccer. Captained by Hannah Cheang (Year 3), the formidable team weathered the competition as they played hard in the scorching sun and heavy downpour. In the prelims, the team beat FASS 3-2 and drew with USP 2-2, thereby topping our group table and qualifying for the semi-finals. The team then drew with Business in the semi-finals and the winner had to be decided based on a penalty shoot-out. Star keeper Jolyn Ang from Year 2 made a spectacular save that saw the team going into the finals, where the team eventually emerged victorious against Science with a score of 2-1. This triumph is testament to the capabilities of the fairer sex in Law School: not only can they please the court, but–watch out– they can kick balls too.
07. Moratorium
The votes are in, and the fate is sealed for the batch graduating in 2014. There will be no moratorium.
However, it is not the outcome but rather the process that makes this year's moratorium voting worth mentioning.
When Law Annual appealed for seniors to share their views on the moratorium so as to allow the Year Twos to be able to make an informed decision, seniors were more than willing to do so. All around, there was a better understanding of the implications of (and without) a moratorium.
More significantly, allowing opinions to be aired on the public platform that is Overheard @ BTC generated a discussion. Some questioned the 66% voting mechanism. Others wondered about the necessity of a moratorium. We heard opinions from established law firms. Law Club shed light on the voting process. People provided feedback. All these were then consolidated in an Article on Justified for all students to make an informed decision.
Public discussion allowed for transparency. This episode also highlighted the receptiveness of the Law Club MC: promptly, the moratorium voting was postponed so that our concerns could be reviewed with SMU Law.
Moratorium or not, results aside, this was a pivotal event. Because of the enthusiastic discussion by everyone all the year-twos are more informed about the (de/)merits about a moratorium and even the freshmen have an awareness of the importance of his or her vote.
06. It's now a walk in a park going to school!
The opening of the Botanic Gardens MRT Station makes it on our list of Top 10 highlights of the academic year because of the sheer positive impacts it has on law students. You get to see the Swan Lake along the way. Looking at all the greenery helps to relax those strained and tired eyes. The ten minute walk, culminating with hike up the flight of stairs leading to the campus, provides a time-efficient cardio workout which reactivates all the muscles that have been rendered dormant due to the prolonged hours of sitting at the study desk. Furthermore, travelling times are shortened. Now there is one less excuse for being late for class–unless the force majeure event of a MRT breakdown occurs, that is.
05. Law School Gives
William Shakespeare famously wrote what was one of the earliest recorded lawyer jokes: "The first thing we do, let's kill all the lawyers" (Henry IV, Act IV, Scene 3). This quotation, taken out of context, is as distasteful to literature buffs as those terrible lawyer jokes out there are to us. The stereotypical lawyer is conniving, immoral and dead sure to end up in hell. The law fraternity in Singapore is attempting to challenge fate by implementing more pro bono initiatives in recent times. Right here in NUS Law School, it is heartening to note that students are already striving to gain karma points before they morph into legal eagles. Besides the annual Law IV and the activities of the Pro Bono Club, the Law Club has organized the inaugural Law School Charity Run, while the Year Two Class Committee is embarking on Law School's first ever OCIP. Significantly too, the Law Faculty was awarded the Most Outstanding Progress Award for Flag 2011, with a 100.976% increase in the amount collected by Law freshmen.
May Law Students continue to reach out to the community and contribute in any way possible: be it in the legal aspect, or otherwise. To borrow the catch-phrase of out-going President of the Pro Bono Club Chan Yi Cheng, "U2 can do pro bono". Not only that, remember that it is good to do good because it feels good to do good.
04. Justified
A brief history of Law Annual: it used to be an annual print compilation of highlights of the year past.
Legend has it (NB:All similarities to any persons dead or alive are purely coincidental. Refer to the Editor's Note for the actual humble beginnings of this website.) that the idea for an online school-life portal was conceived one fine day when a visionary, fine young man experienced an epiphany while facing his books (or he might have been facebooking–the source could not be verified). He was feeling jaded with his Law School life, because the terms "Law School life" were in themselves ironic: it was all about school–studying, learning, reading–and nothing about a life. He was a lean mean mugging machine. He had surrendered his soul to Law.
This was an epidemic which had rendered the entire student population the living undead. All around, the spirit was flagging.
He couldn't bear the thought that on Commencement Day, when his past four years flashed past in his mind, his most vivid memory was generic of every other memory, which is him facing a huge stack of notes. Either alone, or with the same old faces.
And so, he set forth on his mission to be pro-life in Law School.
Justified was created as an online platform chronicling the happenings in Law School. The website is a respite from Lawnet. It provides an avenue for those who felt oppressed by the pedantic nature of legal writing to apply what they had learnt about creative writing, long ago in secondary school.
In just less than a year since it had been created, the website has drawn more than 8000 hits. The most popular post had more than 4,158 views. Our audience extends beyond law school. Imitation is the best form of flattery: other faculties have sought advice from our learned founding Chief Editor Kok Yee Keong, and websites bearing uncanny similarities to the Justified model have appeared.
This success is attributed to the passionate and enthusiastic members of Law Annual, willing contributors, as well as the dedicated and capable team of six who saw the idea of Justified from conception to fruition.
Most importantly, we owe this success to you, Dear Reader. Especially to those who subscribed to our RSS feed, and eagerly anticipate every newly published article.
Thank you.
03. Overheard
Author: Anonymous managed to capture a most fitting description of law students in the splendid article "Life and the Law School":
"The thing about law school is that you're entering some sort of rarefied atmosphere; if you're not careful, you'll start quoting case names at each other, making puns about studying at "the benches [along the corridor]" and studying "debentures [in company law]", and wondering why the rest of the world doesn't get your joke about all power having legal limits."
Initially, the secret Facebook group Overheard @ BTC was set up so as to allow students to share golden quips from professors and peers alike so that the rest of Facebook would not judge these idiosyncratic prospective lawyers for incessantly posting illogical status updates.
The creators of Justified had hoped that the Facebook group would complement the website. It was a daring experiment. After all, batches of law students rarely interacted with each other in the real world.
Overheard @ BTC has evolved into so much more than we could have envisioned it to be. There are now more than 600 members. Announcements are broadcasted here. People find what they've lost via the group. We've found a safe haven for trashing our nemesis when they tried to doctor the Med-Law games by refusing to allow our foreign exchange friends to participate. It is an effective medium for inter-level discussion, as seen from the discussion of the moratorium.
There is now a buzzing online law school community.
02. Dean Cheng-over
Professor Tan Cheng Han stepped down on 30th December 2011, after four terms as the dean of NUS Law School. Notwithstanding his record as the longest-serving dean of the faculty, Prof Tan leaves behind a legacy comparable to that of Hogwarts' Professor Dumbledore. Both are well-respected, and have had significant contributions in their respective fields. Both have similar amicable and down-to-earth demeanour.
Professor Tan Cheng Han strikes a chord with students, not least with his preferences for Lady Gaga and Katy Perry. To many, he is a role model. He was one of us. The communal history of thriving in the same system and facing similar tribulations, allows him to identify with students who are currently, barely surviving this revision period. To the typical average student in Law School, Prof Tan represents hope. He was not a Dean's Lister (in his own words he had barely scrapped past Year Two). He did not read full cases. Sometimes, he got notes from peers. He was juggling extra-curricular commitments alongside academics–and yes, occasionally he sacrificed the latter.
Rarely are there delightful things to look forward to during the extremely stressful revision period. Besides the welfare packs (thank you, Law Club!), the only other wonderful thing appeared in the form of an email from Professor Tan Cheng Han as Dean. His heart-warming messages had been a source of encouragement for the student body.
For those who miss his anecdotes, do check out our exclusive interview with Professor Tan.
Professor Tan passes the baton on to Professor Simon Chesterman.
Professor Simon Chesterman was a brilliant law student: his notes "became fairly well known at Melbourne Law School in the 1990s", and he graduated with First-Class Honours. Although you can't use his muggers now, you might want to refer to his studying tips in his book: Studying Law At University —Everything You Need to Know. Prof Chesterman has had an illustrious career: he did research and field work with the United Nations (working at the UN Office for the Coordination of Humanitarian Affairs in Yugoslavia during the dying days of the Milosevic regime), and had taught in American, Australian and English universities prior to being a professor here at NUS. He listens to Eminem, The Chemical Brothers and even Gustav Mahler.  He is a Star Wars fan. And now, Prof Chesterman is the new dean of law school.
As Dean Chesterman implements new initiatives to bring the faculty to greater heights, one thing is likely to stay constant: the emails to students. Per the dean himself in an exclusive interview: "I shall make a note to send emails to students during the exams because I don't want them failing and then blaming it on me!"
01. Rag to Riches, Zero to Hero
The Law students' search for Justice had us sweeping all the top accolades for this year's Rag and Flag Day: 3rd Best float, Best Presentation, and "most notably, the coveted NUS President's Challenge Shield for Best Rag Performance". We exceeded our expectations, dashed other faculties' hopes, and made Law School history. Although we might have lacked in resources and manpower, we more than made up for these deficiencies with passion, ingenuity and grit.
Inimitable Rag Head Eugene Ong, along with his brilliant team of Year Two geniuses, guided a talented, enthusiastic crew of junior Raggers to present an epic tale of good-triumph-evil. The oriental Shanghai Tan theme was vividly brought to life with the clever incorporation of wushu into the dance routine, which was masterly integrated with impressive stunts, by adroit performers decked in realistic costumes and dramatic make-up, against a majestic float inspired by Chinatown shop-houses. Words fail to describe how fantastic we were. You simply have to witness it yourself (Credits to Jason Lee, Law 2 for the video) :
Or from an interesting perspective of looking out from the float: (Credits to Eugene Ong, Year 2 and Geovenn Christos, Year 1):
As the results were being announced at The Promontory @ Marina Bay, all the Raggers were gathered together, hugging each other anxiously and chanting "Law, Law, Law" at the top of their voices in unison. When victory was conferred upon the Law Faculty, euphoria ensued. People were embracing and congratulating each other; many were overwhelmed and shed tears of joy. Even Float Head Ng Boon Gan, known for his stoic demeanour, broke down.
Our Rag victory was probably the defining moment of what it means to be a part of NUS Law.
~~~~
It's truly been an epic year for Law School. The Law Annual team thanks everyone for their support in the past year, and wishes you all the best for the upcoming examinations!
*****
Article contributed by: Jolene Ng and Kok Yee Keong (Law 2)
Christos