Drew & Napier LLC is one of Singapore's oldest law firms, established in 1889 by Alfred Henry Drew and Walter John Napier. As one of the Big 4 firms, Drew & Napier is highly sought after for its exceptional legal advice to clients.
On 20 January 2021, Drew & Napier held a seminar talk as part of Law Careers Fair 2021. Here is a quick summary for those who have missed it: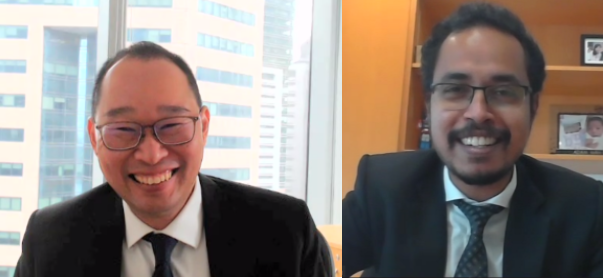 Mr Kelvin Tan (Left) and Mr Adam Maniam (Right)
Mr Kelvin Tan started by sharing about Drew's partnership with other blue-chip law firms in Southeast Asia to form the Drew Network Asia (DNA). DNA's aim is to provide an integrated and collaborative legal service in the region.
Afterwards, Mr Adam Maniam highlighted Drew's commitment to nurturing young talents. Many of their young lawyers are featured as recommended lawyers by Legal 500 Asia Pacific. He also added that Drew regularly engages in Pro Bono work.
To dispel the myth that Drew is all work and no play, Mr Maniam points out that Drew has a "Ministry of Fun" headed by one of its directors. The department focuses on organising events like coffee making and wine tasting every few weeks so that the firm can get together, let their hair down and enjoy. Here are some of the snapshots of past events: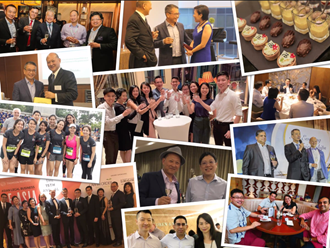 Training Contract

Mr Javier Yeo (Left) and Ms Tan Yuan Kheng (Right)
Addressing concerns on training contracts, Mr Kelvin Tan emphasises that their training contracts are offered with the intention of retaining all trainees. As such, Drew & Napier has a historic retention rate of 90-95% of their trainees. Mr Kelvin Tan adds that most of their senior management have been with the firm since Day One.
As for the application process, Mr Javier Yeo states that there is no minimum CAP requirement and that the firm will take a holistic analysis of the individual. What matters is that you stand out in some way and that you are a good fit for the company. As Mr Kelvin Tan puts it simply, "your grades are a historical fact, when you join us, we want you to have the energy and drive to continue doing well."
Finding a practice that works for you
One of the FAQ was "How do I pick a practice/specialisation?" Ms Tan Yuan Kheng answered that there was no one-size fits all answer since it depends on the individual. She shared her experience of not being sure as well which is why she picked commercial litigation for its diverse work (probate, trust, contract, etc). Her best advice for those who are unsure is to do internships to find out your preferences.
Another question was "What skills are useful in practice but are not taught in law school?" She responded by pointing out that you must pick up a lot of new skills once you enter practice. The most important skills to pick up are drafting skills, client management and understanding your client's commercial concerns. Lately, she found herself having to pick up more IT-related skills due to the COVID-19 pandemic.
Internships
Much of the same advice for TCs apply to internships. One attendee asks if the internship this coming April-July break will be physical or virtual. As of now, the firm still engages in segregated work arrangements so it may be difficult to accommodate all the interns physically but Mr Kelvin Tan states that if the regulations permit, he is open to a fully physical internship.
Tips on sustaining in the legal industry
"Give yourself a chance!" Mr Adam Maniam asks the audience to think back to their first LARC assignment (case summary). He said that you were probably very stressed and spent hours creating multiple drafts. But he said that after year 1, if one is asked to do a case summary again, one will find it a lot easier. He said this applies to the rest of your legal career. You will struggle at the start, but will slowly ease into your legal work. Therefore, "give yourself a chance!"
As for Mr Kelvin Tan, the thing that gets him up every morning is the Drew family. He finds comfort in knowing that he has ample support from his colleague for both work and personal matters.
This is just the beginning of Law Careers Fair 2021. There is an exciting line up of virtual exhibition talks in the upcoming weeks so do visit them!