My second Law Annual post on musicals and theatre!
If you've never seen one of these adverts around Singapore, you must be living under a rock (or in the Angsana that's open 24/7).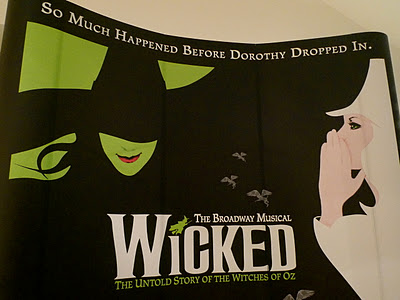 Wicked is a Broadway musical that is based on Gregory Maguire's novel, Wicked: The Life and Times of the Wicked Witch of the West (though it departs from that novel in more ways than one). Wicked is basically the backstory of the famous children's tale of The Wizard of Oz. The story revolves around the friendship of Elphaba, who eventually becomes the Wicked Witch of the West, and Glinda (or Galinda, the name that she went by at the start of the play), the eventual Good Witch of the South. Elphaba is smart but severely misunderstood, while Glinda is beautiful, encouraging and popular. They start off as enemies (I loved "What is this Feeling" where they sang about how much they hated each other!), grow to become friends, and are eventually forced to separate because of how they had chosen to take different paths in life.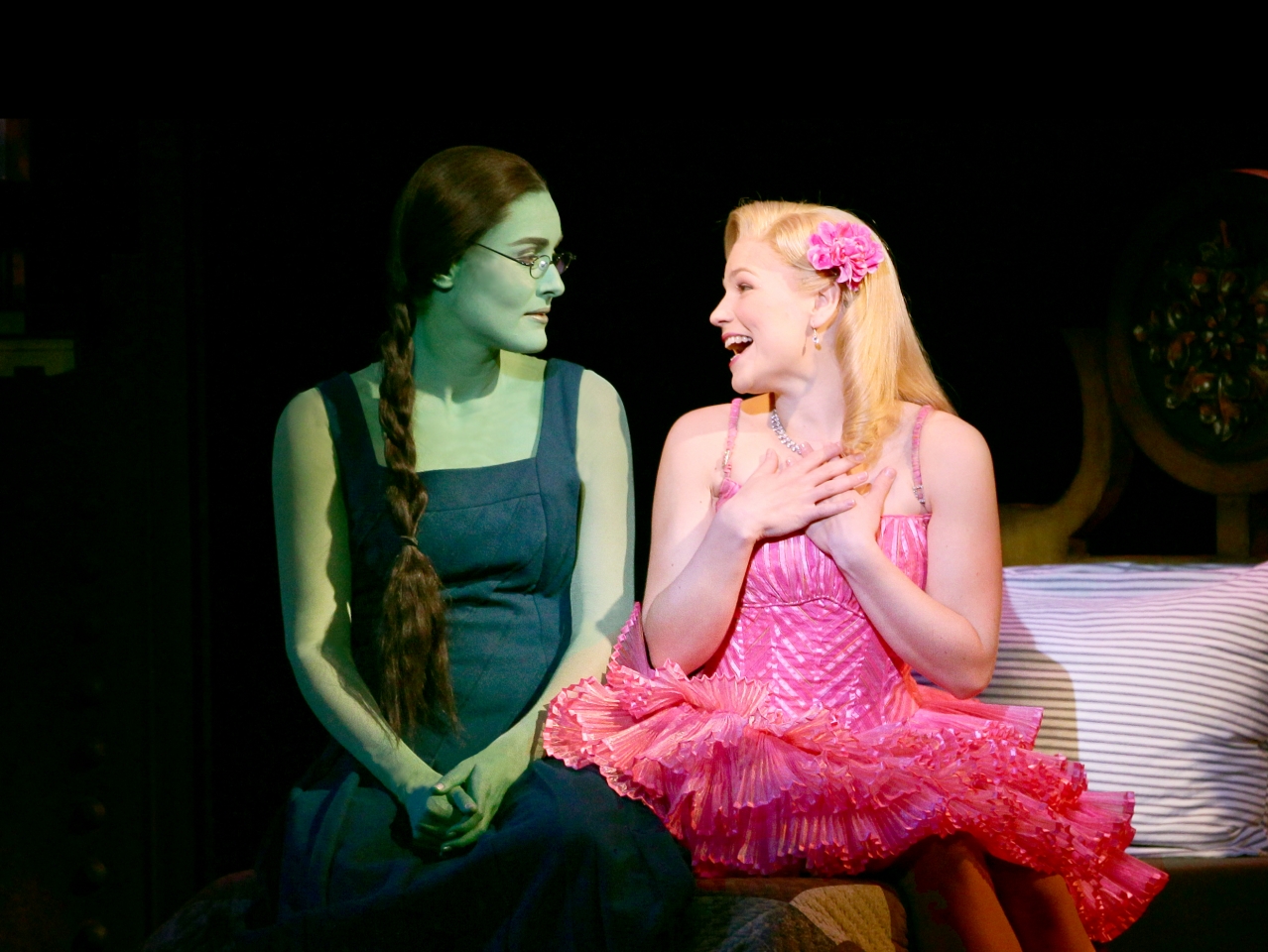 On the surface — it looks like a typical children's story. Picture poofy dresses, flying monkeys, talking goats and scarecrows, an Emerald City that has people dressed in green, and a magnificent bubble that descends from the sky (the mode of transport of choice for Glinda).
While Wicked is a rather accessible musical to people of all age groups, it has a lot more depth and relevance to people like us who are living in the real world. While the themes of friendship and overcoming adversity seem to be the most apparent, the play also questions our conceptions of good and evil. Both the main characters were given a choice to decide on whether or not to compromise on their beliefs of what was good and bad, and this had major implications on what they eventually became. Through Wicked, we wonder whether the Wicked Witch that we see in The Wizard of Oz was really as bad as people made her out to be, and whether Glinda the Good Witch was really as good, wonderful and happy as she appears to be. As was aptly put by Glinda: "Are people born wicked? Or do they have wickedness thrust upon them?"
Wicked also hits on themes such as love, corruption of government, racism, politics, oppression, fitting in and acceptance… and the list goes on. This gives the musical its depth and character.
Here's a little list of reasons on why I think you should go watch Wicked at Marina Bay Sands before it ends its run on 22 April:
 1. You will appreciate how it links up with The Wizard of Oz: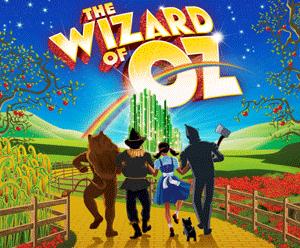 Remember Dorothy's companions — the Tin Man, the Scarecrow, and the Cowardly Lion? Remember her magical red shoes? Or how her house had been flung into the land of Oz by a horrible tornado? Apart from the fact that you will obviously learn about the origins of the two witches of Oz, you will also learn about the history behind all these other characters and events!
 2. It's an extremely spectacular and grand visual experience.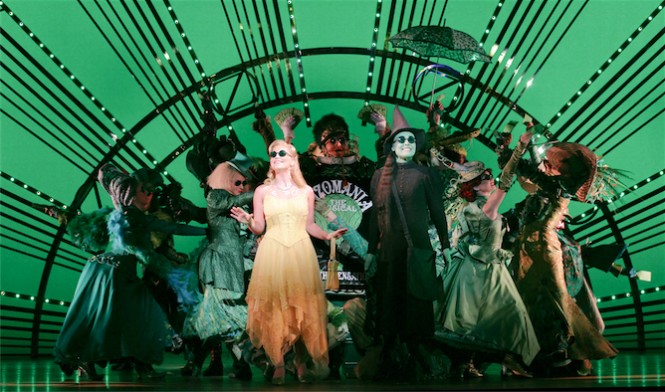 Marina Bay Sands was already a very spectacular-looking place from the outside. On the inside, it looks like an atas version of Vivocity. When you step into the theatre area, it looks even more atas because there are these mirrors everywhere and there is a very high ceiling. We were trying to find our door (it was number 16), and we realized that we had gotten ourselves seats on the fourth floor of the theatre. If I had not sat on the edge of my seat and looked down the whole time from where I was seated, I would not have been able to see anyone on stage, and I would find myself fixated on the huge mechanical dragon at the top of the stage. THAT'S how huge and grand the place is.
But I digress. Most importantly, the musical itself was grand and spectacular. The sets were amazing and would change swiftly between scenes; there were lights and displays everywhere — even off the stage on the walls beside the curtains. The very first scene had an awfully pretty looking clock backdrop, and from then, I was sold. You have scenes where dancers and actors fill the stage with their interesting costumes, and there is that whole segment in Emerald City where everything and everyone on set was green in some way (except Glinda who wore a yellow dress). Don't forget the mechanical dragon at the top of the stage, as well as the Wizard's giant head that could move. (I liked the little lion cub, too!)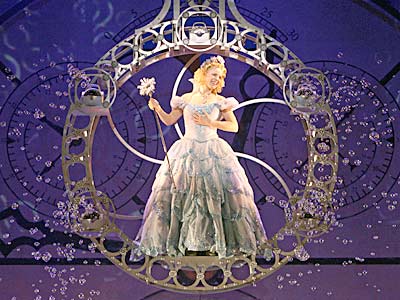 There was also, of course, the aforementioned magical bubble (which produced real bubbles as well) that carried Glinda across and around the stage. Her jewellery, staff and dress were all so sparkly, that to the people on the 4th floor of the theatre like me, she appeared to be a massive sparkly blue object floating above the random other tiny actors on stage.
 3. Defying Gravity
This scene is so spectacular; it deserves a section of its own.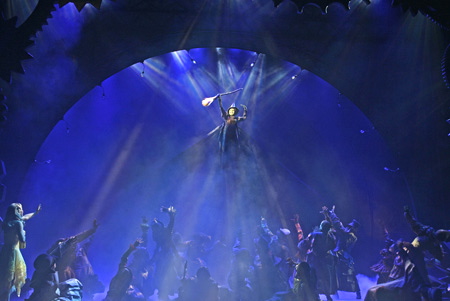 There is no other scene that can top the final scene of Act I — where Elphaba rises up into the air and belts out Defying Gravity. That scene is The Scene of the whole musical — starting with the buildup and the heightened tension created by how Elphaba and Glinda had made important decisions that would set them on their separate paths (I shan't give spoilers here), followed by a triumphant belting-out of the song by Elphaba with newfound confidence and strength, a sudden take-off as she soars up in the sky, and a spine-chilling end to the song with all the notes hit perfectly by the actress Jemma Rix!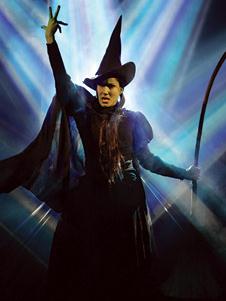 These pictures certainly do not do the scene justice — there were all these coloured lights shining at her from different directions, making her a figure of fear, beauty and awe all at once. It was truly a majestic sight that can't be adequately described through words or pictures alone. I really can't imagine how much effort it took to achieve that.
 4. The Australian cast was amazing at acting, singing and dancing.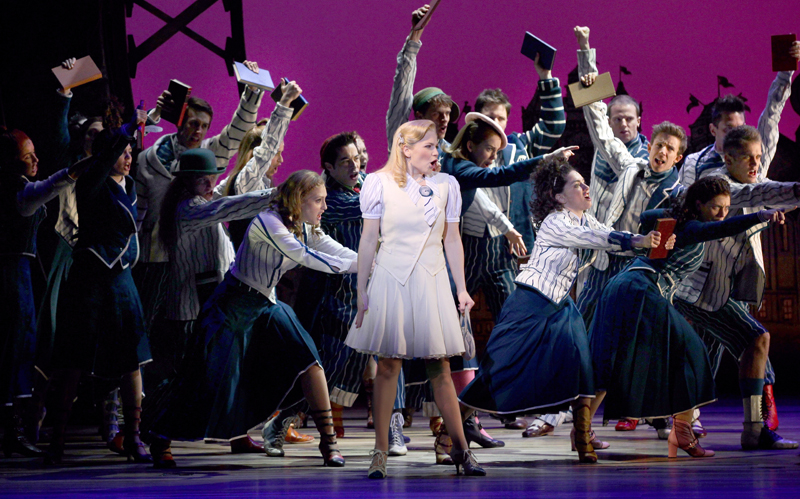 If there's something that I am absolutely thankful for with regard to my Wicked experience, it is that Suzie Mathers starred in it as Glinda. I haven't actually watched any other production on Wicked, but after the show, I did spend a lot of time on Youtube comparing all the different Elpabas and Glindas that have been cast by the various theatre groups. I have to say that Suzie Mathers is one heck of a Glinda. She breathed life, energy and bubbliness into a character who is meant to be extremely "blonde" (in the words of Elphaba), and she tickled the audience every time she did a high-pitched giggle or squeal. I really loved her rendition of Popular — it got us all laughing and smiling like morons (and I'm sure It will make you want to let out an annoying squeal just to annoy people someday. Even if you're a guy. Don't deny it). But above all, she's a fantastic singer — I remember that she sounded like an opera singer at some parts of the play too.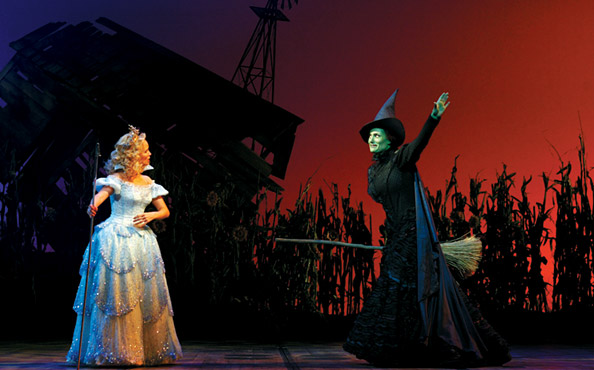 Jemma Rix was also a fantastic Elphaba— and together, they sounded so good, and had such good chemistry. Jenny Rix is an amazing actress who pulled at our heartstrings at all the poignant and touching parts, and made us laugh in the first Act when she frequently went into her deadpan-mode while interacting with Glinda. I will also remember very fondly how she burst onto the scene in the beginning of the play, where she goes into a little soliloquy about the possible explanations to why she is green-skinned. Singing-wise, she held her own against Glinda and gave an amazing performance of For Good and Defying Gravity. However, she's a bit more restrained than the other Elphabas.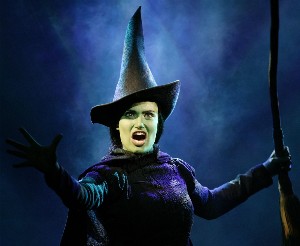 If you've been watching Glee, you might know that Idina Menzel, who plays Rachel Berry's mother in the series, is actually the original Broadway Elphaba! Her portrayal of Elphaba is definitely the most awe-inducing one — and she sings in a strong, raw (imperfect but in a nice and convincing way) and powerful voice.
[On a side note, the original Broadway Glinda also played a small role in Glee, as April Rhodes!]
Personally, I also enjoy listening to Rachel Tucker's rendition of Defying Gravity — although she sounds a lot sweeter and slightly less convincing as a young witch who has found what she thinks is The Right Path.
I also liked the performances of The Wizard, Madame Morrible  and Dr Dillamond. I felt that James D Smith's role as Boq is under developed (but it seems to be like this across the board for all other versions of the musical).
David Harris's performance as Fiyero is probably the only thing that didn't go down very well with me. I shan't spoil the story for everyone but it would suffice to say that I felt that he was a little stiff in his acting.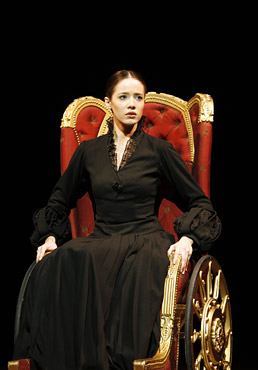 Elisa Colla, who played Nessarose (Elphaba's sister), can really sing! Pity that she didn't get many chances to be on stage too. But I guess that can't be helped because the script is written in that way.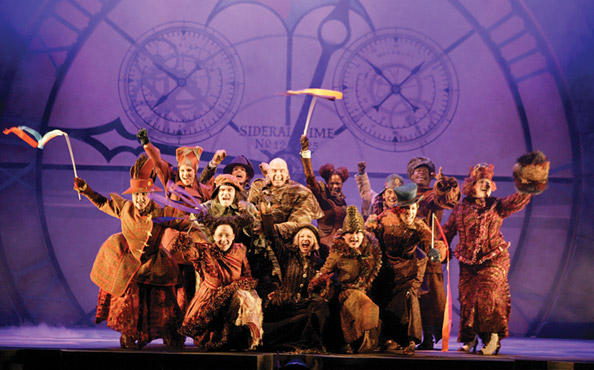 All the other performers that form the chorus were really good at singing and dancing as well — and as with most Broadway musicals, there will definitely be song sequences where the stage will be fully populated with people in colourful costumes, who are all dancing and singing in tandem and harmony. These were really a joy to watch and it always amazes me they are put together!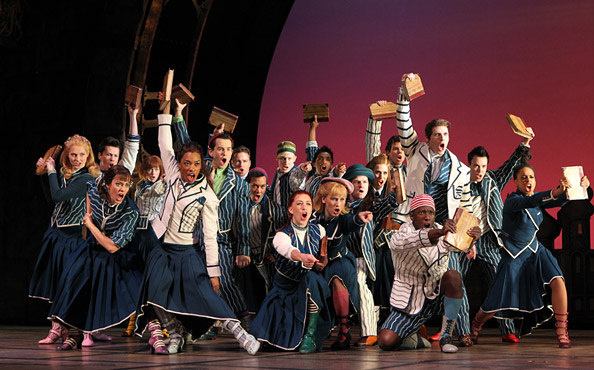 However, most of such scenes happened in Act I where there were all the school scenes. In Act II, probably the only other massive scene that left me an impression was the Emerald City song sequence that showed Elphaba and Glinda on a tour of the city. As the story progressed, there was a greater focus on the main cast.
 5. For Good
Ah. This performance comes near the end of the musical. With lyrics that go: "Who can say if I've been changed for the better? But because I knew you, I have been changed for good", you know that a heart-melt-song is coming up. You need to listen to this for yourself to know the extent of how it would make you feel fuzzy feelings in your heart. It's not grand or fancy or triumphant like Defying Gravity, but it definitely resonates very strongly in another good way for its honesty and gratitude.  It was also extremely well delivered by the two leads — their harmonies were perfectly in synch. I felt that it was better than the Broadway version even! I do think that the two leads really fit each other perfectly.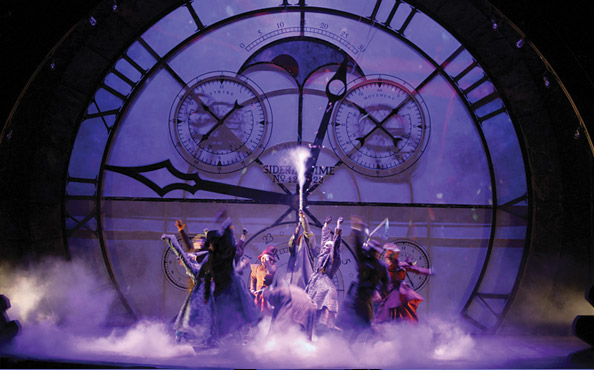 I also asked around to see if anyone around would want to help contribute to my article by giving a few comments about the musical, and I managed to get a little write-up by Chok Zheng Kai (Year 2) and Yvonne Lian (Year 2)! (Or rather, Zheng Kai wrote the comment, and Yvonne agreed with what was said.)
"Wicked opened just like any professional cast would, but as the show went on, we were greeted with surprises with every scene. We waited with much anticipation for "Defying Gravity" (our favourite song) and Elphaba nailed it with so much emotion you could see the audience sitting at the edge of their seats. I was involved in a couple of musical productions back in school, and Wicked made me want to stand on stage again.
Seating Advice: We will NOT recommend the Dress Circle Row A seats (A Reserve $165) because the railing sits awkwardly in your line of sight. You will end up having to slouch down or sit up really straight to get an unblocked view."
To add on to the seating advice, I also recommend that you get Category C seats or better. I was seated in the front row on the fourth floor because that's where the Category D and E people are, and for most part of the musical I couldn't get to appreciate much of the details of the musical.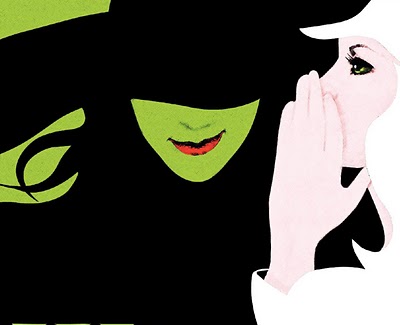 Well! There you have it. My take on why you should watch Wicked. It's a Broadway sensation that has moved so many people around the world (with some people watching the musical 10 times or more, even!), so why not get your tickets to catch this amazing Australian production before it runs out?
***
Article contributed by: Kristy Teo (Law 2)