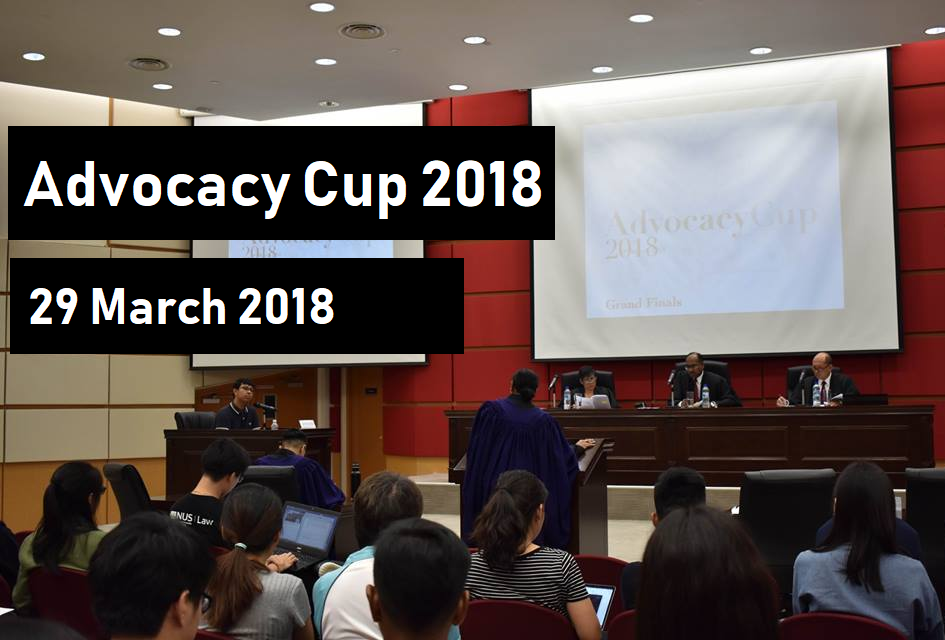 With every new year comes yet another edition of the annual Advocacy. Sponsored by Drew & Napier, this year's problem was much like a locked-room mystery. As the saying goes, 'don't cry over spilt milk' — but did anyone say anything about dying over spilt milk? Just like last year's finals, this year's finalists gave it their all, pitting their wits against one another in an adrenaline-packed war of words.
The finalists this year comprised Shalini Rajasegar (Prosecution) v Lim Jun Heng (Defence), and Daniel Lye (Prosecution) v Valerie Seet (Defence). Presiding over this year's finals were yet again a greatly esteemed panel of judges, consisting of the Honourable Justice Kannan Ramesh, justice of the Supreme Court of Singapore; Jimmy Yim SC, Deputy Chairman of Drew & Napier, as well as our own vice-dean, Assoc. Prof Eleanor Wong.
This year's trial problem involved a classic case of murder under Section 300(a) of the Penal Code. The Accused, a certain Borgia D Medici, was charged with administering arsenic to her husband Francesco 'Frank' D Medici. The Prosecution's case also featured their star witness, Jim Jones, the second cousin of Francesco.
The Advocacy Cup differs from regular moots in several ways, for instance, its different format, but as well as through the inclusion of the witness. Through the use of the witness, the finalists have more power to advance their own case theories. And more often than not, both sets of finalists end up with completely different and compelling case theories. All this, while often evincing laughter and hushed surprise in the crowd with all of their bold and daring answers.
In the first round of the evening, Shalini, on behalf of the prosecution, started us off against Jun Heng, Counsel for the Defence.
Shalini started off the night's proceedings with a refined poise, patiently going through the elements required, painting the Accused as a scheming and devious woman who poisoned her husband over the course of several weeks. As a result of his death, she would have stood much to gain from the insurance policies left in his favour. Concluding her opening statement, she began the examination-in-chief for the star witness. Mr Jones took the stand: an ex-employee of the Medicis' company, Renaissance Arts and a cousin of the deceased, who was also his benefactor.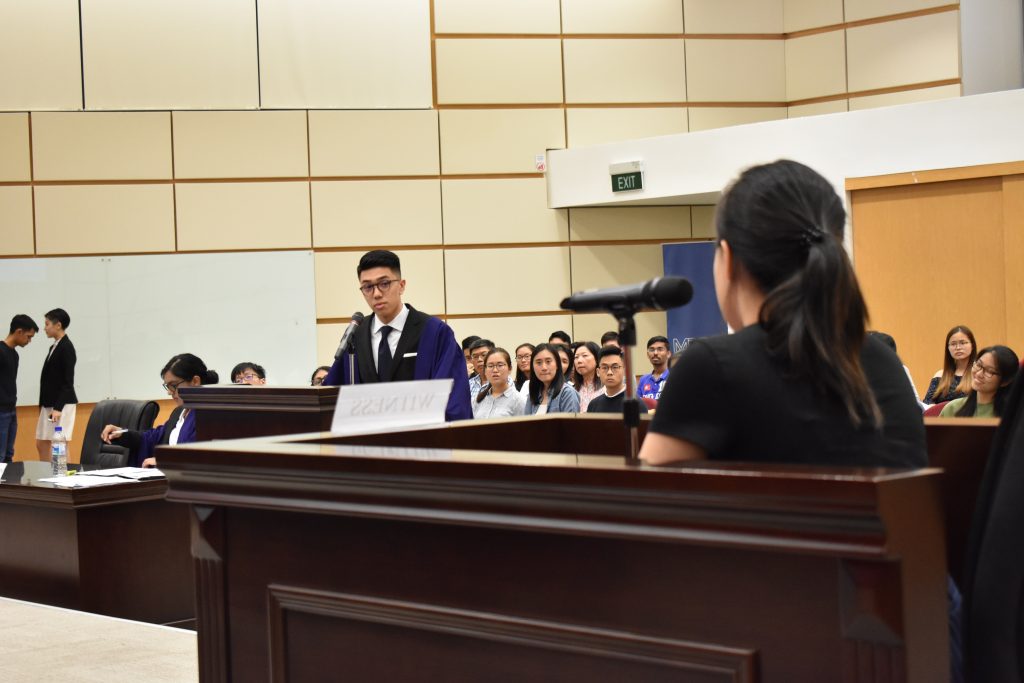 The defence went on the warpath, barraging Mr Jones with question after question, attacking his credibility with each one.  Just like his learned colleague, Jun Heng brought his line of questioning with the 3Cs: being cool, calm and collected. Working in Mr Jones's previous testimony and responses, Jun Heng planted doubt as to the witness's credibility, or even whether he had any other ulterior motives, – going as far as to suggest that Jones had been tainted by his anger for Borgia. Jun Heng tied off his cross-examination by arguing that there was reasonable doubt as to whether Borgia did poison Frank.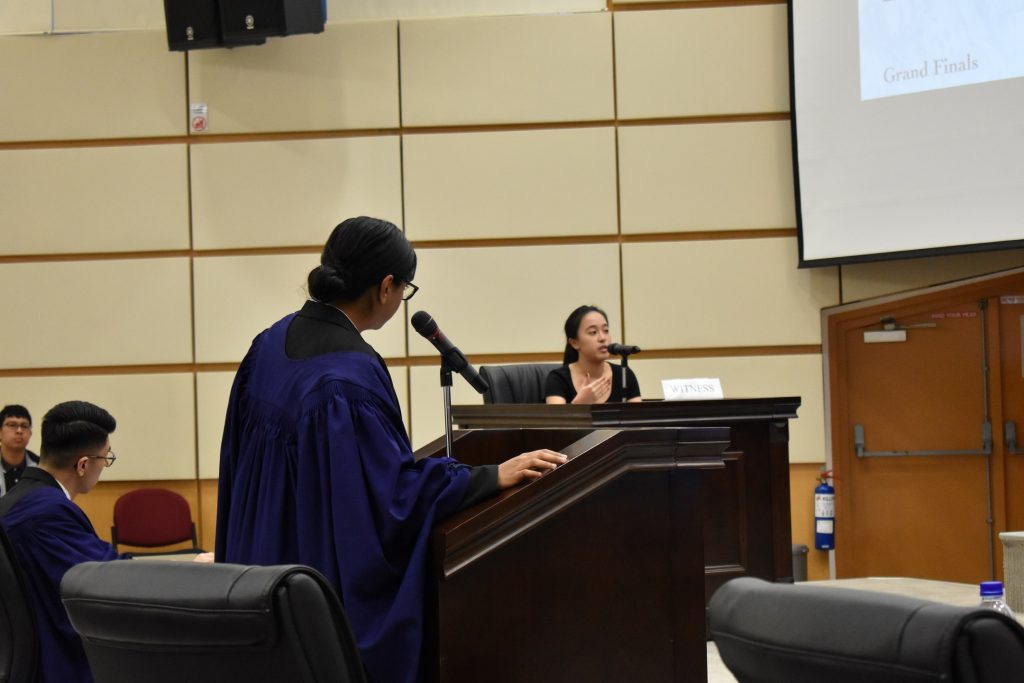 Shalini quickly covered her bases in re-examination, establishing the witness as 'drunk yet not completely drunk'. Much like the witness's alcoholism, the Defence's case theory flowed over to his opening statements. In sharp contrast to the Prosecution's case theory, the Defence painted his client as a selfless woman who not only lost her husband but was now being accused of his death. The Defence also maintained that there was an extremely high threshold to be met in this case.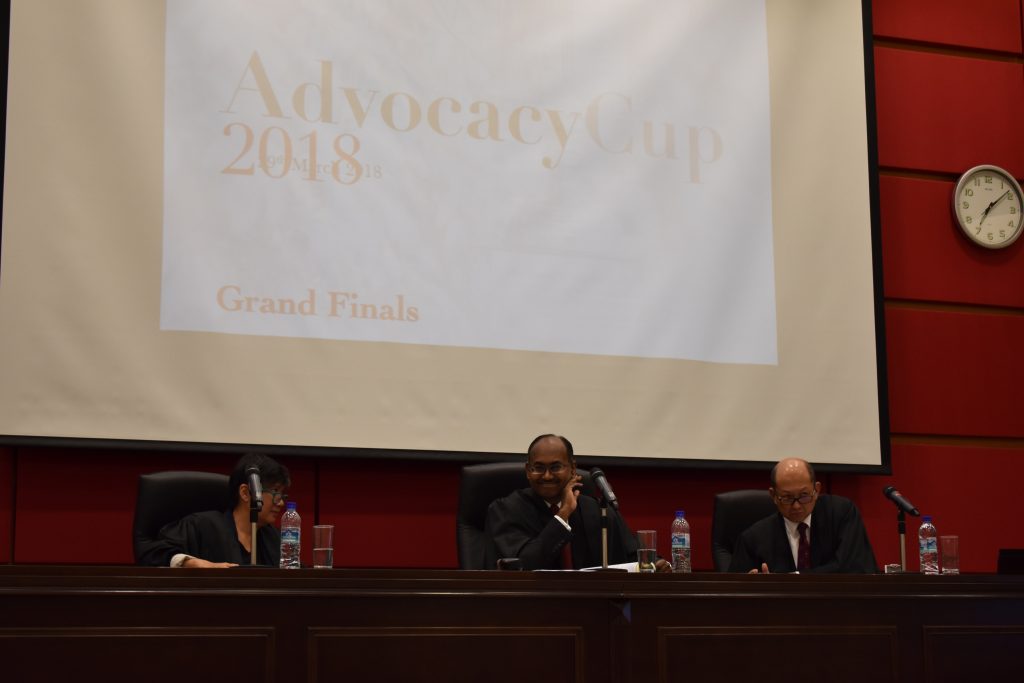 Borgia, in spite of her grief, still managed to get a few laughs from the crowd, even from the judges. Nonetheless, Shalini fired back during her cross-examination, attacking Borgia's self-professed love, putting forth the case that Borgia would have had much to gain from Frank's death. Borgia was wily, constantly evading the questions put forth from Prosecution, but the Prosecution was wilier, controlling the witness on multiple occasions, even pushing her into a corner, much to the bemusement of Honourable Justice Ramesh.
In closing, the two counsels clashed for the last time. The defence maintained that there was a high threshold to be met, answering away Borgia's inconsistencies using her state of mind, and doubting any possible motive Borgia may have had, given that Frank was already terminally ill while emphasising that suspicion was no substitute for reasonable doubt. Prosecution cast aside the Defence's assertions, pushing for the elements of the charge and answering questions from the bench regarding Mr Jones's credibility.
Much like his contemporaries before him, Daniel Lye led the Prosecution Case methodologically and gracefully. Not to be undone, Valerie started her cross-examination, leading Jones to concede that his testimony may not have been completely accurate. Valerie slowly fed Jones's words back to him, and for a brief moment, it almost looked as though Jones had lost his temper, going from teasing her to cutting her off. It almost got to a fever pitch before Daniel made an objection to a question posed as a statement from the Defence, albeit with a lapse of decorum. Valerie finished off her cross-examination by drilling Jones on his alcoholism and his feelings about Borgia, to the point where even Honourable Justice Ramesh chimed in with a zinger about Jones's supposed 'civic-minded and responsible drinking habits'.
Taking the stand, Daniel got Mr Jones to explain away his actions, and the crowd heard explanations unimaginable. For instance, that Mr Jones had allegedly been making himself vomit on purpose every time he drank.  In her opening statement, Valerie responded to the Prosecution's case, attacking the evidence regarding the elements.
Talking about her various attempts to get pregnant, and her unfortunate miscarriage, this Borgia was much more reserved and saddened. Valerie managed her grief with utmost delicacy. She also used the opportunity to try and explain away the bad facts in her case theory. However, Daniel was undaunted. Daniel went to work, tearing away Borgia's veneer of mourning, attacking ambiguous areas in her statements to the Court, for instance how Frank had wanted assisted suicide, yet according to Borgia, was never suicidal.
Through clever questioning, Daniel cornered Borgia into essentially having admitted that she did know what arsenic was, through getting her to explain the full chemical name of the chemical they used for wood-crafting, CCA (Chromated Copper Arsenate). Daniel ended off his line of questioning by questioning her on her financial status, bringing up the insolvency documents and letters of demand. Daniel then put it to her that she had killed Frank for her insurance money. Responding to the Honourable Justice Ramesh, Daniel asserted that Borgia had dual motives — to fulfil his death wish and to get the insurance money. Daniel ended off his cross-examination by probing the relationship between Kaya and Borgia, suggesting that she had gotten Kaya to leave the country in order to frame her.
In closing, Valerie painted her client as a most unfortunate woman. Acknowledging the merits of the Prosecution's case, Valerie emphasised the problems in establishing the charge. Firstly, Mr Jones's eyesight, emphasising his ambiguous language and his drunkenness. Secondly, that Mr Jones had been unable to identify any unique traits to definitively say it was Borgia. Lastly, that Borgia did not possess the necessary mens rea. Unfazed, Daniel emphasised that the cumulative evidence led to the irresistible conclusion of Borgia's guilt, deftly answering the bench's doubts.
—-
In closing this year's Advocacy Cup, Jimmy Yim SC talked about the difficulty of trial practice, and how it was a skill that would take years to master. He emphasised that the bench was proud of the finalists for their efforts and that it was difficult to crown the champion. Taking the opportunity, Jimmy Yim SC talked about the novelty of the problem, joking that the witnesses seemed 'over-coached', even taking centre-stage at times. The bench also felt that it would have been better for the finalists to emphasise on the facts, not the motive, and the use of witness statements. The key of cross-examination, he said, was not just to prepare lines – at best, "you could study, remember, recall the facts and catch the witnesses on their own words". Talking about the case theory that Jones was far-sighted, he related his own similar story from practice, where he caught a witness for lying about his eyesight by the type of glasses he wore. He ended off by talking about the various angles the finalists could have taken. Prof Eleanor added on, thanking the other judges for the time. Reminiscing her time as a young prosecutor, she congratulated the finalists for doing well.
Looking satisfied, Honourable Justice Ramesh ended by talking about his perspective. The judge, he said, is most interested in the core issues, and not the multitude of possible issues. The case would turn on these core issues. For instance, testing the efficacy of Jim's evidence, the Prosecution's core issue, or emphasising that many other people had the opportunity to poison Frank. Cross-examination was the most difficult skill, he added, since it was fluid. Emphasising the hard work required to pick up such a skill, Honourable Justice Ramesh emphasised the need to learn from other skilled advocates before bringing one's 'own flavour and personality'. Honourable Justice Ramesh ended his speech in laughter, joking with the judges.
After much deliberation, the judges announced the winners of this year's Advocacy Cup.
---
Champion: Daniel Lye

First Runner-Up: Valerie Seet
Second Runner-Ups: Lim Jun Heng, Shalini Rajasegar
Congratulations to all finalists! Daniel and Valerie, all the best during ALSA. Once again, many thanks to NUS Mooting and Debating Club for yet another rousing edition of the Advocacy Cup.
Photos by MDC.