Men's Basketball
After a disappointing Law Fraternity Games in January, the Men's Basketball team doubled down on training amidst LARC Memos, Constitutional Law Assignments and getting ready to graduate (Yes, You Xiang, I'm talking about you, old man). The team worked hard on improving their zone defence and their offensive spacing. Whilst there were some attempts at improving conditioning, there always seemed to be sudden cramps and cases of flu that prevented any form of conditioning training.
As the day approached, the excitement began to build and more and more people began walking around Law School shooting imaginary jump shots… okay, it was just me.
Finally, on the 25th of February, the team faced off against the Medicine team, raring for a win. Captain Jerry Wang was so ready he got there 2 hours early and scolded everyone for not being there as well — inside sources say he is lonely after winning Law King and is looking for a friend.
The game also marked the final game for the 4th year, two year captain, point guard and Walter Wan's doppelganger, Lim You Xiang. The writer would like to take a moment to thank the old man for his contributions to Law Basketball and for always providing the team with his knowledge and quick scoring. We hope you will take it easy on us during Law Frat.
First Quarter
The game started off with some excellent zone defence from the law side that stifled the athletic Medicine team. However, on the other end, the athletic Medicine team stifled the Law team's offence as well, resulting in some turnovers and easy scores for the Med Team. However, after a quick timeout, the team recovered and ended the quarter strong with some powerful inside play by Jerry and Shaun Sia, as well as some quick transition play by You Xiang who showed that he doesn't need a walking aid just yet. There were moments of increasing physicality from the Med team that resulted in a torn jersey for You Xiang, but his maturity shone through and he didn't give the young "whippersnappers" a piece of his mind.
Second Quarter
The second quarter was pretty much the same with stifling defence by the Law side and athletic offence by the Med side. Chu Khe Han checked in and received a pass before spinning gracefully for the score. Daryl "Stop It" Ong also checked in and got all up in the Med point guard's face forcing some bad passes and turnovers that lead to easy scores. The team scrapped despite some dirty play from the Med team and continued to fight on. The half ended with Law down 20-17.
Third Quarter
You Xiang and Jerry proved to be tough to contain one-two punch, opening the quarter with 5 straight points. Jon Hwang checked in and drove to the basket, lofting a soft finger roll over the defence. Leon Tay showed off his trademark springiness and was like a free safety, running all over the court and wrecking havoc. By the end, Law had taken a 3 point lead.
Fourth Quarter
Med came back with a vengeance in this quarter, splashing 3 three-pointers to cut the score to 1. The damage was contained by Benedict Ted who either is so fast he can shut down the whole opposing team, or is just so good looking he can get away with fouls by smiling at the ref (it's probably the latter). The game ended in dramatic fashion as Med began to catch up, but it ended up being too little too late and Law got away with a 31-30 win.
The game was hard fought and resulted in a satisfying win. What else could you ask for to start off recess week? Self-Proclaimed MVP went to Jerry Wang after scoring 18 points.
Thanks to John Wu who came down despite an injury and acted as the manager/coach/scorekeeper and moral support all in one.
Finally, a warm thank you to Lim You Xiang — your name will go down in Law history as the most dominant little man to ever play the game of basketball…. In Asia. In Singapore. In Bukit Timah. Okay, in Law School.
Swimming
This year's edition of the LawMed games saw the introduction of swimming for the very first time. It was looking to be a tough fight with the Med team consisting of some of their finest swimmers, including an ex-national water polo player. Not to be outdone, our Captain-cum-qualified lifesaver Darren Leong (Y2) sought to bring together a group of remarkable people to face off against our formidable opponents. Inspired by our Captain's rallying cry, many ex-swimmers and water polo players (and the occasional condo swimming pool recreational swimmer) came forward to help reduce the difference in talent between the two sides.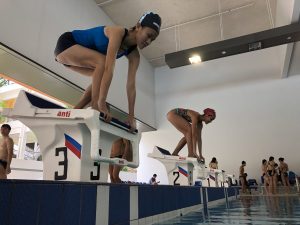 Taking place in the afternoon before the closing ceremony of the LawMed games, it was team Law's final shot at a chance of emerging victorious on Med's home ground. Kicking off with the freestyle and medley relays, our team consistently emerged 2nd in all the races, lagging behind by just a couple of body lengths.
Switching over to the individual events, swimming powerhouse Elliot Yeo (Y4) was in sizzling form as he bagged a double podium finish in the Men's 50m freestyle and 50m breaststroke. The Women's category also saw Superstar Swimmer Stephanie Sim (Y2) clinch 3rd in both the 50m freestyle and 50m breaststroke. Leaving the best for last, we had water polo player, deans-lister and all-time good guy Clarence Woon (Y3) represent us in the 50m butterfly. Powering his way to finish 3rd amongst a pool full of Med swimmers, Clarence ensured that we continued our consecutive streak of podium finishes.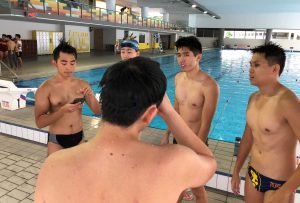 Although we may not have walked away with a victory, Captain Darren reminded us that this was a non-competitive sport and what mattered was that we all had fun. Thanks to all the swimmers for sacrificing their recess week (and those who came for the trainings too). Also, shout out to our loyal supporter Benedict Tan (Y2) for being the team's part-time manager/time-keeper.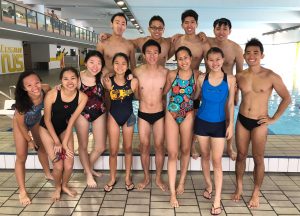 If you are looking for a chill time in the pool, or just looking to get a free tan, we welcome you to join us for the next round of LawMed swimming!
Road Relay
In the early morning of 10 February 2018, the Law road relay team gathered at the NUS Kent Ridge track for our inaugural LawMed road relay run against Medicine. Medicine's prowess in the road relay field was known long before the inception of this event, from constantly placing in the top three during IFG (second place in the recent 2017 IFG), to requesting to run either a long distance or an uphill route for this road relay. With every intention of minimising their loss and putting their negotiation skills to good use, team Law managed to convince Medicine to run a primary school NAPFA distance of 1.6km per person entirely on the flat ground.
The race started around 9 am, with team Law's first three runners Jian Yang (Y4), Yvette (Y2) and Michael (Y4) keeping good pace a little behind Medicine's runners. One of the highlights of the race came in the form of team Law's fourth runner Law IV star Nadene (Y4), who achieved a new personal best timing in chasing down team Medicine's own fourth runner and narrowing the gap considerably, once again leaving the winner of the race uncertain. Both of team Law's last two runners Elizabeth (Y4) and Jarrett (Y2) pushed hard to maintain pace with Medicine's runners. Unfortunately, Medicine sent a beast who could run 400m in around a minute and 20 seconds (i.e. he could run 300m while an average person walked 100m), resulting in Medicine ultimately winning the race.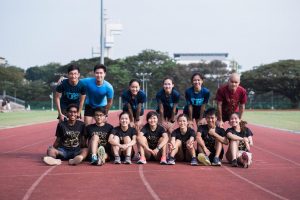 Despite the loss, the Law road relay team was happy with the good run, improved timings and that we did not succumb to the various discussed methods of cheating (e.g. cutting the lap through the grass, falling and faking an injury so Medicine would have to save us, pushing for a brisk walk competition instead, etc.). The juniors of the team would like to thank their seniors for taking time out of their busy schedules to have a final run with the team, while the seniors are eager to pass on the baton to the Y1s to ride on Law's steady improvement and hopefully place in the next IFG!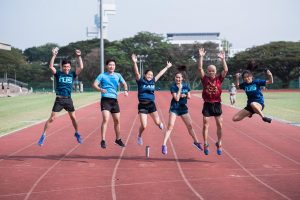 With that, we have come to an end on our sporting coverage for this academic year. Stay tuned for the next edition of IFG 2018 happening sometime during the second half of this year!
This is Part 4 of a series of posts on LawMed 2018