This year's IFG Coverage has been brought to you by the IFG Captains. Justified would like to thank the Captains for their enthusiasm and support.
HANDBALL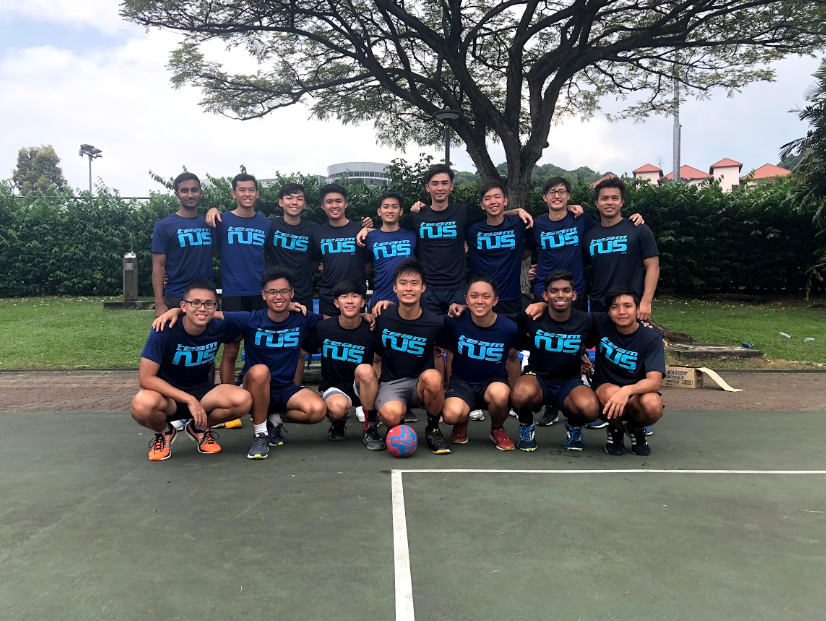 Credit: Chu Khe Han (Y2)
DODGEBALL
"We really weren't outclassed in any way, and we are hoping to win it next year."
Credit: Julian Tang (Y2)
REVERSI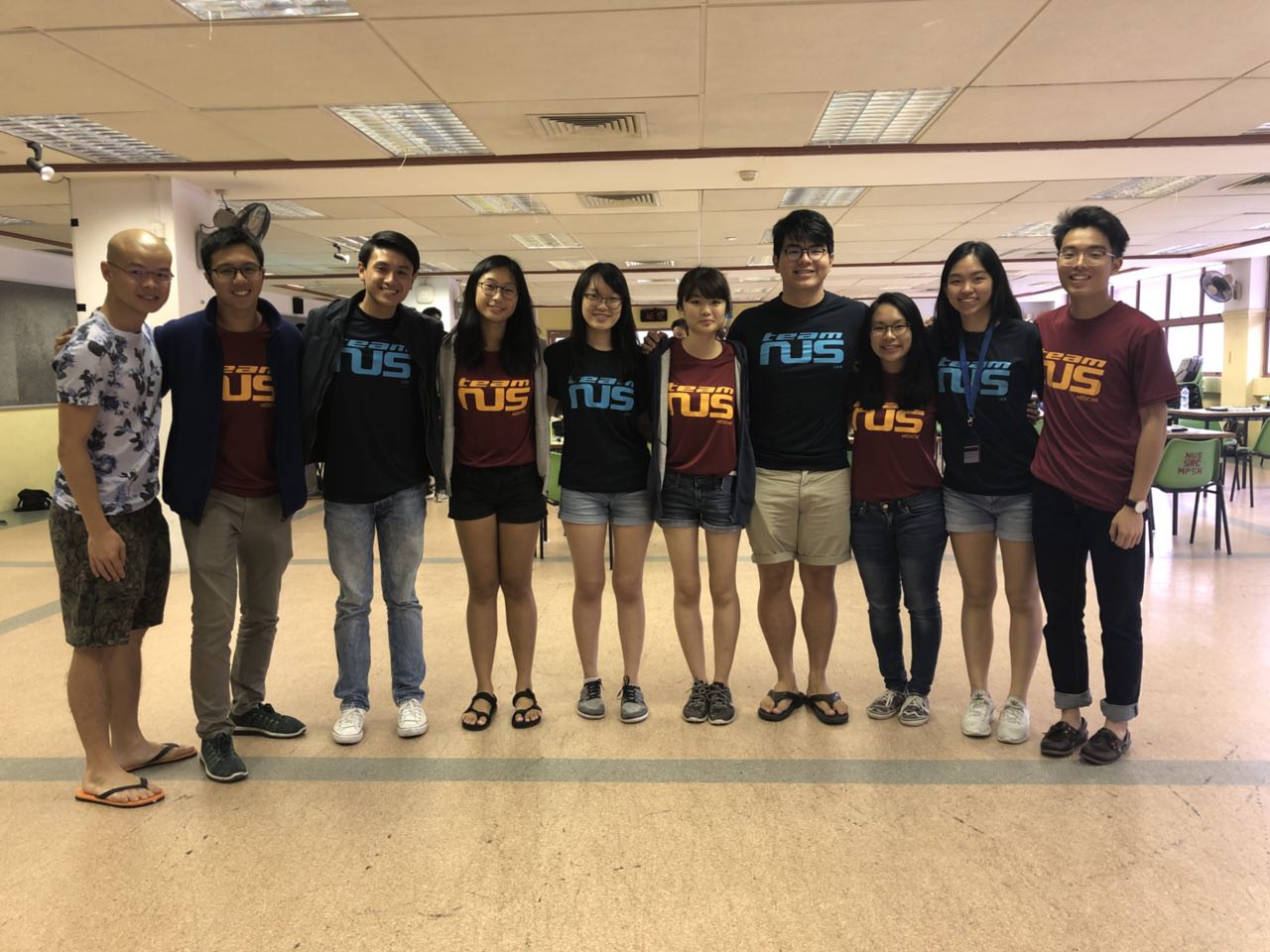 Credit: Rebecca Loo (Y2)
FRISBEE
The Law Ultimate Frisbee team was proud to have participated in the annual IFG Ultimate Frisbee on 1st Sept. Grouped with traditional powerhouses of FASS and Med, we faced the uphill task of winning at least one of them to advance to the semifinals. Our team went in with two objectives in mind: 1) To do our best and 2) have fun!
The first game was against SDE, and despite the best efforts of our team, the final score was 5-2 to SDE. A slow start to the morning as we hoped for the best for the next game.
We faced FASS next after their 5-2 win against Medicine. We knew that we would have to give it our all against FASS if we had any hopes of breaking into the semis.
FASS played well and utilized their key star players on offence and defence, stacking the lines from the start. However, Law responded calmly by utilizing the breakside for quick advancement of the disc and clogging the lanes from the handler set on defence to slow down their offensive flow. Unfazed, Law sought to control the game and reduce the efficiency of FASS's offence flow. The game was so intense that Charles cramped out due to sheer intensity and adrenaline (don't worry, he is fine now).
Ultimately, the game boiled down to the end point, with Law starting on defense. We got the turnover at the halfway mark from a botched throw by FASS and progressed the disc all the way up to the endzone. The critical point of the game came at the open side sidelines where FASS employed a sideline trap. Anxiety got the better of us and we were unable to reset the disc, eventually resulting in a turnover. FASS quickly seized the opportunity and converted in the end, leaving us devastated at the loss and eventually falling 4-3 to FASS. Who knows; if Xiang Jie won the toss at the start and if Law started on offence, maybe we could have won?
Coming out of the nail-biting game against FASS, Law knew we had the opportunity towin against Medicine given how close we were against FASS. We were looking to avenge our universe point loss at last year's MedLaw games, and we were excited to go against our usual rivals. As usual, Xiang Jie lost the toss and we started on defense.
With a strong team of seasoned players, Medicine looked formidable with their set structures, working together like a well-oiled machine. Medicine's experience showed with their clean and systematic cuts, moving the disc rapidly up the line. Facing a slight downwind, Medicine started their defence with a zone defence, with Jon Leong (1.9m) from Med placing the mark and pressuring the Law handlers. With a wingspan bigger than my stack of Law textbooks, one can only wonder whether he was in the wrong sport and why he did not play basketball instead.
However, Law responded with crafty throws behind their handler defence set, looking to hammer or blade the disc to our resident high-jumper Steven Low and freshie Nicholas. Exploiting their holes in the defence, we sought to hit the disc through the zone defence and eventually capitalized on our height, athleticism and throws in order to score a few crucial points.
Finally, the crucial point was when we were 5-4 down to Medicine on defence. If we could convert this point, we could push the game to 5-5 universe. Everyone held their breath as Medicine threw a hail-mary disc down the line after a stall nine effort by Xiang Jie. However, kudos to their receiver for running the disc down and laying out for a spectacular grab in the endzone for a score. With that, the game ended with a 7-4 loss to Medicine. We look forward to the next rematch at the upcoming LawMed games.
The last game against YNC was a personal one, especially for Ignatius who was a DDP student from YNC. Personal pride was at stake, and everyone was determined to finish the day with a win. Initially, we were trading points and equalised at 3-3 with YNC. We took home the 6-3 win after the defence line increased their intensity to force errors from YNC handlers, with Iggy scoring triumphantly in one of the points.
The team eventually failed to advance to the semifinals despite their valiant efforts.
We would like to thank everyone for coming down for trainings the past few months and we hope to improve for the upcoming LawMed games! At the end, it was a fun Saturday of ultimate and what mattered most is that we tried our best and had fun in the process 🙂
Credit: Lim Xiang Jie (Y2)
NETBALL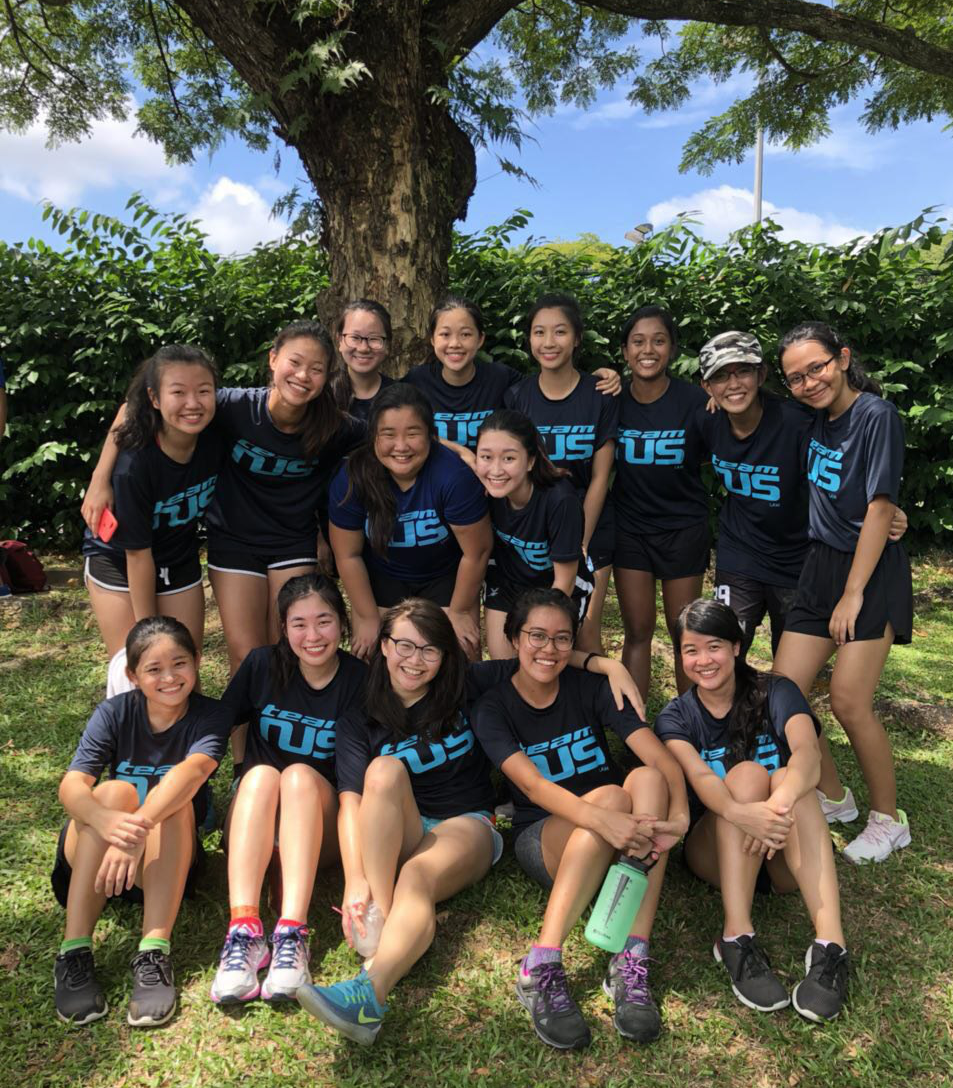 Credit: Joli Cheah (Y2)
BRIDGE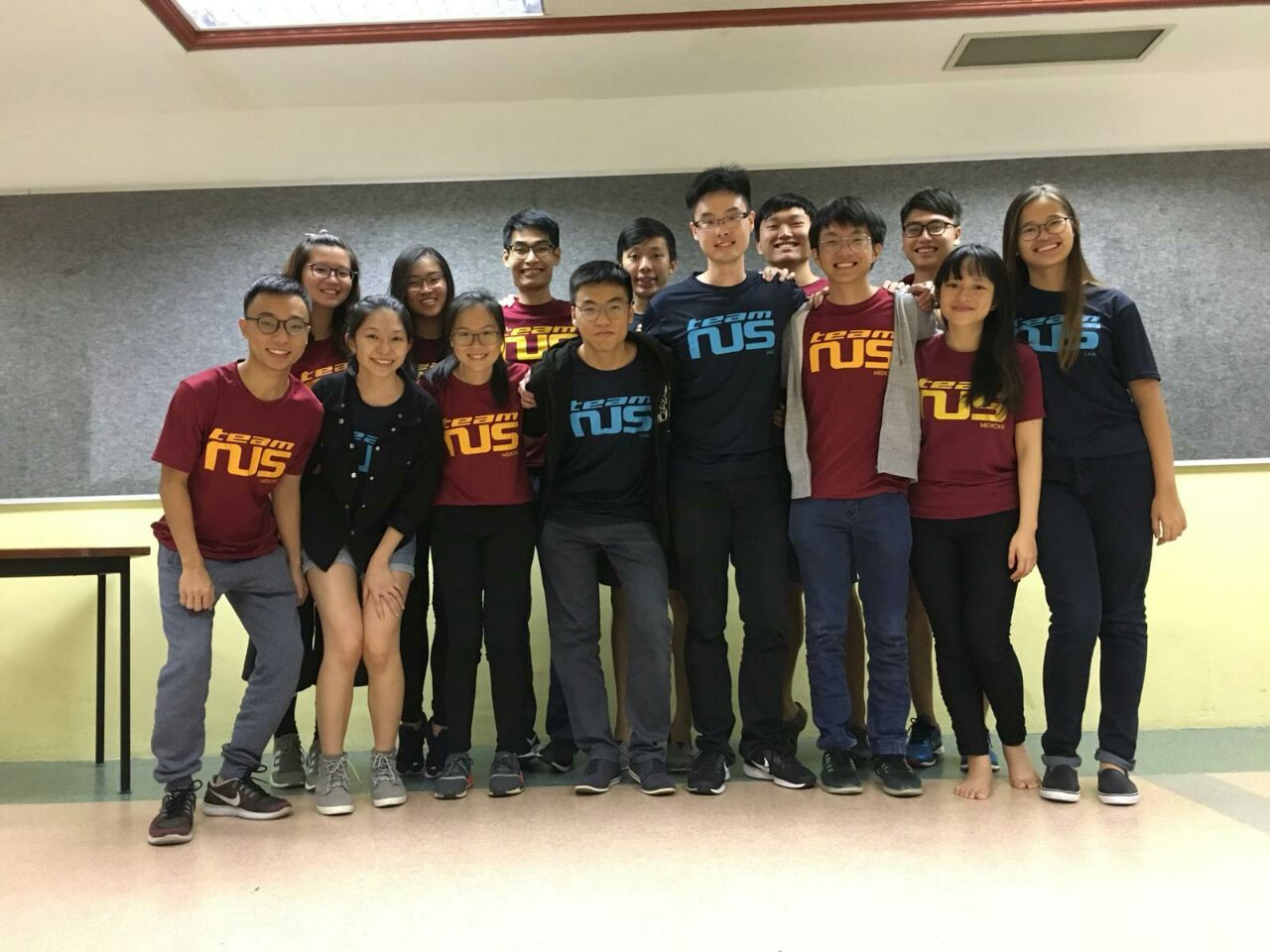 We fought a tough qualifier on Saturday trying to survive a tight 4-corner fight between LAW SCI MED and BIZ with Yale clearly leading, and we managed to pull through as second seed while MED took the fall. We faced SCI for the Semis on Sunday with MED staying back to cheer us because SCI knocked them out over some controversial ruling and they were really sad (welp), we thrashed them and faced BIZ in the finals (cos Yale decided to fall off at the last moment and couldn't defend against BIZ), but we narrowly lost to them by 6 points in the end. Overall it was a great experience for the team especially since this roster was mostly juniors that took over the outgoing senior team from last year, so the fact that we almost won the event is very encouraging for us in the future. We're setting our sights on winning LAWMED next.
Credit: Simon Poh (Y4)
TCHOUKBALL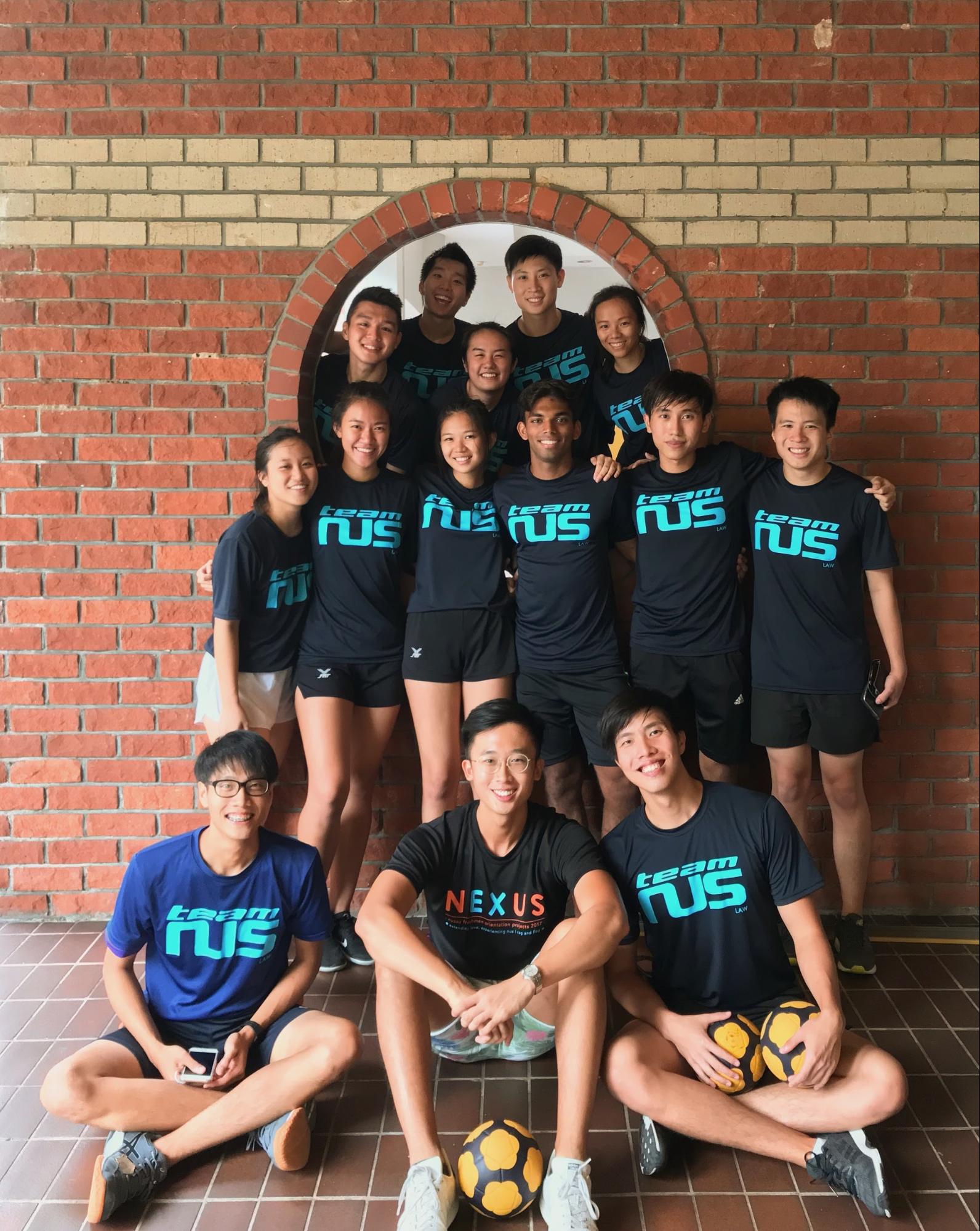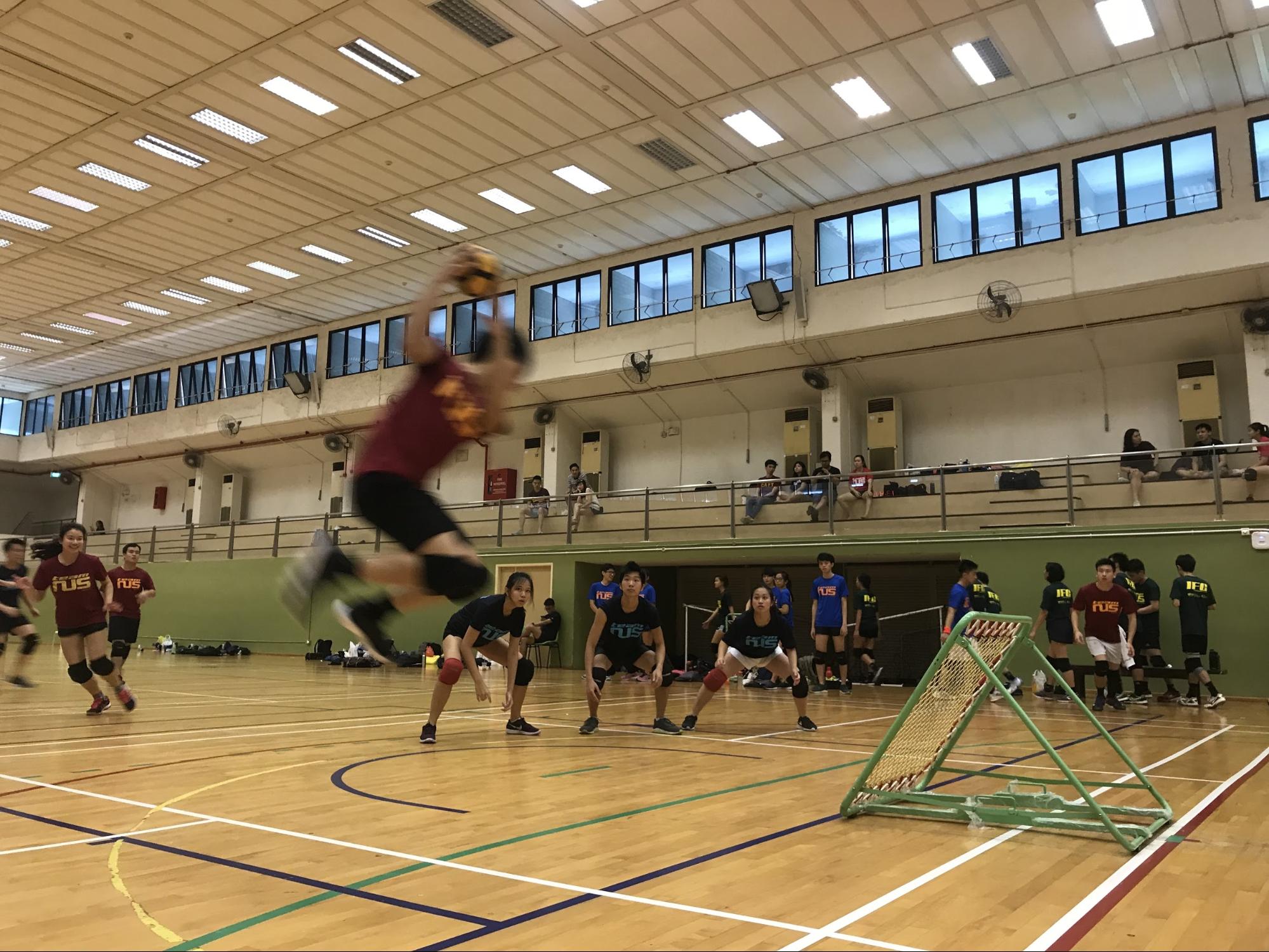 Credit: Wong Xu Yi (Y2)
TENNIS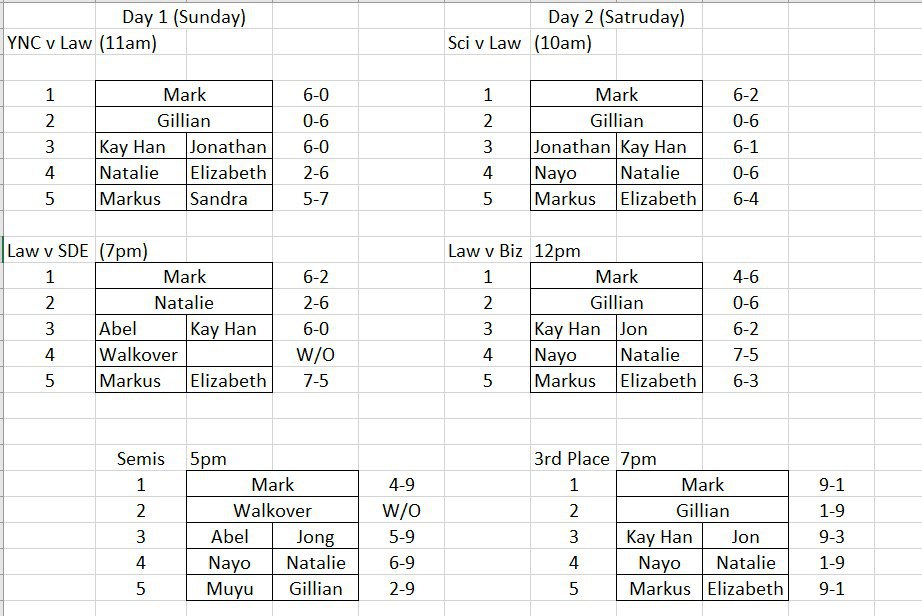 Given that Law usually barely gets together enough people to participate in the tennis IFG, and no one really can remember the last time we made it past the group stage, there was little optimism that things would be significantly different this year.
But things quickly took a strange turn during the summer break, as the new captain, Abel (Y2), found himself with more sign-ups for IFG than there were slots in the team list. It wasn't just the freshmen eager to represent Law for the first time, but also seniors who hadn't played the previous season. This meant that, for the first time in anyone's memory, Law's tennis team had to hold a trial from which 12 men and women were chosen to represent Law at IFG this year. This is possibly also the first time Law has fielded a full tennis team at IFG.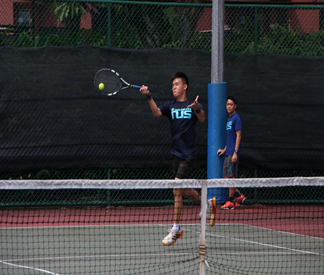 With the incredible talent pool this year, and with a favourable group stage draw, the team was determined to give it their all at this year's IFG. On day 1, the team turned up early to the courts over at the Kent Ridge campus in the morning to warm up. Spraying on some sunblock (which they later realised had no significant effect whatsoever), cracked open new cans of balls and got their game face on in the sweltering heat.

For every match-up with another faculty, they would have to play 5 matches: Men's Singles, Women's Singles, Men's Doubles, Women's Doubles, and Mixed Doubles. Players are not allowed play in more than one of these matches, so strategizing was very important.

The first team Law had to face that morning was Yale-NUS College (YNC). The first two matches to kick-off our season were the Men's Singles, played by Mark Tang (Y1) and Men's Doubles, played by Kay Han and Jonathan Kow (Y1s). Law got off to an amazing start winning both these matches 6-0 each, putting us in a 2-0 lead against YNC. However, YNC fought back hard in the Women's matches, against Gillian (Y2), Natalie (Y1) and Elizabeth (Y4), levelling the tie at 2-2. Finally, the Mixed Doubles match went the distance, played by Markus (Y1) and Sandra (Y4). With both teams refusing to give up, finally Law narrowly lost 5-7, bringing the tie to 2-3 in YNC's favour.
Undaunted by the narrow loss in the morning, the team had a brief rest before returning to the courts once more in the evening for their match-up against School of Design and Environment (SDE).
Once again, Mark in Men's Singles, as well as Abel and Kay Han in Men's Doubles produced a quick win (6-2 and 6-0 respectively). As with the morning match, the tie needed to be broken by our Mixed Doubles pair — this time with childhood friends Markus and Elizabeth. It was an exciting match that went all the way to 7-5 again, but this time Law had come out on top, meaning that we had won the tie against SDE (3-2). Ending Day 1 of the group stage with a win was really encouraging for the team.
The remaining faculties left in our group for Day 2 of the tournament were Science and Business. Our team had heard that both these teams had had a very strong performance on Day 1, and several of their strongest players had turned up for Day 2. This definitely meant that the matches were going to be brutal and our opponents would give us no chances. Our team realised that if they wanted to have a chance of making it past the group stage, they would have to beat both of these faculties on Day 2.

The first team we faced that morning was Science faculty who were leading on the group table. Mark gave us a quick start, winning 6-2 in the Men's Singles. Our doubles specialists, Jon and Kay Han, were absolutely dominant, keeping the points short by finishing it off at the net and forming a solid defence from the baseline, eventually came out unscathed, winning 6-1. Our women's matches struggled against tough players on the other side of the net as well as the scorching heat, but our Mixed Doubles team with Markus and Liz performed some magic and gave us a win over Science, winning that last match 6-4.


With spirits now high and keeping the motivation going, our team still had a chance to make it to the Semis. We just had the final challenge of beating Business faculty. This match proved to be a surprise and an absolute nail-biter. Mark finally met his match against the top singles player in Biz, losing the Singles match 4-6. Men's and Mixed Doubles kept up their usual high standard and with those wins, we found ourselves, once again, tied at 2-2.


The last match still being played was the Women's Doubles with Nayo and Natalie. The teams from both faculties camped around their court and were cheering both pairs on as the women fought each point. Nayo and Nat fed off the support and raised their game, finally defeating Biz 7-5.

This meant that for the first time, although narrowly, Law had made it to the Semifinals of the tennis IFG.
We faced the traditional powerhouse, Medicine, later that evening in the Semis. We knew it was going to be tough, but the team put up a good fight. Mark played the Men's singles (4-9), Abel and Jong played the Men's doubles (5-9), Natalie and Nayo played Women's Doubles (6-9), and Muyu and Gillian played Mixed Doubles (2-9).


Losing in the Semis didn't bother the team too much because they were glad to have made it that far, and turned their sights toward fighting for the 3rd place the next week. We faced the Faculty of Arts and Social Sciences in the 3rd Placing match on a Friday night. This meant that some of our Year 1s had to rush down to the courts after evening Crim classes and get in a quick warm up before this important match.


Under the floodlights that night, we had the privilege of having friends and family come down to support our team as we fought to take home the 3rd place medal. Mark got into his usual routine of giving us a quick lead, winning the Men's Singles 9-1. Kay Han and Jon continued their unbeaten streak, winning the Men's Doubles 9-3. The Women's matches were unable to overcome their opponents from FASS (both losing 1-9), which meant that the Mixed Doubles match was going to be the decider once again. The team and our supporters cheered on Markus and Liz as they battled very capable opponents. Despite a slow start, eventually our players got into their groove and raced to a 9-1 win.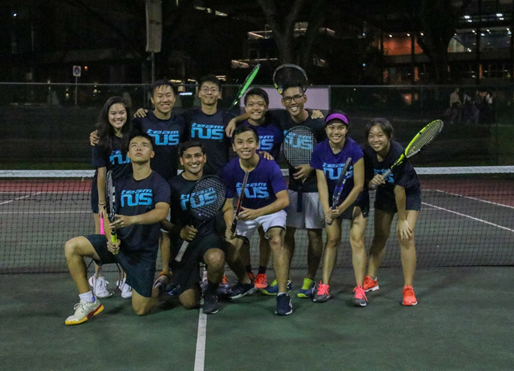 Credit: Abel George (Y2)
VOLLEYBALL (M)
LAW (1) vs MED (2)
25-12
23-25
13-15
LAW (0) vs SCI (2)
10-25
8-25
COM (2) vs LAW (1)
25-20
21-25
15-5
ENGIN (2) vs LAW (0)
25-7
25-8
Credits: Joshua Tan (Y2)
VOLLEYBALL (F)
The team fought a hard battle but lost against Medicine and Engineering. For SDE and Computing, there was a walkover due to lack of players.
Credit: Wang Yixi (Y2)
That's it folks! See you at next year's Inter-Faculty Games!