Every year, the graduating batch of students put up a musical performance, Law IV, for a worthy cause. Each aspect of the musical is only possible with the collective hard work of their entire batch. Justified goes behind the scenes to find out what this year's production team has been up to!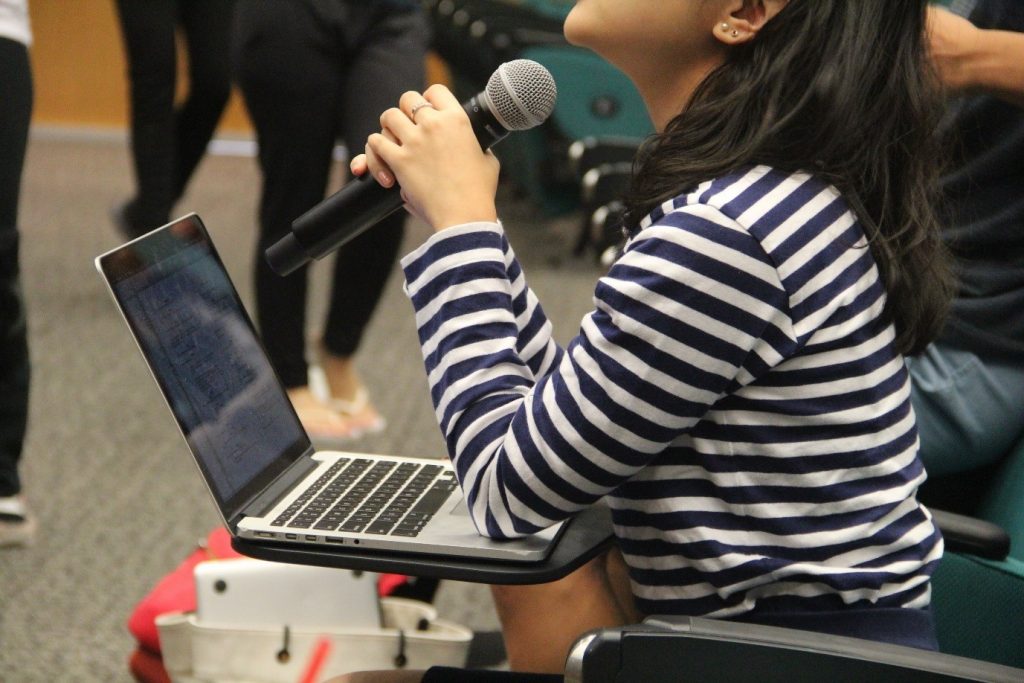 The cast and crew of LAW IV hard at work
According to David Aw (Producer), this year's musical is titled Valediction. It takes place against the backdrop of an alternative Singapore and tells the story of four students vying to become the next valedictorian.
"There are two main conceits in this alternative universe: the first being that people are born with something missing, be it something physical or mental. You can expect to find that characters will be missing thumbs, a sense of humour, empathy, or shame."
"The second conceit is that in this universe, people are offered an entry-level job in a career that the government deems to best suit them upon graduation. The decision will be based on one's schooling history. You can take it or leave it — but most people take up the offer as they like the security, knowing that this is what they were meant to do. The only exception to that are the valedictorians, who get to choose to do whatever they want."
As David explains, most of the interactions take place in the School of Logic, Arts and Work (a.k.a. LAW School) between characters who are missing different parts of their personality, or ostracised for missing physical features. The four main characters each have different motivations, but they all know that ultimately, only one person gets the role.
David highlights that the two conceits are "the big twist in this story. That is why everybody wants to be valedictorian — because they get to something which they are afraid they may otherwise never get to do".
As David explained how each character had their own unique flaws, I could not help but notice the parallels it had with real life. The musical tackles the various struggles faced by law students and how they come to terms with their various shortcomings.
"It explores whether having the ability to make a choice truly means freedom. People may think, 'if I get first class honours, I can become a JLC (Justice's Law Clerk) and do anything I want' – but is that really true? You are just streamlined into a similar career path. So, we are trying to look into these different themes in the play. Ambitious, I know," David mused.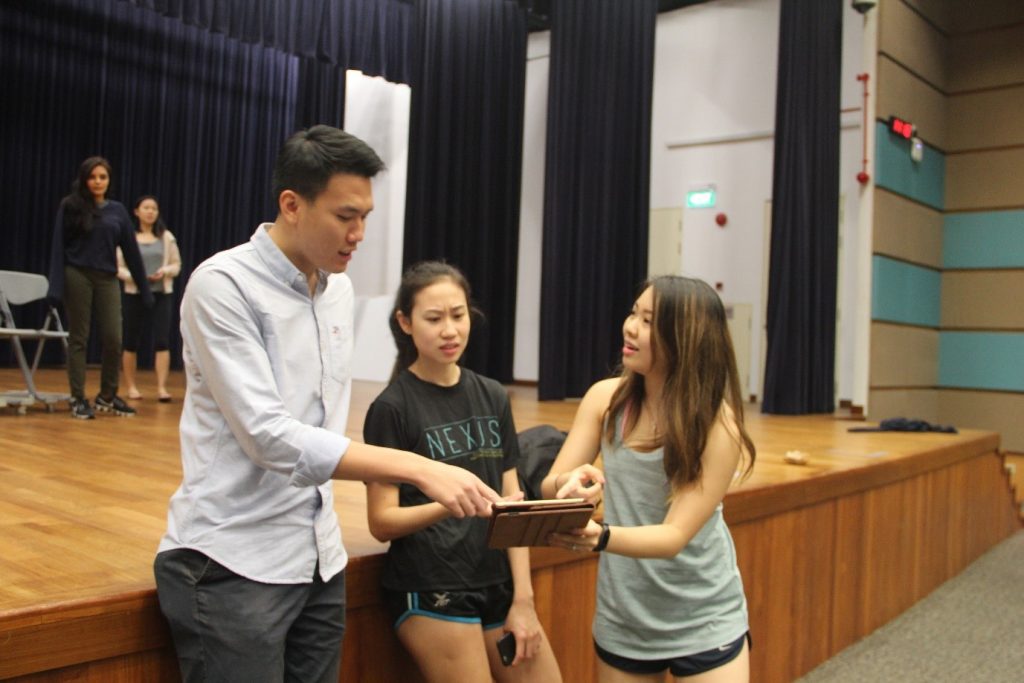 Joshua with two of four main leads: Nadene (left) and Janessa (right)
Meeting the Production Team
I also sat down with Natasha Lim (Director) and Joshua Suwe (Co-director) to find out more about their roles in LAW IV.
As Director, Natasha handles the blocking and the general creative direction. While David shared the storyline with me, I noticed major differences as compared to previous years' renditions of the production. LAW IV 2018 seems to have a more futuristic and dystopian theme.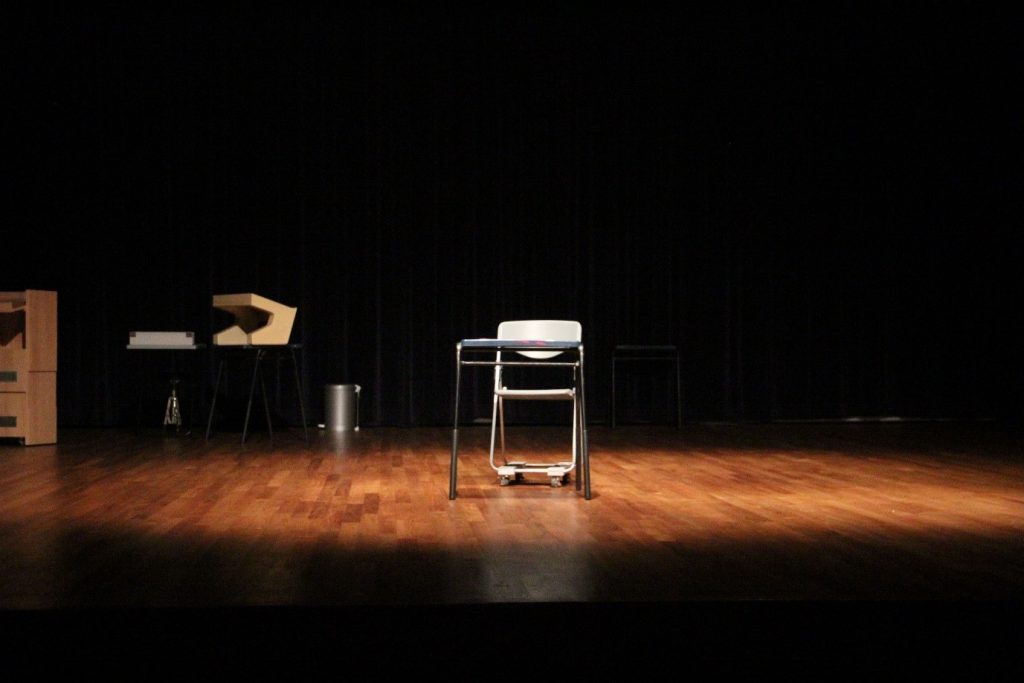 I began with the first question: where did such a novel idea come from?
David: During a 14-hour drive while on exchange, my friend (Bryan) and I were talking about ideas for LAW IV. We wanted to do something different, something dystopian, but still quite modern. Everything takes place in modern day Singapore – just that it's in an alternate universe. We will still have HDB corridors, classrooms, and the Toa Payoh playground Dragon Head. It's the addition of a few twists to such a familiar landscape that makes it interesting.
I turned to the others and asked, how did you feel when the writers first told you their idea? Were you daunted at the idea of putting up a musical?
Natasha: The message behind this musical is that you don't really need to be valedictorian, you don't have to go through the cookie-cutter path to be successful. I think I just really liked that.
Joshua: I think the play has changed quite a bit since the first edition of the script. (Writer's Note: at the time Justified conducted the interview, it was at version 3.2.7.) We had some initial concerns as well when we thought about how we were going to bring these ideas to life. For example, we were concerned over how to portray missing thumbs! Appropriateness was really something we had to consider.
Do you have any expectations or experience prior to taking up your roles?
Natasha: Not really. I did "O" and "A"-level theatre studies, and only had experience in just stage in general. I have not had any previous directing experience. In fact, most students do not have experience with the stage, since such events don't happen that often. Rather than focusing on the professional aspect, the main point is just to put a show that everyone is happy with. My hope is to get everything together and for everyone to have fun in the process. This is really our last time as a batch to do something together. A lot of people here did RAG as well, and this is really reminiscent of that."
Joshua: I once wrote a script for some play-writing competition in secondary school, and they made me put up the play. It was a disaster! But when Natasha asked me to be a part of it, I was like okay, can, since I wanted to do something. But really, I am not super experienced in the artistic side of things, and I figured I would help more in the administrative nature of the front-of-house work. We are all learning something along the way, which is quite interesting.
David: I have zero experience producing. I used to write quite a bit before this, but never plays and never musicals. I just liked watching musicals in general. Because LAW IV is a student musical production, people don't expect it to be a Broadway or West End musical. This relieves a lot of the pressure and gives us a lot of freedom (Natasha: like putting in a large number of school jokes). At the end of the day, LAW IV is really about letting the batch have fun – it's something for us all to remember when we are slogging away in our cubicles.
Natasha: The process is hard, and requires a lot of dedication and effort. We told them not to take up any intensives. Understandably, rehearsal times leading up to the production in February will only get even more intense.
---
The Sound of Music
Behind every LAW IV is also a series of original musical numbers, composed by our students. The music director behind this year's musical, Charmaine Saw, shared with me a little bit about how they conjured original music out of nothing.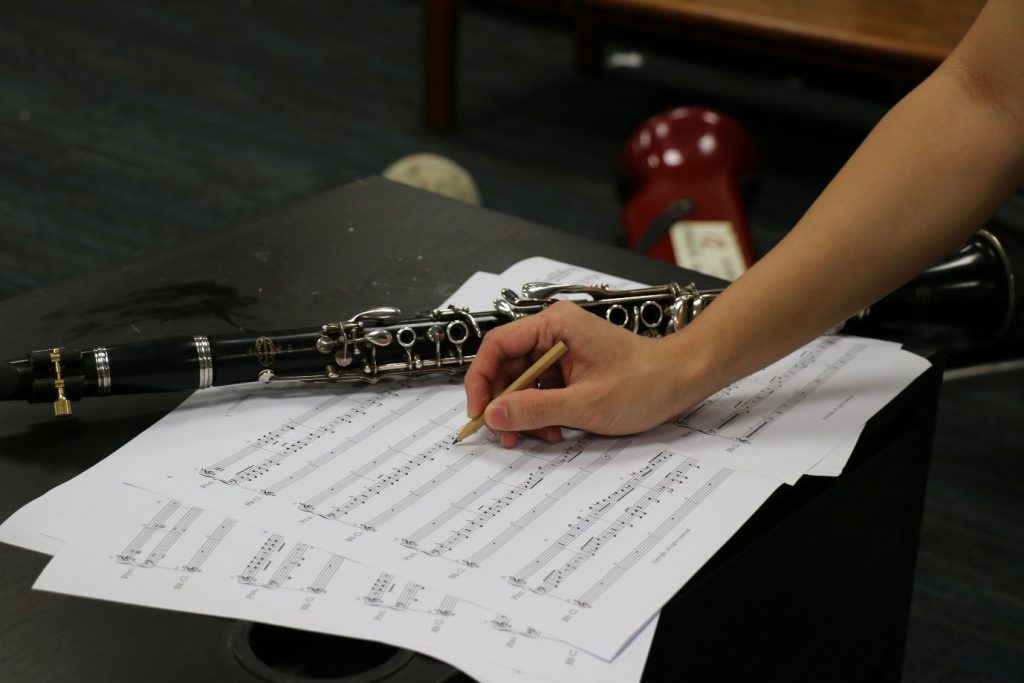 Charmaine: I composed most of the pieces together with Callie (Assistant Music Director). We also had some people to help us in arranging the pieces for the instruments we were not so familiar with. While I play the piano and sing, I have never really composed for a musical ensemble of this scale. Back in school, it was just composing for a piano part or quartet. This is a full-blown musical! It's a new experience but I really enjoyed it.
Curious, I asked: what comes first – the music or the lyrics?
Charmaine: We had a big problem with this. When we were conceptualising the songs, the writers would tell us the idea they had for a particular musical number, and we brainstormed the kind of song we were going for. After I get the idea of what kind of song it is, I will go and listen to a few songs of that nature until I come up with something.  Eventually, we decided it was a lot more natural to kind of compose both simultaneously!
---
Dancing Kings and Queens
While the dancers went about their warm-ups, I asked James and Jennifer, the dance heads of LAW IV, how they managed the tremendous feat of choreographing the dance and whether they had prior experience. 
Jennifer: What we did was to split the choreographers into different teams for different songs and within those groups, come up with the choreography.
James: When you listen to a song, you get an image in your head about what you want the scene to look like. A lot of us watched musicals before, so we have a rough idea. We did RAG, but choreographing for a musical is a whole new level as you have to fit it together with the story. RAG was a mish-mash of different pop songs, and we could choose songs that we felt were easier to choreograph to. But for musicals, you have to work with what you are given. We are trained in hip hop, contemporary and jazz — but there is a specific type of dance for Broadway.
Jennifer: Actually, I don't think what we are doing is very different from what we are familiar with. We kind of changed the choreography to our style. After we came up with something for the first time, it continually changes and adapts to the music we had.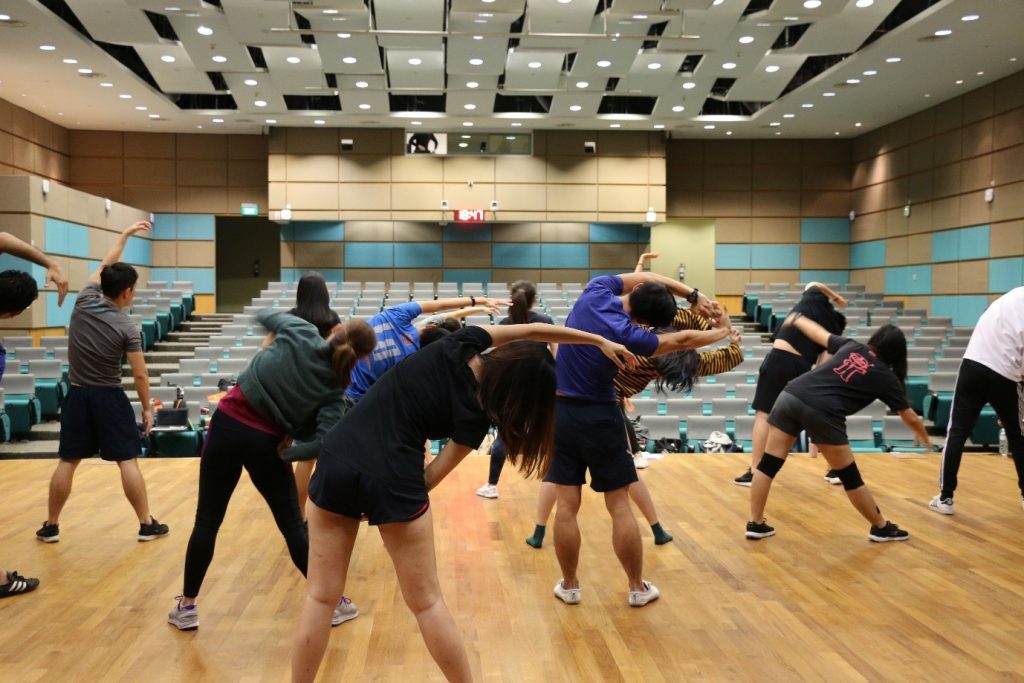 James: It's not about putting up such a fantastic show where everyone is absolutely flawless. It is also the last bonding opportunity the batch has, and it is about giving a final farewell to the school. It doesn't matter if people came in with no dance experience, as long as they are willing to try and come for practices.
---
Build Sets, Not Walls
For my last stop of the day, I proceeded to the area outside the moot court, where the set team was busy with set building. Amidst the frenzy of painting, sawing and drilling into large pieces of plywood, I managed to catch Janna, dubbed by the team as a tyrant savvy Sets Head who is also a talented jeweller.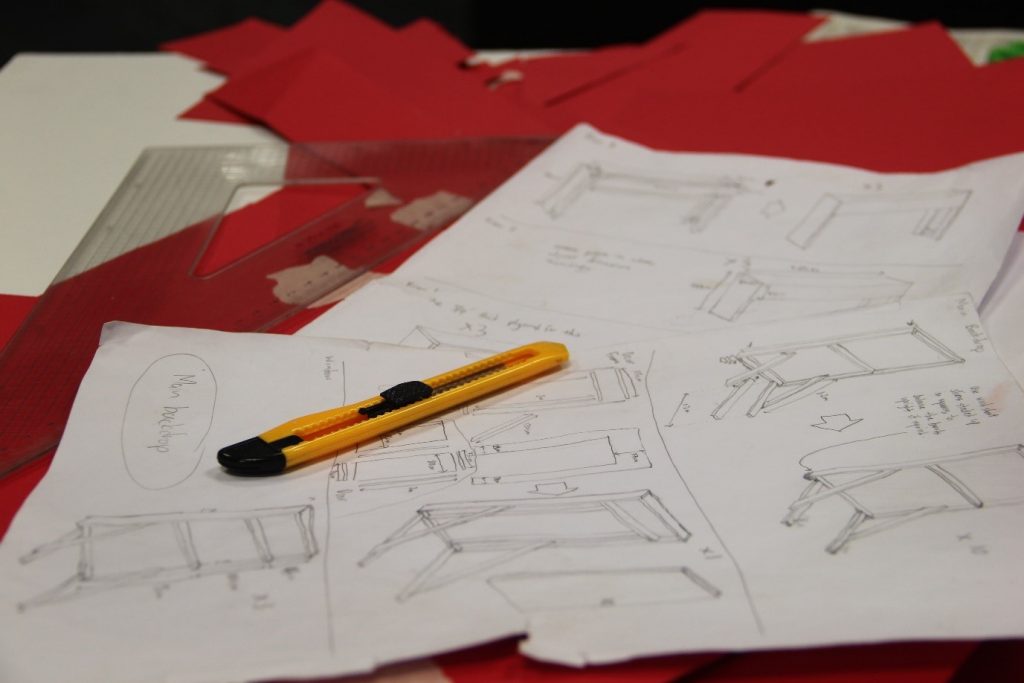 What made you want to join LAW IV?
Janna: I didn't join anything at all in school, so I thought I'll help out with sets for LAW IV. I went to the first meeting empty-handed because I thought I would not be handling this as the head. Suddenly, David was giving me pointers — I thought I was just there to relax and listen to their plans. Turns out I was the head!"
While on sets, Janna has earned the title of the "tyrant" for her seriousness and capacity in getting things done.
Janna: Everyone gets scolded. That's how you know if you have been on sets!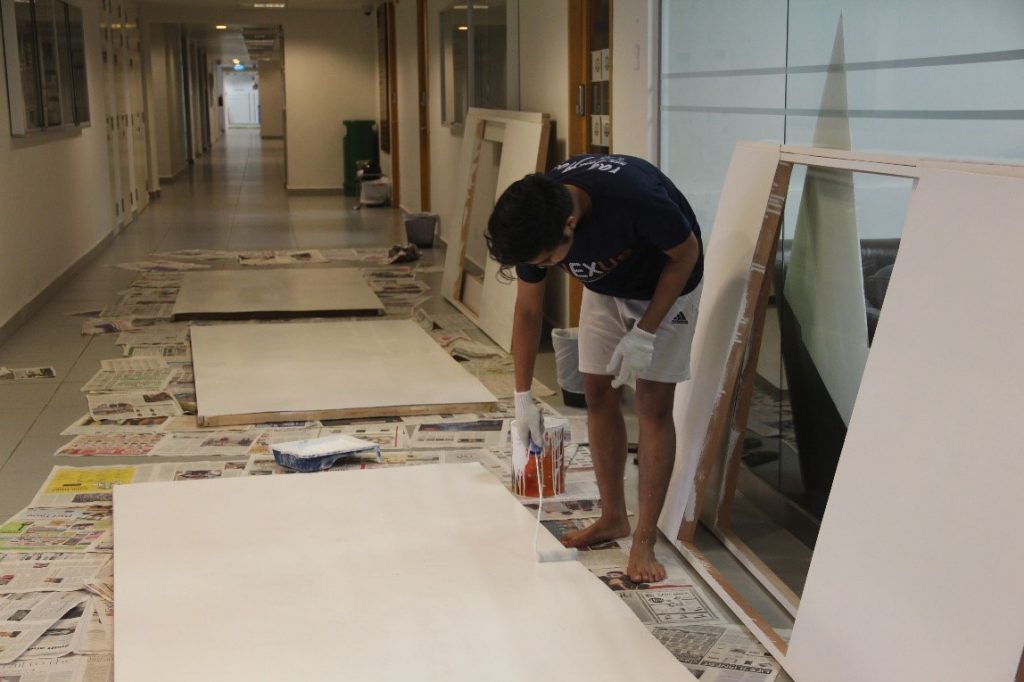 What's special about the sets in LAW IV 2018?
Janna: We are pretty much making the whole backdrop from scratch. We're trying to go for that Wes Anderson look! The backdrop we have is white, and everything else will have as much colour as possible. The props are also very interchangeable. There are some wooden frames with holes where separate window panes will be fitted inside. If there is a classroom scene, we will have classroom-style windows with acrylic window panes. Where there is a scene of HDB flats, we are going to make grilles and fit them in too. If you want to keep it, it's possible – because it is so interchangeable, and we painted it white. We have walls, windows and functional doors — our pieces can be configured for any indoor room! The team had also used screws instead of nails to build the sets, making it more durable.
While I watched the team busy sawing, painting and being engaged with large-scale woodwork, I thought it was a far cry from the jewellery that Janna makes, which were much more intricate with its minute details.
Janna: I actually am more interested in working with the bigger materials but because there is a lack of space, and I can't do woodwork in my room — I'd get sawdust everywhere! So the only reason why I moved onto jewellery was that it was smaller, and I can handle that in my room.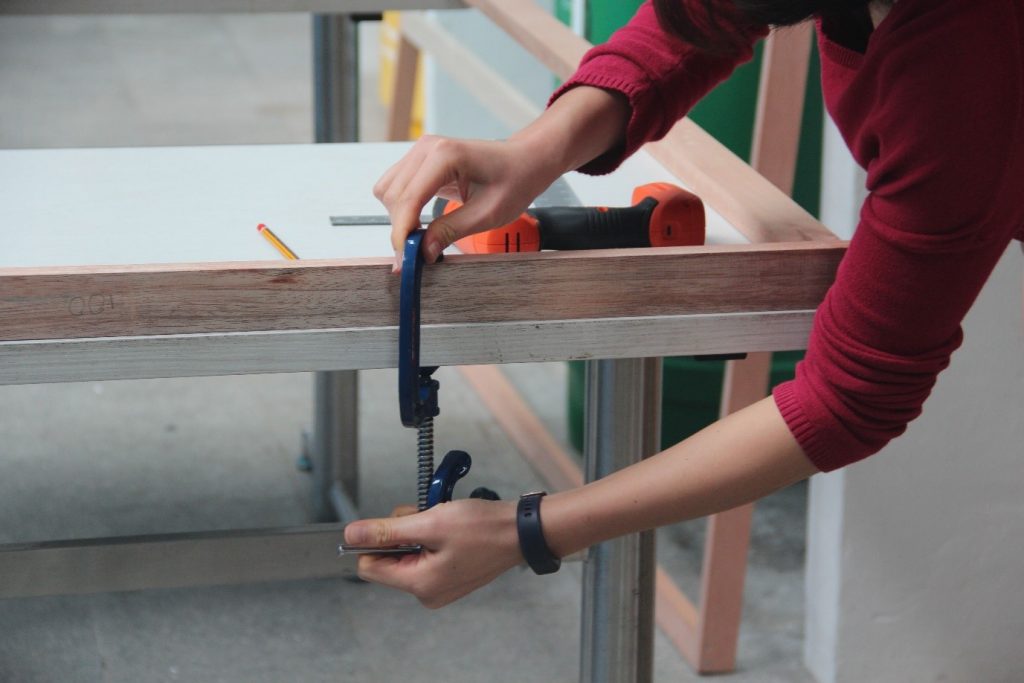 As we came to the end of the interview, I asked Janna if she had any ending thoughts.
Janna: Just know that if all else fails and the whole musical just goes into flames, a lot of law students learnt how to use a drill, how to saw and how to measure. I thought it was common sense all this while, but these people taught me that it is not! [-Redacted-] tried to cut raffia strings with the back of a knife. This is the kind of thing I deal with every day, so tell me, should I be a tyrant or not?
Among the group of people busy completing Janna's instructions, I also had the chance to speak to Chong We, the Vice-producer of LAW IV. Chong We was also the Freshmen Orientation Central Committee (FOCC) Chairperson of his year. I asked him how he felt to be a part of FOCC and LAW IV.
Chong We: I like to join some school activities from time to time, and if I had to choose what I wanted to do with my time, LAW IV was definitely one of them because it was one of the last things our batch will do together. LAW IV evokes mostly different feelings as compared to FOCC. You do orientation with the idea that you are starting law school, so it's a new beginning, but here it is a farewell song to the school. To some extent, you want to work harder for LAW IV because you know that this is the last time you get to do something as a batch before you go out to work.
---
All proceeds from LAW IV 2018: Valediction will go to Hagar Singapore, a non-profit organisation dedicated to restoring the lives of women and children in Singapore who have been subjected to extreme forms of abuse, particularly human trafficking, sexual exploitation and gender-based violence. LAW IV 2018 also has a Facebook page (https://www.facebook.com/lawiv18/) with more information on ticket sales, the cast, and more.
If it wasn't obvious enough from the answers of all who were interviewed, all actors, dancers, musician, producers, backstage managers and builders have poured their heart and soul into making LAW IV this year a success, out of their belief in their batch and cause. If you have some time (and generosity), why not show your support and grab a couple of tickets to LAW IV 2018?
This is part 1 of a series of posts on LAW IV 2018: Valediction.