With the increasing prevalence of technology in a changing legal landscape, the field of Legal Tech is growing rapidly in importance for law-related communities. The Pro Bono community has not been an exception. On 31 August 2018, the inaugural NUS Law LegalTech Competition was launched by NUS Law and Wong Partnership. At the launch event, panellists and industry experts gathered together to discuss how legal tech could affect the law practice in the near future.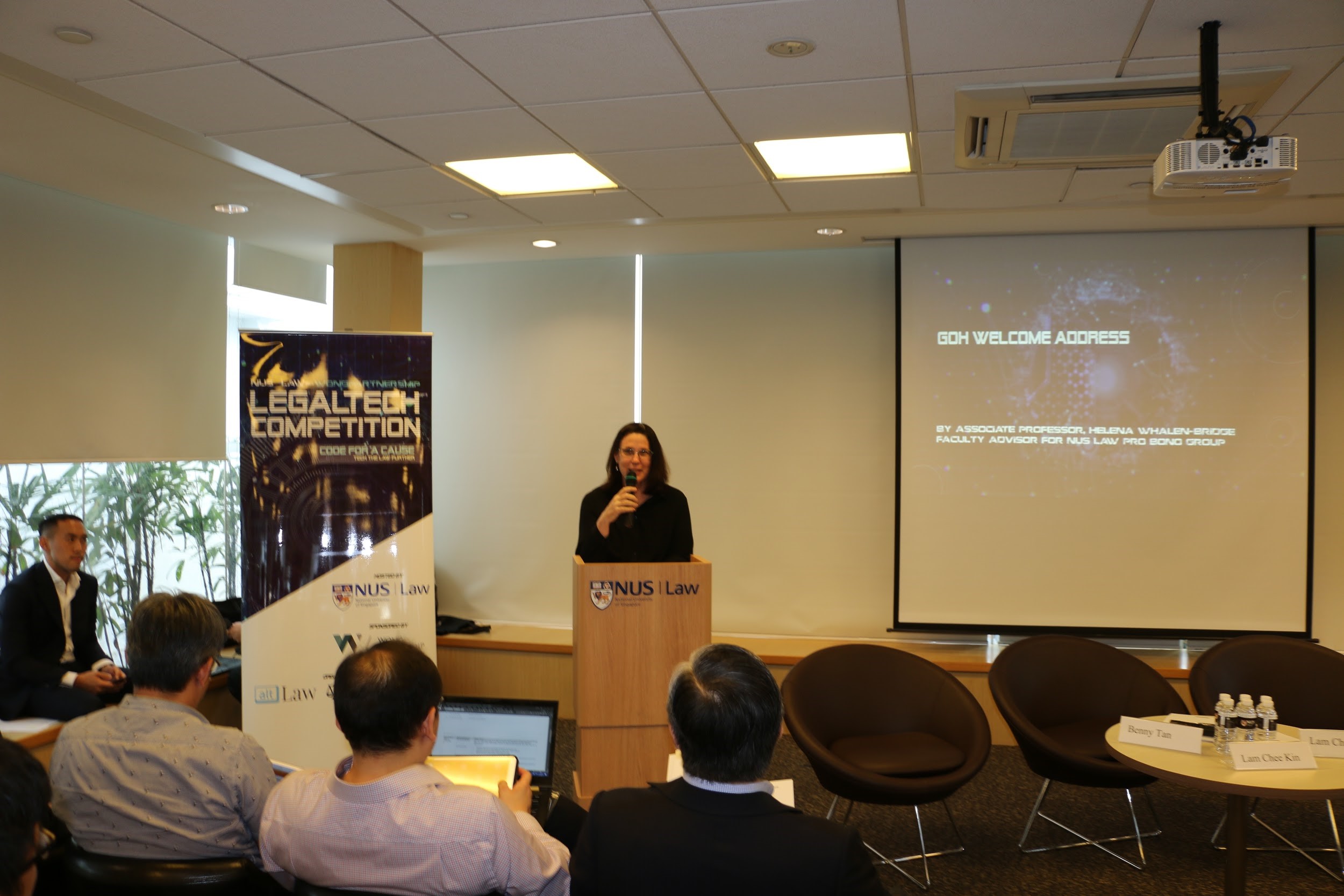 In her first opening address, the Guest-of-Honor (GOH) Professor Helena Whalen-Bridge emphasised the intertwined nature of technology with societal development, and offered a tantalizing glimpse of how technology may bring possibilities of improving and increasing access to justice. One striking example she raised was with regard to reducing the costs  of legal services, which could be achieved by capitalizing  on the growing wealth of online resources and cutting down on paper usage. These reduced costs could potentially be passed on to individuals in society who would otherwise not have been able to afford their original legal fees.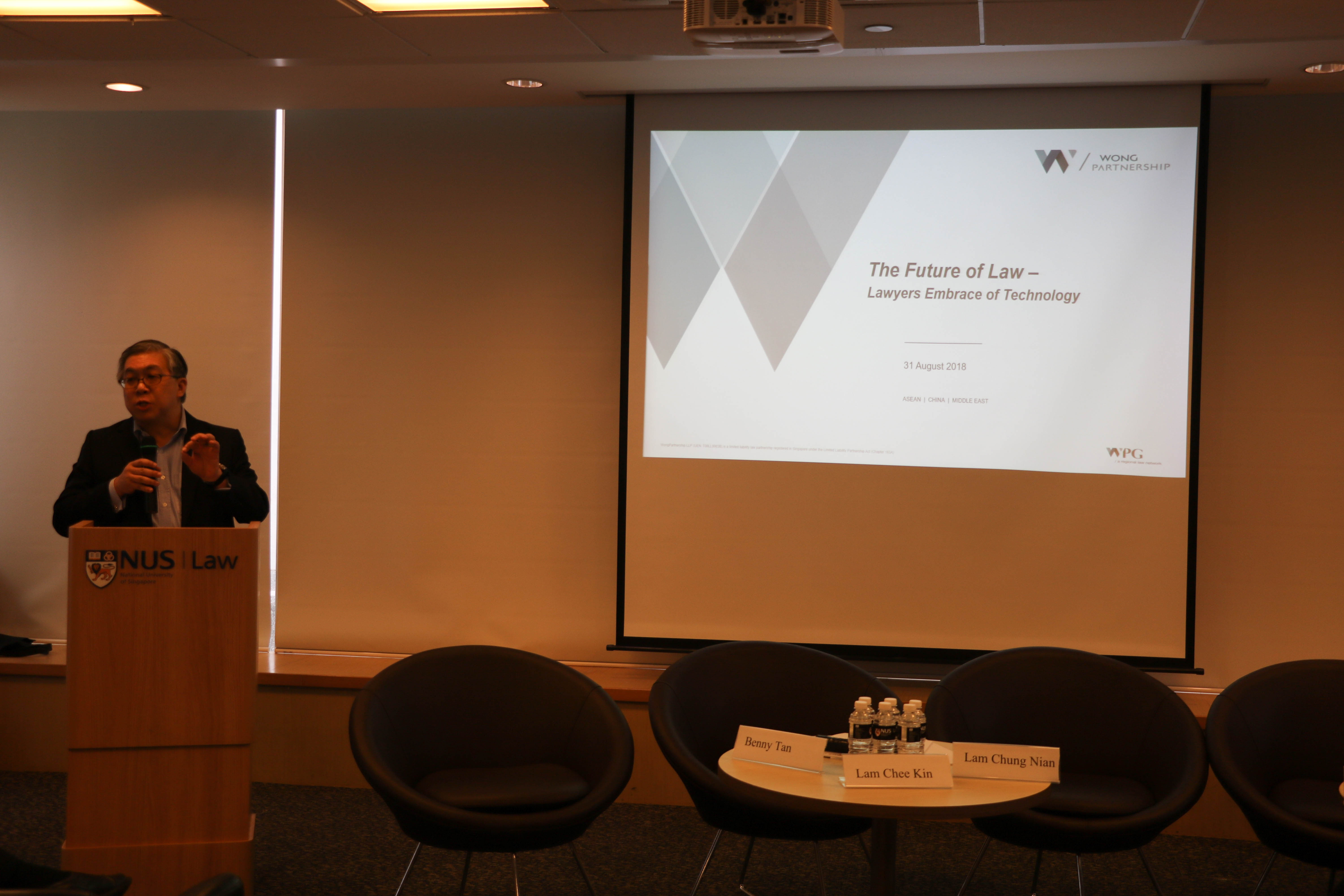 The next speaker, Mr Ng Wai King, Managing Partner of Wong Partnership LLP, offered invaluable insights into the attitudes of law firms towards legal technology. He touched on the significance of the progress of legal technology, in particular the ramifications of this growth for current law students. He proceeded to lay out the main objectives of the LegalTech Competition.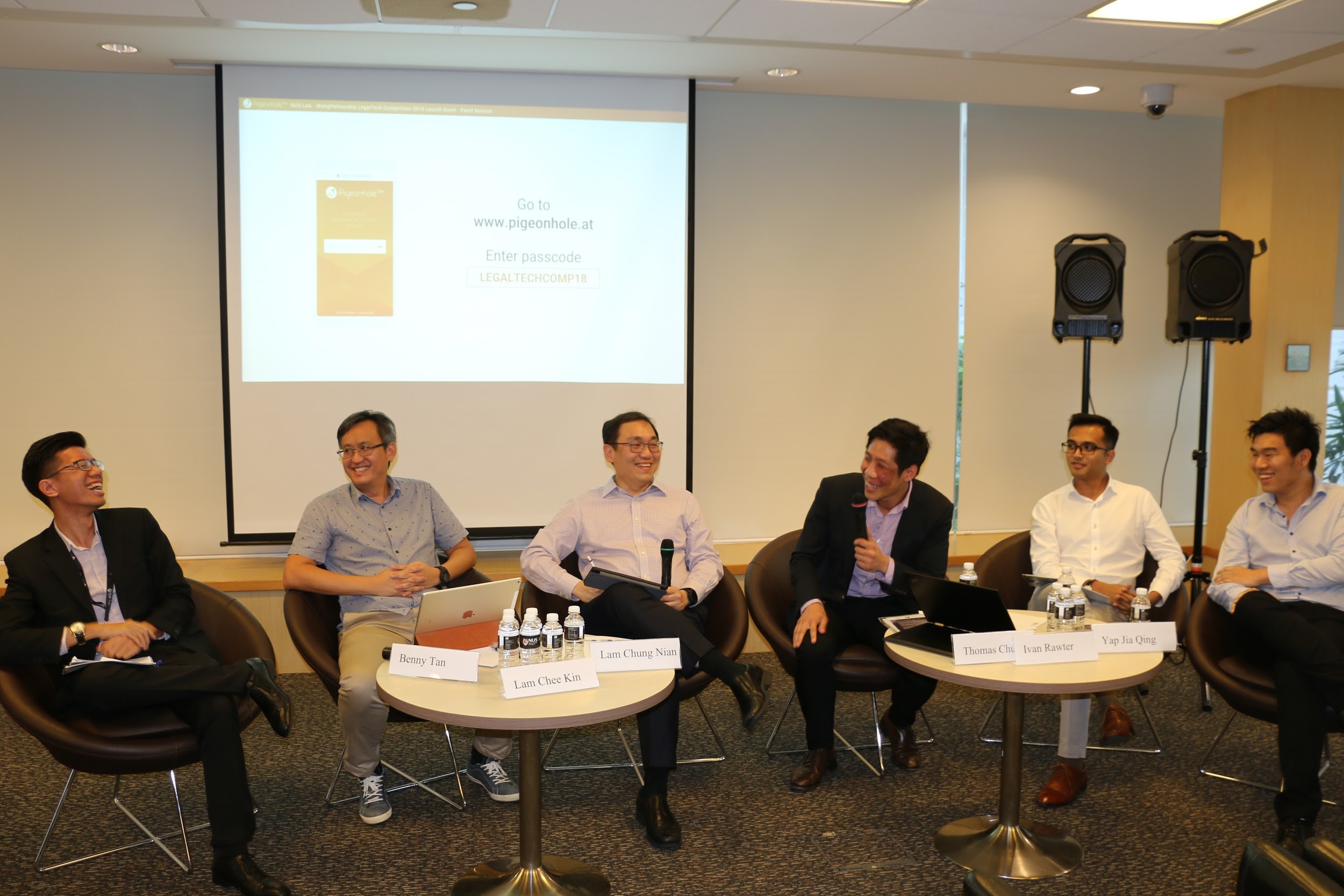 The subsequent engaging presentations by various professionals and industry experts hint at a steadily increasing sensibility amongst legal practitioners and students towards technological developments, and with this  great hopes that technology can be harnessed by these parties to propel legal development  further forward to benefit society.
The panel discussion among the guests involved the sharing of anecdotal experiences in handling and interacting with legal technology from the viewpoints of various positions ranging from that of users to that of providers of legal technology services.
Offering his perspective from his time as a Deputy Public Prosecutor and State Counsel at the Attorney-General's Chambers as well as his experience as a defence counsel pro bono, Sheridan Fellow  Mr Benny Tan opined that technology could help benefit the ordinary man-on-the-street. He observed that , technology may help consolidate information that would be difficult to find otherwise, as well as  facilitate and expedite the process of defraying documents. It could even serve as a predictive tool through the use of Artificial Intelligence (A.I).
Mr Lam Chee Kin, the Managing Director & Head of Group Legal, Compliance & Secretariat of DBS Bank, emphasized the importance of being discerning  in selecting the tools to aid us in our goals amidst the unprecedented saturation of the legal market with such technologies. While technology holds much promise, success is never guaranteed. As Mr Lam shared, DBS experienced significant difficulties in aiming to incorporate A.I, despite devoting two long years to the process. Further, as Mr Lam shared, he believed that the incorporation of technology would be pivotal in differentiating a law firm from others. Further, he echoed Professor Whalen-Bridge's view that technology was here to stay due to the growing accessibility to and importance of data and computational power. Thus, perhaps a key takeaway would be that despite the potential challenges in the incorporation of technology in the legal sector, the rewards from harnessing this technology effectively are unquestionably greater . Hence, it would be optimal to start sowing the seeds of progress for the future as soon as possible.
The Launch Event did not solely focus on the perspective of current and prospective users of legal technology. Legal technology providers also weighed in on their insights gleaned from their experiences developing software for greater legal technology integration. Mr Thomas Chuang, a Legal Product Expert at A.I firm Luminance, explained the principle of efficiency he adopted: the end goal was to utilise technology to remove some of the lower-level work of lawyers so as to free up more time for them to better focus on honing their higher-level legal skills. Mr Ivan Rawter, a co-founder of Singapore-based startup Pactly, shared his belief that technology should be accessible and simple so that it can be utilised by the general public and not just members of the legal industry.
Mr Yap Jia Qing, the founder and CEO of startup Nurture.AI, also shared that it was his interest in applying technology to the legal industry that drove him to pursue law. This led him to his goal of exploring how to create a digital model of judges. For this reason, he chose to work in a venture capital firm where he picked up skills in data science and artificial intelligence.
Thereafter, the guest panelists were invited to share their opinions on whether artificial intelligence will ever replace human lawyers. Mr Benny Tan opined that artificial intelligence could potentially assist lawyers to a large extent; he felt that mitigation pleas put up in court by the accused were often feeble and lacked substance. This gave him the idea to build a platform to help in drafting such  pleas. Currently, he is in the process of improving this platform, which at the moment can generate a basic document based on a preliminary set of questions. For him, this platform was motivated by his experience as an ad-hoc pro bono defence counsel, where he found most of the accused have limited language abilities that affect their ability to submit documents, communicate effectively to counsels and in court. Hence, it is his hope that his platform will alleviate this problem.
Following up, Mr Lam Chee Kin shared his ideas on how law firms and in-house counsel could better collect data. According to him, there were three essential areas firms must develop. Firstly, sophisticated data architecture is needed in lieu of the  large amount of data in law firms. This data will have to be appropriately organised for better accessibility and efficient storage. Secondly, cross functional infrastructure must be developed. Professionals like data scientists and project managers are needed to make sense of  data and help deploy artificial intelligence models. Thirdly, computational infrastructure is required to carry out sophisticated tasks that  artificial intelligence may have to  handle. However, he cautioned that it is difficult to achieve these goals yet due to the limited investment in this area.
Lastly, a question was raised as to whether a double degree in law and computer science could be offered at NUS in the future. The guest panel explained that computer science was distinct from learning how to code. However, they observed that a computer science degree did value-add by teaching a formal and structured way to communicate ideas in the field of technology. A double degree could offer a deeper understanding of both domains, but was not in the works as of yet.
On that exciting note, the opening ceremony of the Nus Law-Wong Partnership Legal Tech Competition came to a successful conclusion. The guest panelists were presented with tokens of appreciation from NUS Law Vice-Dean Eleanor Wong. Stay tuned for more updates as the competition progresses!
Justified would like to thank the NUS Pro Bono Group for permitting us to use their photographs of the event.