Spring Awakening, the musical, is finally in town!
If you have a few hours to spare, and if you feel like putting aside your books from Law Land for a change, why not get in touch with your arty-farty subconscious by watching a play?
 Spring Awakening isn't really your typical kind of musical. If you have never heard of this musical before, you might step into the theatre thinking that "Spring Awakening" is all about pretty flowers, butterflies, sunshine, rainbows, renewal, hope, rebirth, optimism, and other pleasant and lighthearted matters…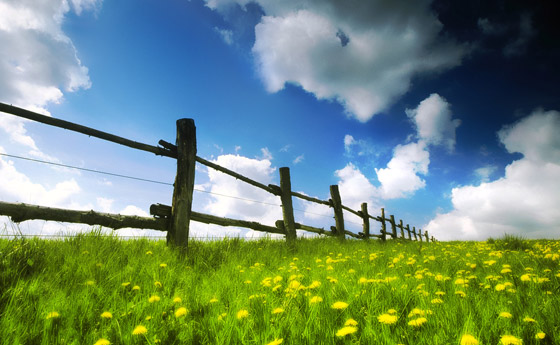 … only to be rudely slapped awake by scenes involving sex, homosexuality, suicide, masturbation, domestic violence, abortion, and other Serious and/or Kinky Stuff. So don't expect to sit back and relax, as though you're watching a re-run of your favourite sitcom on TV.
Spring Awakening is a modern rock music adaptation of an old German coming-of-age play that was once banned for the risqué content. While the play is over a hundred years old, it explores many social issues and problems that are still extremely relevant today — most of which are attributable to how problems arise when there is too much suppression and too little communication. Pangdemonium (helmed by Adrian Pang and his wife, Tracie Pang) has also made efforts to modernize the play — for instance, by giving the boys (one of them in particular) funky hairdos and rock-star tendencies when they break into song!
The title of the musical is not a misnomer at all, because the play is all about teenagers undergoing a phase of discovery: on their own, and with each other. The musical first hit Broadway in 2006 (and won plenty of awards, too), and starred Glee actors Jonathan Groff and Lea Michele.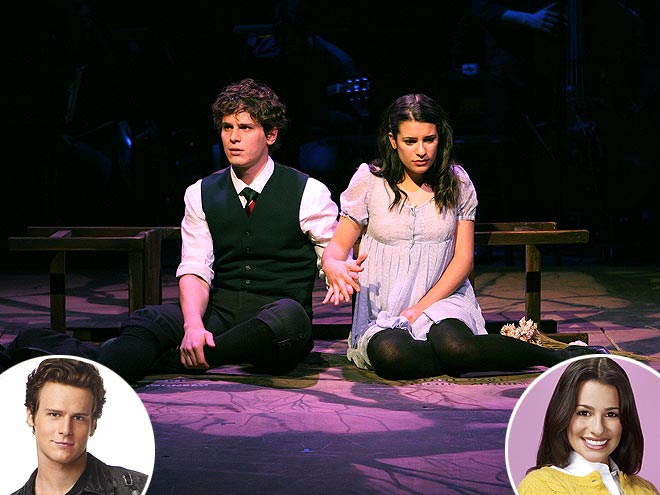 Spring Awakening chronicles the lives of young Melchoir (played by Nathan Hartono), Wendla (played by Julia Abueva), and their friends. Set in late 19th Century Germany, the teenagers grow increasingly frustrated by the extremely conservative nature of the society they lived in. No one really knew where babies came from, or what to do when one falls in love. While the girls lament about how their mothers never prepared them to become women with the song Mama Who Bore Me, the boys tell their tales about how they fight to repress their sexual desires in The Bitch of Living.
Sparks fly between the characters as they attempt and struggle to figure things out all on their own. Things inevitably become exciting, amusing, disturbing, and uncomfortable all at once. Eventually, matters go from bad to worse, and the situation degenerates into one that ends in death and regrets. Yet, the musical ends on a hopeful note — that the bad memories and losses of the past can only serve to empower one to live on with strength and hope for a better future.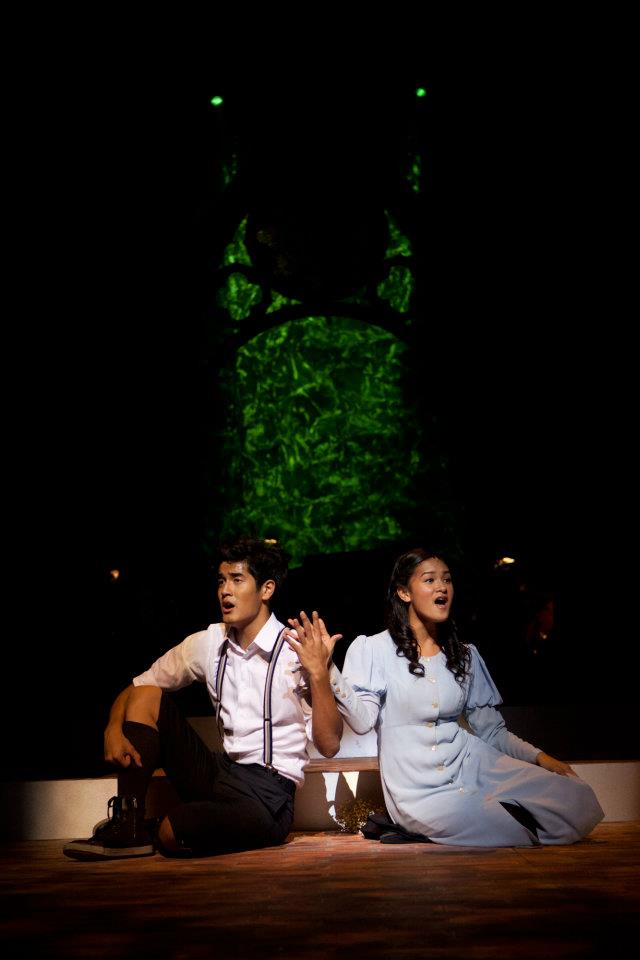 Of course, this is not to say that the whole play is all just about doom and gloom. There were moments which made me go "aww", moments which made me squirm uncomfortably in my seat, and other moments which made me laugh out loud uncontrollably (especially during My Junk — which showed one boy fantasizing about his piano teacher, and another spending an awfully long time in the bathroom…). At one point, it also made me tear a little (while random other ladies seated around me started sniffling loudly). This musical would engage you and make you feel a whole range of emotions, but it also fleshes out many serious concerns and problems that would make you ponder, even on the morning after.
I must also mention that I liked where I was seated at! My musical-watching-companion-for-the-day and I were at the second row — so we were able to see every single drop of flying spittle and perspiration on their faces, and we were able to feel every stomp of the actors. Unfortunately, we still didn't manage to see much of Nathan Hartono's butt-nakedness (oh oops did I just let that out?). I guess it was also good that we were that far front, because the volume tends to dip at times, so much so that it became difficult to make out what the actors were saying at times.
[Just a short aside about why I wanted to write about Spring Awakening – I remember that fateful day in 2010 when I realized that Pangdemonium was having a casting call for this musical. I wanted to give it a shot so badly! But back then, I was a miserable and cowardly Year One law student who was too afraid of failing my exams and getting kicked out of law school… So with a heavy heart, I closed my internet browser and went back to burying my face in my LAWR viva, Mindy Chen, and McKendrick… 🙁 But anyway, seeing the talented actors perform their hearts out on stage, I figured that I'd probably not get called back after an audition anyway so OH WELL.]
While I don't profess to be an expert in theatre, here's my humble take on Pangdemonium's Spring Awakening proper!
1)     Music-wise, Spring Awakening is a rock musical (that is also a little indie) afterall, so look out for some sweet beats in the faster songs! I loved how they managed to do some tinkering with the play and the songs. For example, prior to the song All That's Known, Adrian Pang's teacher character tapped a beat with his cane whilst the boys recited Latin, letting the beat create a smooth transition into the song.
However, I must admit that I was slightly disappointed by the reprise of the famous Mama Who Bore Me — somehow, I didn't get that spine-tingling feeling that I was expecting to get because the supporting actresses did not really manage to Hit The Right (Musical) Spot(s).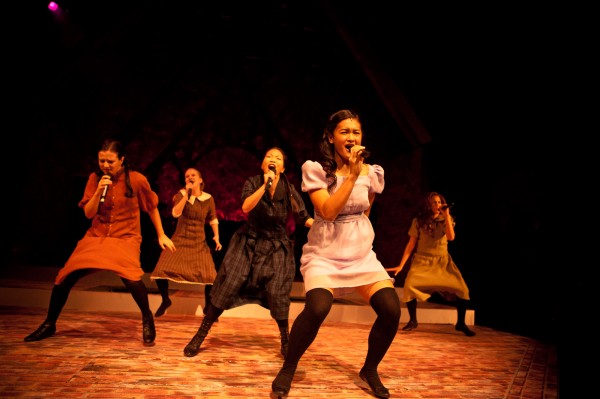 2)     The slower songs were really well-delivered by the stronger singers (the leads, of course) who could hit note after note, harmony after harmony, and managed to make our spines tingle. I particularly enjoyed Mama Who Bore Me, Those You've Known, The Word of your Body, and Touch Me. Melchoir's Left Behind was the tearjerker moment of the play, and was very well performed. However, I felt that The Guilty Ones wasn't as nice as I remember the Broadway version to be.
3)     Oh and like the original, they have a Live Band — so there are no recordings whatsoever! It's always nice to have real musicians play during a Musical.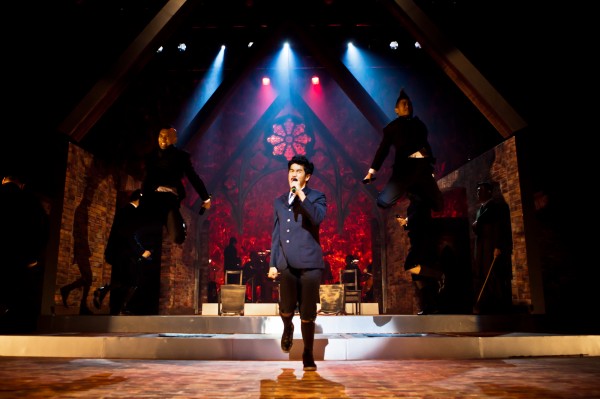 4)     I really liked the use of space — there were no set changes at all (unlike other plays with bigger budgets and more manpower), and most scenes required simple objects such as chairs — with the exception of the barnyard scene…. (but I'll stop here for that, you'll have to watch it yourself to find out!). But anyway, I really liked how they made full use of the platform and the short runway area at the front because they were able to split the action and create multiple dimensions to the play… But ahh I better not spoil it any further for you guys!
5)     I thought that the casting choices made were good on the overall — because all of them are brimming with so much energy they just EXPLODE on stage when they break into song! They have also cast a few little kids (that were really cute! But wait till you see them curse and give the finger in Totally F***ed!)
6)     While I felt that some of the actors may not have been chosen because of how well they could sing (but this is not to say that they can't sing! Just that they really paled in comparison to the vocal powerhouses of the leads), their acting skills definitely more than made up for it! I was extremely tickled (and then moved by) Melchoir's sidekick — Moritz (played by Eden Ang), as well as the two homosexual boys (you'll know them when you see them).
However, I must admit that I was more impressed with the male actors' performance in general, as opposed to the females… and I don't think it's merely because the boys have had more opportunities to make the audience laugh.
7)     The two leads, Julia Abueva and Nathan Hartono, were amazing. Both were great at acting, and even more so at singing. However, I found it a pity that Julia was Too Good at singing — I'm not so sure how I can explain this adequately, but she tends to display slight opera tendencies at times? So much so that it makes her character lose that little bit of believability. Perhaps I'm only making this comment because I've been comparing her to Lea Michelle (whom I thought truly acted and sang like a teenager who was oppressed and frustrated).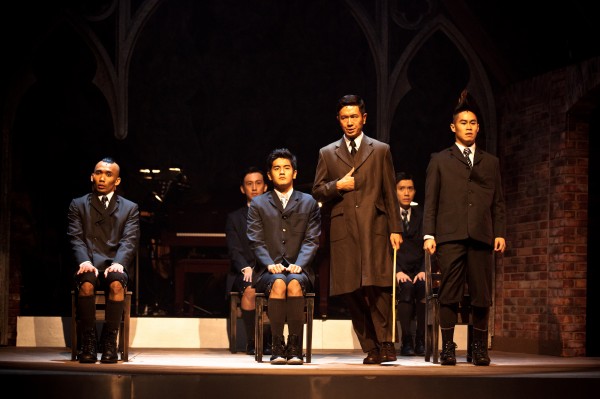 8)     The two adults of the play (Adrian Pang, who played all the male adult parts, and Candice De Rozario, who played all the females) were amazing. They kept costume changes to the minimum, but were still able to show how they were really different characters every time they reappeared on stage by changing their accents, props, accessories, gait, etc.!
On the whole, the show was a great job — and the fact that it is a local production made me all the more happy to have watched it and to know that our arts scene isn't so bad afterall! 😀 In short, YOU SHOULD GO WATCH THIS MUSICAL.
[Oh and one more interesting fact — amongst the cast, one of the males (the biggest one) is actually a law graduate who decided to have his first (and according to him, possibly his last) stab at acting in a musical before he starts work! So I guess there is hope for those amongst us who prefer prancing about on a stage to mooting in front of a panel of judges afterall!]
If the above review wasn't enough to make you want to go for Spring Awakening, here are a few more reasons:
(i)                 This website gives us 9 reasons why we should go catch the musical: http://www.feveravenue.com/12-reasons-why-you-should-catch-spring-awakening/  (don't ask me why the URL says 12 reasons instead).
(ii)               As students, we get a 15% discount! (The Performance Motor Limited buy-one-get-one-free Ticket Deal for Students is no longer available). Or alternatively, you could check out Pangdemonium's facebook page regularly to see if they are releasing last minute tickets at lower prices — they have been releasing tickets under all categories at a flat rate of $50 from time to time.
So if you're…
(i)                looking for something artsy and sufficiently complex to add more drama to your life;
(ii)              dying to ponder over something other than cases and the law;
(iii)            looking to impress your date (even though Valentine's Day is over); or
(iv)            interested in planning an outing for your Tutorial Group before everyone gets sucked into a wormhole of exam stress,
do get your tickets for Spring Awakening before they finish this run on the 26th of February, 2012!
(PS: This really isn't a play that you would bring your grandparents, parents, or little siblings to. Unless you want to experience having an army of metaphorical awkward turtles surround you. You have been warned. That said, however, it would probably be a good idea for parents to watch this — so that they would feel more compelled to speak to their children about the Birds and the Bees before it is too late.)
***
Article contributed by: Kristy Teo (Law 2)