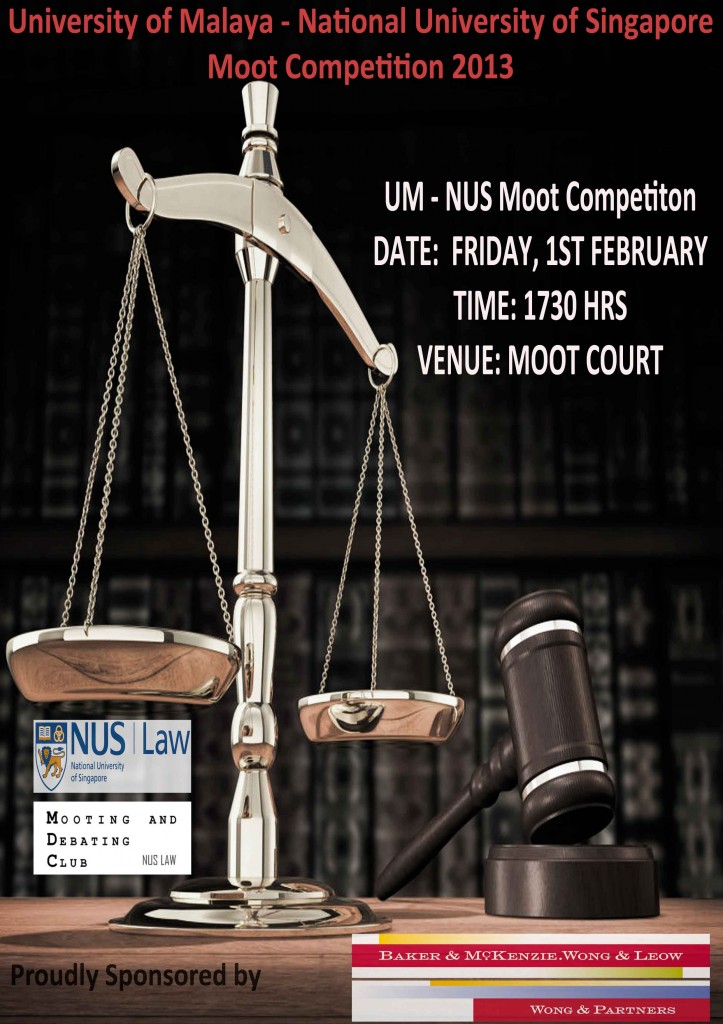 University of Malaya — National University of Singapore Moot Competition 2013
PROUDLY ORGANISED BY NUS LAW MOOTING AND DEBATING CLUB AND SPONSORED BY BAKER & MCKENZIE.WONG & LEOW
The University of Malaya – National University of Singapore (UM—NUS) Moot Competition is back! This annual competition held between the two universities is hosted in turns since its inception in 2005 and this year, NUS will be hosting our Malaysian learned friends and organizing the Moot Competition.
Come down to the NUS — Faculty of Law Moot Court on the 1st of February (Friday) at 1730 hrs to watch one of the most exciting moot competition of the year!  Witness as both universities pits its best and brightest mooters against each other as they moot on new and controversial issues relating to the Law of Tort.
For 7 years running since the competition's inauguration, NUS has always brought home the championship title.
Will this year's result be the same?
Will NUS clinch its 8th consecutive win or will UM bring home the Championship title
Will there be history in the making?
Join us at the Moot Court,
We'll see you there!
( All Guest to be seated by 1745)
The Moot will Commence at 1800hrs Sharp and will end by 1915hrs.
All attendees will be treated to a delicious reception after the event, by courtesy of Baker & Mckenzie.Wong & Leow.