The 2016 edition of the Advocacy Cup sponsored by Drew & Napier LLC that was held on the evening of the 1st of April was a timely reminder for Year 1s slaving under LARC, such as myself, that mooting was not easy.
In addition to a gruelling panel of esteemed judges (consisting of Honourable Judicial Commissioner Kannan Ramesh SC, Director of Drew & Napier Hri Kumar Nair SC and Assoc. Prof. Ruby Lee) and complicated case facts, the four finalists were each required to carry out cross-examinations of their witnesses before the court. Nonetheless, all four finalists, comprising Amber Joy Estad (SMU), Sumedha Madhusudhanan (NUS/ Year 2), Liew Zhi Hao (NUS/ Year 1), Bertrice Hsu (NUS/ Year 2) took these challenges in their stride and delivered their submissions with flair and bravado. And as expressed by the judges at the conclusion of the Moot, the court was most certainly pleased.
This year's trial problem centred on a charge of wrongful confinement under Section 368 of the Penal Code (reproduced below). The Prosecution raised a charge against the accused, Gina Liak, for allegedly having wrongfully confined Gloria Wang Zhao Jun, a young Mongolian girl, for ten days by locking Wang in one of her bedrooms.
The submissions began with Amber Joy Estad (SMU) taking the stand. Entering the finals as well as the semi-finals as the only representative from SMU, Amber was arguably the smoothest speaker of the night, commanding the audience with her gentle yet persuasive presentation style. In fact, she spoke in a tone so amiable and kind that I kinda almost forgot she was persuading the court to jail someone.
The next speaker, Sumedha Madhusudhanan (NUS), was equally affable in her delivery. However, belying her calm disposition was immense grit and a mind of steel, as she tackled difficult questions from the bench, and had to make do with the little time she had after the Judges declined her request for 2 minutes of extra time.
Liew Zhi Hao (NUS), who followed next, was extraordinarily confident in his submissions, and succeeded in conveying his arguments while charming both the audience and the Judges. At one point, Honourable Judicial Commissioner Kannan Rameh SC was clearly tickled by the Year 1 mooter when he re-introduced himself to the bench during his submissions and his subsequent cross-examinations (Mooters are only required to introduce themselves once, at the start of their initial submissions). Cute.
The last speaker to take the stand, Bertrice Hsu (NUS), easily came across as one of the more assertive finalists with her aggressive line of questioning. Demonstrative of the prowess of an Advocacy Cup finalist, Bertrice displayed quick wit by effortlessly turning an accidental slip of the tongue (when she referred to the accused as a lawyer when she meant to say liar) into a smooth joke when she briskly proceeded to state 'Sorry Your Honours, I meant liar, but lawyer or liar, it's the same thing'. The Judges were visibly entertained, while members of the audience enjoyed a nervous laugh at thought of their possible moral degradation in their future practice as lawyers.
Following two hours of intensive submissions and cross-examinations, all four finalists completed their turns and the Judges adjourned for a short discussion. After convening to decide on the results, the results were:
1st place – Bertrice Hsu
2nd place – Amber Joy Estad
Joint 3rd – Sumedha Madhusudhanan & Liew Zhi Hao
As part of their closing remarks, the Judges expressed their delight at the rising standards of mooters featured in the finalists of the Advocacy Cup. From its humble origins in 1988, the Advocacy Cup has developed into a moot competition that draws the best of local law students.
The Judges also provided some advice to beginner mooters, stating that moots are all about 'preparation, blood, sweat and tears' — that no good mooter could go into a courtroom and expect to do well without knowing every single document related to the case. Honourable Judicial Commissioner Kannan Rameh SC also advised mooters to 'get the Hollywood out of cross-examination'– namely to stop furrying their brows dramatically at each question they throw at witnesses.
I almost wish I had gotten this information earlier, because there evidently was not enough time for me and other first year mooters to fully digest their advice before moots began the next day. Nevertheless, I know that Rodyk still awaits me. #rodykyeow.
That being said, the Advocacy Cup provided much more than just moot advice for members of the audience. More importantly, it demonstrated that mooting is much more than reading off a prepared script. An effective mooter is eloquent, engaging and quick-thinking. And beyond that, the passion and grit displayed by each finalist was inspiring and very, very respectable.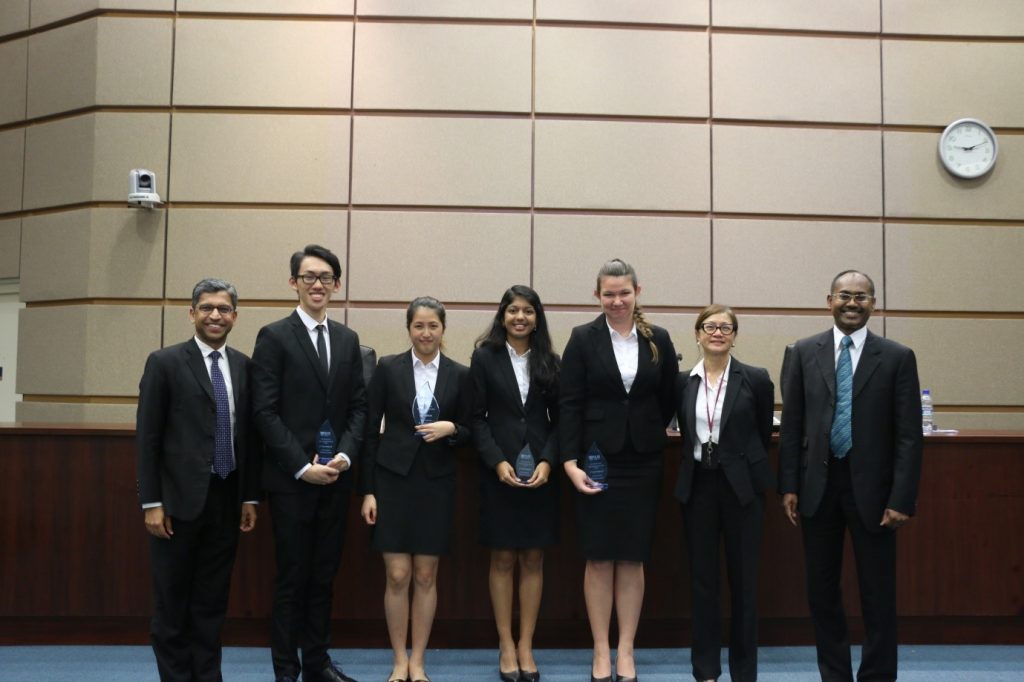 Written by: Yeow Xuan (Yr 1)
Photography by: Yeow Xuan (Yr 1)