You've read some stories about the non-academic staff in law school — Remember Auntie Saddiah from the NUS Co-op @ BTC, who's always game for a little chat with us students? Remember our former Summit chef Suresh Krishnan the 'Briyani man', and Auntie Tara who works relentlessly behind the scenes so our classrooms are always clean? As part of the Dialawgues series, our latest entry details a heart-to-heart chat with the well-loved Uncle Belson – he's the guy everyone knows; his coffee and tea have literally helped the past 3 batches of law students graduate (just think about that!); and his ever-generous heart is always thinking about others before self e.g. when he personally made barley and coffee/tea AND nuggets for this year's Law IV cast and crew to spur them on. Enjoy the interview below!
---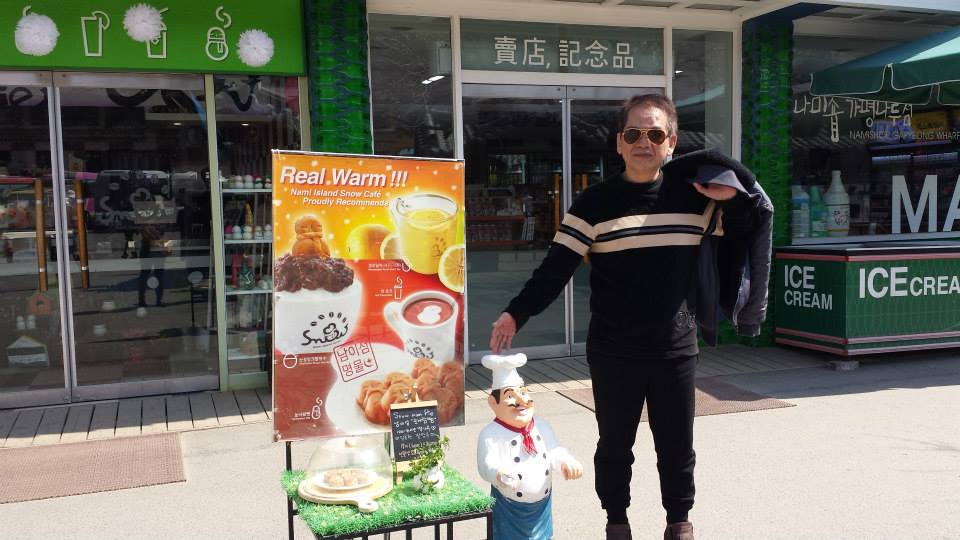 Danny and Alli: Hi Uncle Belson!
Uncle Belson: Hi Danny and Allison! Just to let you know, my English is not very good, I'm scared we cannot communicate, you know I'm not professional…
Danny: No lah, your English is very good!
Alli: Yah, don't worry! Uncle Belson, can you tell us about your life, and what it's like?
Uncle Belson: My life? My life is quite interesting *laughs* I have been in this line (F&B) for 10 over years, but then before that I used to be abroad. I had been in Australia for many, many years. In my younger days, how should I phrase it…? Maybe, it's God's calling lah. That's why for the past 12 years I have been in this line. I have a passion to serve. But last time, in my younger days, my life was a little bit of a mess. I will be very honest, it's nothing to be ashamed of. As you grow older, you put life into perspective? And also, my kids are all grown up already. It's time for me to straighten out my mind. You all can go and observe – the job here is quite tough.
Alli: Cause you have to stand for very long?
Uncle Belson: Yes quite tough, just imagine you have to stand for 14 hours!
Alli: Oh dear, what time do you get here?
Uncle Belson: I get here at about 630am; I knock off at about 9pm, so that's about 14.5 hours? I have to keep standing also. Only during recess week and the holidays, then it's more relaxed. Ok so I don't digress lah. [Editor's Note (Danny): LOL Alli digress; Editor's Note (Alli): Whoops, it came up organically!] You wanted to learn more about my life, right? I have two grown-up kids. My eldest is already 34 years old, and my daughter is 28.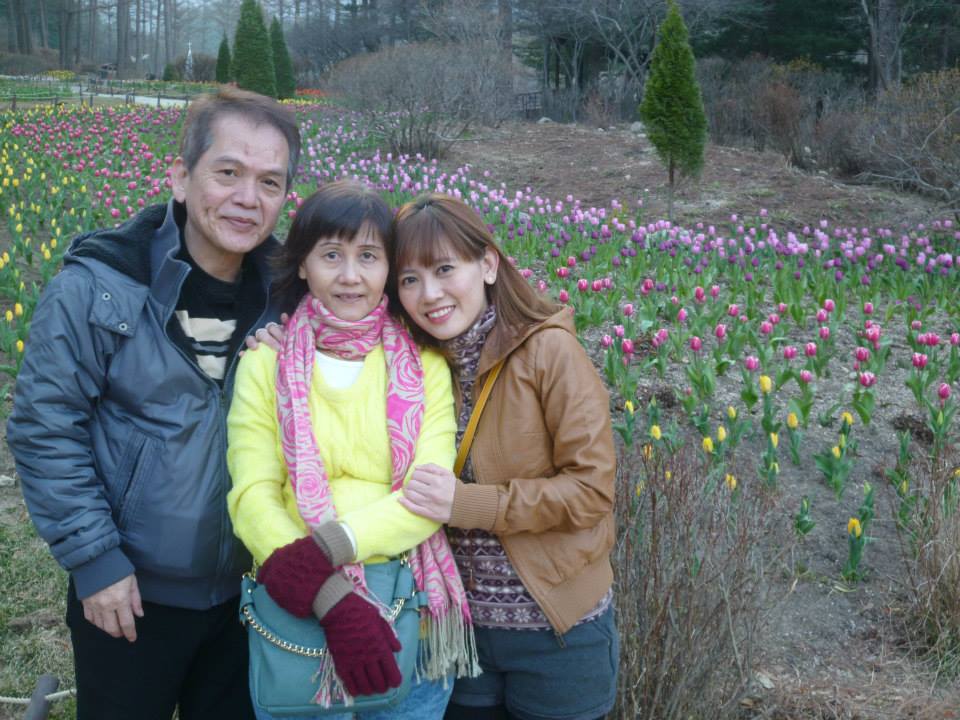 Alli: And where are they at the moment?
Uncle Belson: They are both in Singapore. My son is married already and was an SAF scholar. When you're a scholar you have to sign on, correct? He was working under Air Force Intel, so he's the more hardened type and knows how to take care of himself. My daughter is working in the civil service. Previously, my daughter worked in MICA, and now she has been posted to MOE and is working under Minister Ong Ye Kung. So they've got their own lives. All that I can do for them is to give them moral support. When we are outside working, there's a lot of pressure, and I worry about my daughter especially. Thankfully, she is a very devout Christian and has a group of friends in church who give her moral support too.
Danny: Oh, so you know these friends also?
Uncle Belson: Yes, yes! A few years ago, I went for an operation, you see my skull? *points to forehead* These church friends came to my place to pray for me every day – two months before my operation! That's why it was heartfelt. Even after my operation, they stayed in the hospital to encourage me and pray for me. It felt so good, even though I'm not a Christian myself. You see, from the time my kids learned how to walk, I encouraged them to go to church. My wife is also a Christian, so I encouraged all of them to go to church. In my younger days, I stayed in a kampung. It was very complicated. Of course everybody was civilised in the kampung but last time, during Singapore's early independence, it was a mess. *pauses* I believe all religions teach you good things and it's up to the individual to interpret what those things mean. I used to go to church during my school days, you know.
Danny: Your school was a mission school?
Uncle Belson: No, no, the students from other schools came down to our school to share so I know and have seen it (the Christian lifestyle) with my own eyes. What Christians have done, what they preach. They carry out what they preach, which is the most important thing. I have experienced it.
*Y4 Seetow passes by and whispers a term of human anatomy as per 500 Days of Summer. This distracts the writers momentarily.*
Uncle Belson: Am I too long winded?
Alli: No, no don't worry!
Uncle Belson: And I've been to temple and all that also, so I can see. I can see with my own eyes. But when I had my kids, I had them go to church.
Alli: So they went with your wife is it?
Uncle Belson: Yes, and they are both baptised. But I have not been because I need to pay my respects to my parents and grandparents. I don't know where they are – in heaven or elsewhere. When they were alive, they were Buddhists and Taoists so I need to carry our their customs lah. I have to pay respects, like during Qing Ming (Tomb-Sweeping Day). If I become a Christian, I cannot do that. It's quite tough and I'm struggling because on one hand, I believe and trust in Christ, and even encourage my kids to do so; on the other hand, I cannot accept the faith. So it's an internal struggle. I'm sort of a free thinker at the moment but one fine day, I will definitely accept Christ. Truth! Deep inside here *points to heart* I know I'm gonna accept Christ, it's just a matter of time. But now, the timing is not right. Trust me, I will accept when I find myself at peace with all these things. My kids have never forced me to convert. But I do make myself available. This Good Friday, I will probably go to St Andrew's Cathedral with my wife. During Christmas, my family will go to church together as well. This is the minimum I can do.
Alli: Do you see your kids often?
Uncle Belson: Of course! My daughter stays with me; my son doesn't because he's married already. My younger days were very complicated but now it's very simple. I wake up early at 5am, and get here by 630am. I work through the day, then go back and have dinner at 1130pm, and sleep at 1230am. Monday to Friday – it's my routine. Saturday we knock off a bit earlier and Sunday is my rest day since I usually sleep very late on Saturday nights, because EPL! *laughs*
Danny: Which team do you support?
Uncle Belson: My favourite teams are Liverpool and Arsenal.
Danny: Wah can support two teams one ah?
Uncle Belson: I have supported Liverpool for the past 4 decades already. It's not that they are successful, even though they have not been successful for the last 20 years, I still support them…
Alli: Because of loyalty?
Uncle Belson: Yah. But then I also love Arsenal because of their football philosophy! The way they play football, you just love it because it's so pleasing to the eye. Football should be played like that! It's not just [a] physical [game]. They play nice football. In the EPL, you know what they do – they just whack the ball up and hope the striker gets the ball and scores. They don't build up [play] from the back. Now, amongst the 20 teams I still find Arsenal the most attractive team. Not Chelsea, not MC (Manchester City), not MU (Manchester United). I love MU because of their history but since they have become the elite team, they have become egoistic. So I try to distance myself from them, especially during this Alex Ferguson era. They're so proud, the way they talk! You feel like, "come on man," you gotta respect other teams also. But okay he's not that bad, maybe it's a psychological thing to try and instil a siege mentality among his players, and to play mind-games with the other team managers. This one I can understand but there's a line you cannot cross lah. But it's not as bad as Mourinho.
Danny: So you don't really like such proud people?
Uncle Belson: No, proud people are okay if you are proud of what you're doing but not to the extent you insult people. You see, [Arsene] Wenger (Arsenal manager) has made their club the most interesting club.
Danny (to Alli): You know what he's talking about?
Alli: *laughs* I understand vaguely but I don't get all the references…
Uncle Belson: *laughs* Sorry, sorry… You see, it's good to be proud of what you're doing. It motivates you to go further. But not to the extent of despising people.
Danny: Hm, do you find that this applies to law students here? Are they very proud people?
Uncle Belson: No, no, I love the students here, that's why I've stayed here for so long. They are respectful and well-behaved! I love the students here. It's a genuine love. I feel so good when I see batches graduating and integrating into society.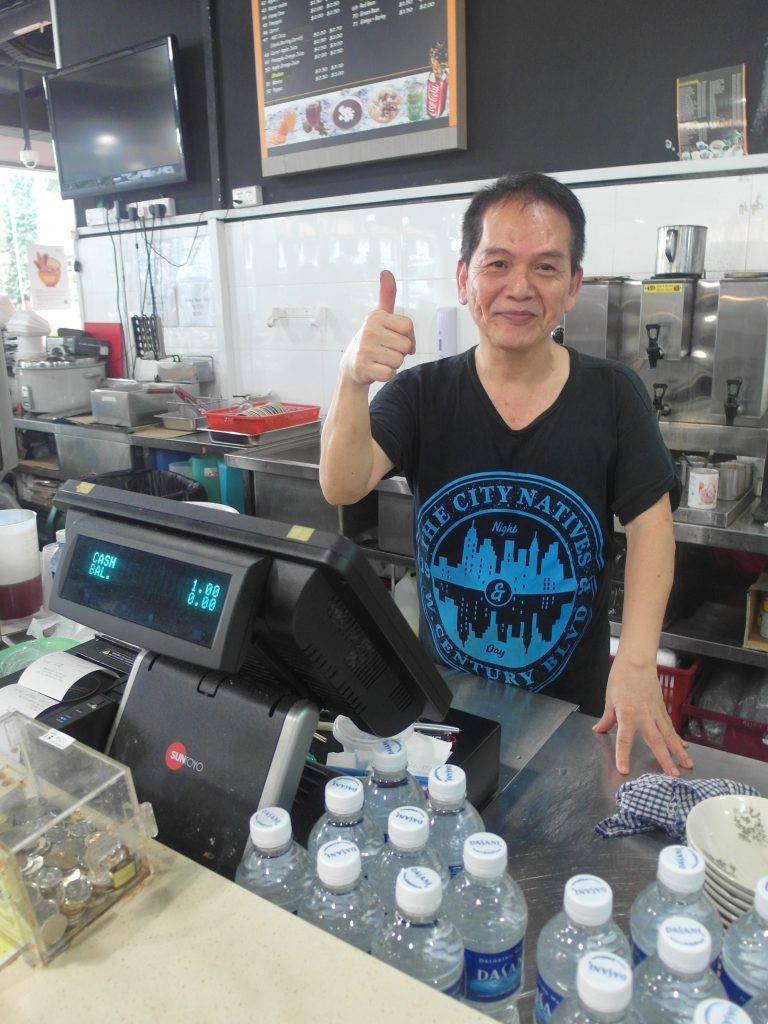 Alli: How long have you been here?
Uncle Belson: 4 years. Since year 1, I've been with you, remember? Previously, there was another operator. I always observe you all to see if there are any students who have not got enough to eat. On my part, I will try to render some assistance but am always very careful because this might hurt their pride or dignity. So I try to strike a balance – it's good to always offer help but not to the extent of hurting them. Many students here probably come from well-to-do families, but not all. Some parents struggle to put food on the table.
*Danny and Alli nod in agreement*
Uncle Belson: That's why I tell the students you all must work hard; grab this opportunity and go for it to repay your parents' efforts. You are blessed because you have been chosen to be here so you should make full use of it. Take this opportunity, integrate into society, contribute to society, make everybody proud – your loved ones, your parents, your siblings, your future family. They are not proud of you because you will make a lot of money; money is immaterial, let me tell you. Money is very useful, but money is not everything. What we need is just the basic [necessities] – roof over our head, food on the table, a bed to sleep in – that's good enough! Don't hanker for all these other material gains. Sometimes, you should just sit down and look around you. You are very fortunate. Look at other parts of the world where people are struggling. They don't know what's going to happen to them in the next moment, not even the next day. In the Middle East, Africa, and even closer like South East Asia. It's so sad you know, sometimes you look at their plight and you shed tears for them. We must be very thankful to God, to everybody, that we happen to be born in Singapore. We're so lucky! When you crave for material things, just give some thought to all those that are suffering around the world. I try to, so when I retire, I'm going to do mission work.
Danny: Really? Where?
Uncle Belson: Wherever my ex-classmate from secondary school is. He went to NUS last time then became a director. He retired last year and now he's doing all this good work. He's a very devout Christian and such a nice guy. He even comes down to look for me here. He's my Facebook friend, you can go make friends with him.
Danny: So he has a company or organization?
Uncle Belson: His church. He goes to Laos and all to build houses. He's a very educated man. He earned a lot of money so he retired early.  What's the meaning of retirement? You retire when you can do whatever you wish to do, not when you can't walk or do anything already. He told me he's going to repay everything to society. The money for this mission work comes from his own pocket. But I can't retire like him at the moment. Maybe a few years down the road when I can afford to. I've got to make myself comfortable before I join him .
Danny: If you don't mind us asking, does working at the Summit ensure you are comfortable every month?
Uncle Belson: Comfortable lah, I don't need so much because my social life is not that interesting. I spend practically 90% of my time working here when I'm not sleeping. I can still survive but I have to work. I'm not like those people who have a lot of savings because in my time I had to bring my kids up and I was the sole breadwinner.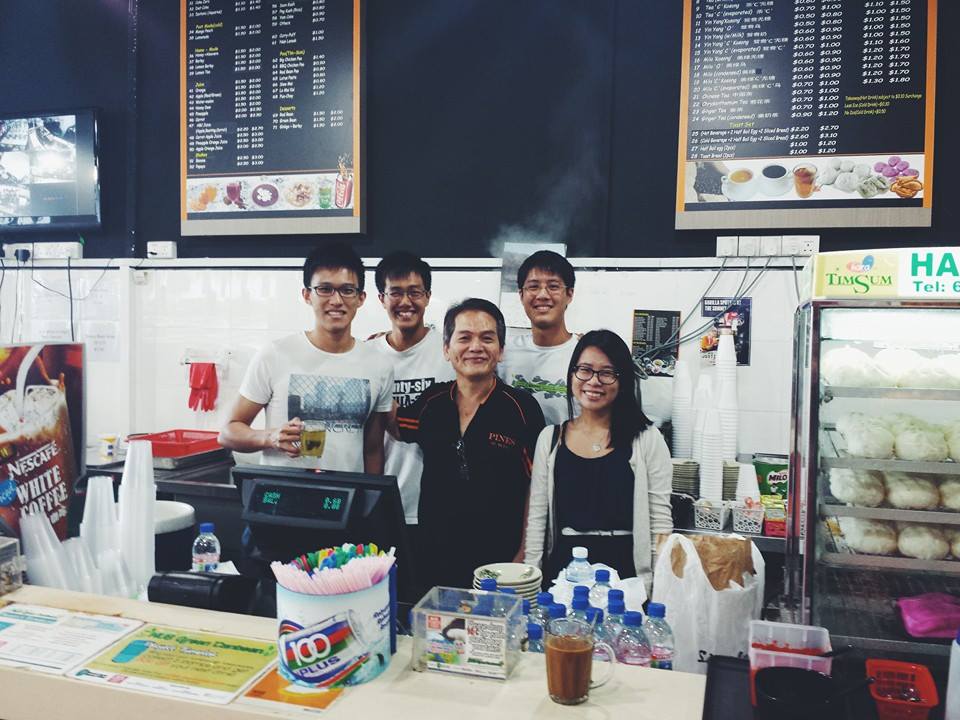 Alli: But do you enjoy working here?
Uncle Belson: Yes, I do. It's my passion! I like the students. I like kids, you know? I like young people. You see them become successful and you feel so good for them. I've seen many batches graduate and students from two batches ago still call me. All these people, they are professionals and lawyers already and they still remember a coffee-maker uncle!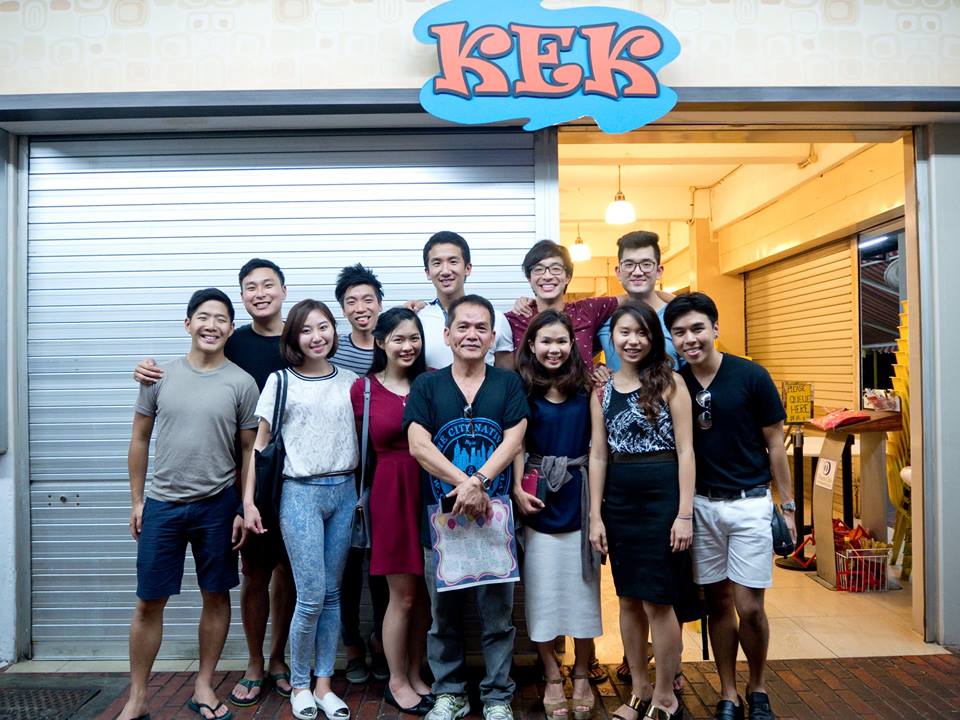 Danny: No lah you're not just a coffee maker uncle…
Alli: You're Uncle Belson! Everyone loves you!
Uncle Belson: No lah, I'm not that great. Actually my job scope is not making coffee, but I just like making coffee for students. My job scope is to manage the staff here. But I don't want students to wait. I want to make the drinks fast, so I ask the staff to hurry a bit. When students have their 10-15 minutes breaks, they rush down to have coffee and they spend 10 minutes in the line? I don't want that to happen! I want them to grab their cup of coffee or tea and be able to go back to the lecture theatre and enjoy the lesson. You have to think of the students, you know? I always tell the rest, don't make them queue up for too long. We should make sure they get the cup of coffee fast, so they have time to walk back leisurely to the lecture theatre. Even though I have never been to university, I have been to school so I know how important that time is. It's better that you sit down there waiting for the professor to come in, rather than knock on the door and say, "sorry professor!" But I also always tell the students, you must try to help yourself also.
Alli: Like when they stand in the line talking instead of ordering when it's their turn? [Editor's Note (Danny): Brothers, this should not be.]
Uncle Belson: Yes, I tell them try not to waste time. When people are not rushing for lessons, you can chit chat, sure. I love to chit chat with students. But then when there's a long queue, I just say hello, I won't chit chat. I don't want students to wait in line because I know they are rushing.
Alli: So how did you learn how to make all the drinks?
Uncle Belson: *laughs* Initially, when I started off, I just did some supervising. Then, I bought some books on coffee and asked those who are good at making coffee. So I learnt both the theory and practice. The research was important because this is not premium coffee. The key is how to extract the maximum flavour. Anyone can do make coffee – the coffee you put in will come out black, never white right? The coffee won't be brown, red, or white; it will be black, but is the flavour maximised? It depends on how you do it! How do you find the coffee here? Is it ok?
Danny: Of course! Everyday I drink the same thing.
Uncle Belson: Everybody can make coffee lah you know…
Alli: But yours is nicer lah…
Uncle Belson: I'm not trying to be proud but I've been recognised by the media. It was in 2006. Singapore has got 3000 over coffeeshops, and mine was among the top 10!
Alli: WAH!
Danny: Where was the coffee shop?
Uncle Belson: West Coast. These Straits Times people came down and observed for quite some time. They took a few months to observe every individual coffeeshop and they came up with an article on the top 10 coffeeshops in Singapore. You can google "Eng Poo Kui" [Editor's Note: Uncle Belson's name!] but I think they already put it into the archives.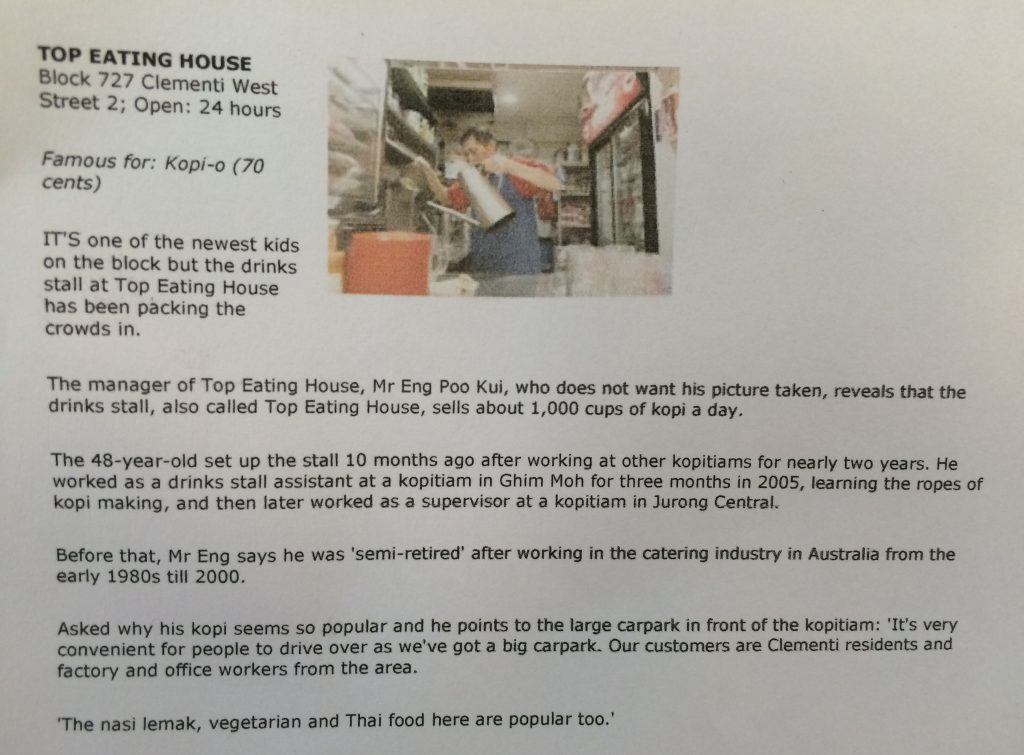 Alli: I didn't know your coffee was so famous!
Uncle Belson: That was quite some time ago lah. *pauses* I appreciate that you want to know more about me, but I'm just a very simple man. I didn't have much to be proud of when I was younger but my experience has made me more streetwise and it's never too late to do the right thing. Sometimes in life, you go through different phases. In my younger days in the kampung, in the early 70's and 80's, making a living was not easy and there were many crooks around. You get influenced by these people. That's why I admire Lee Kuan Yew.
Alli: Today is the anniversary…
Uncle Belson: I know. It's one of the saddest things. I was sad for months when he passed away. We wouldn't be here today if it wasn't for him. We were so lucky to have him and that he happened to be born in this part of the world. Can you think of another country that has progressed from third world to first world in 50 years? It's a miracle! We must be very thankful for our forefathers – LKY, Rajaratnam, Goh Keng Swee… We have to remember them. I saw the evolution of Singapore with my own eyes. When I was young, I walked to school through swampy areas, got chased by dogs. During recess, I always went to play because I had no pocket money. My parents were poor – not that they didn't work or they were lazy but they didn't have any work to do! My mother would do laundry for the neighbours and earn 80 cents a day. She would cook one pot of porridge everyday and we would eat that for every meal! I always looked forward to Monday and Wednesday, you know why? Because there was free milk at school! So I told myself, I won't let my parents suffer next time. And when I see all these kids in poverty around the world, I get very sad. When I retire, I will help them. I'm not very rich but I will put in the effort.
Danny: Yes, your friend will be able to help you with that
Uncle Belson: Yes, he is a very nice guy. Actually, a lot of my classmates are devout Christians. It's been 40 years already but we still get together. One of my ex-classmate's son is studying in NUS and has gone to New York for his Masters already. Last time he would say hi to me and I would tell him, "ask your daddy to call me!" I'm so happy for my friend, his son is so brilliant. Actually, all of you are brilliant. 100% will graduate but how much knowledge you will gain, thats up to you already. You have to grab this opportunity. You all are so privileged. Every year, how many A-level students are there?
Danny: 10,000? 10-12,000?
Uncle Belson: More than that lah. Let's say 20,000 go to JC, and 200 odd people come here. You all are the elite few. Next time Singapore will depend on you for progression. You are going to push Singapore forward. You definitely will contribute a lot to the economy and society, whether as lawyers or judges. So you have to push yourselves. You need to have a goal and direct yourselves towards it. Life is very short…
Danny: Yes, last few weeks of school already.
Alli: Going to graduate…
Uncle Belson: That's why I feel so happy for you! You are going to integrate and contribute to society immensely. One fine day, you will be successful. How successful? That's in your hands. Every now and then, as new laws come up, you have upgrade yourself. Don't just say, "I'm a law graduate, that's good enough." And next time, your kids will very proud of you. They will say, "my dad is a very successful man, my mum is a very successful woman."
Alli: Thank you, Uncle Belson! And thank you very much for your time.
Danny: Thank you for sharing your life with us, we really appreciate it!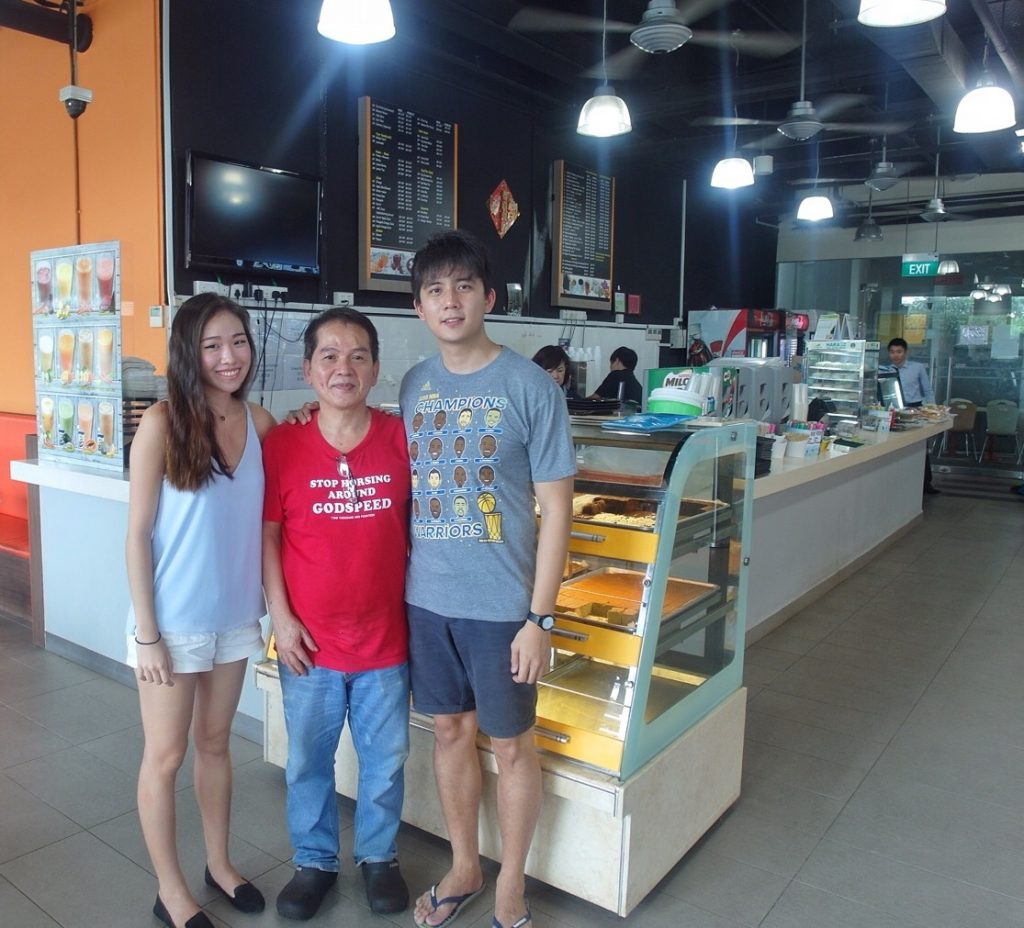 Uncle Belson: Yes, as long as you want to know more about myself, I tell you about it, my suffering etc. If you need help, just let me know; any charity work, just let me know, I will oblige. Count me in. This is the way to give back.
---
Through Dialawgues, we hope to show that caring for our neighbours is simply befriending them and showing kindness in our normal relationships and the rhythms of daily life. Get to know those who serve us in school, talk to the ladies serving you at the student counter, greet the uncles and aunties selling you a cup of coffee as you would your seniors, strike up small talk with the aunties as they roll their carts through the 3rd floor corridors, ask the Co-op auntie about her life. We promise you, they have much to tell, and they do want to be our friends — if only we'd stop and listen. Let's learn to bless the people we live alongside, with our time and care, just as the ones who've gone before us bless us still, daily.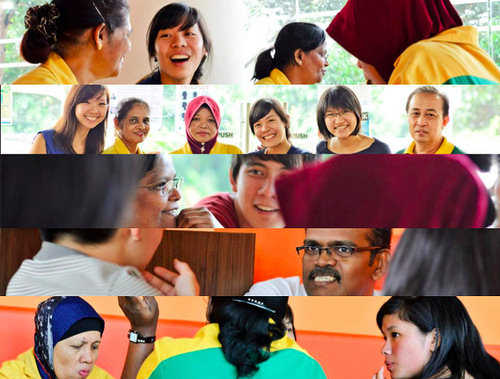 PS: If you'd like to contribute/share life stories of any of our staff on campus, please contact one of us below! (Alli on Facebook or Danny @ 92394160)
---
Contributors: