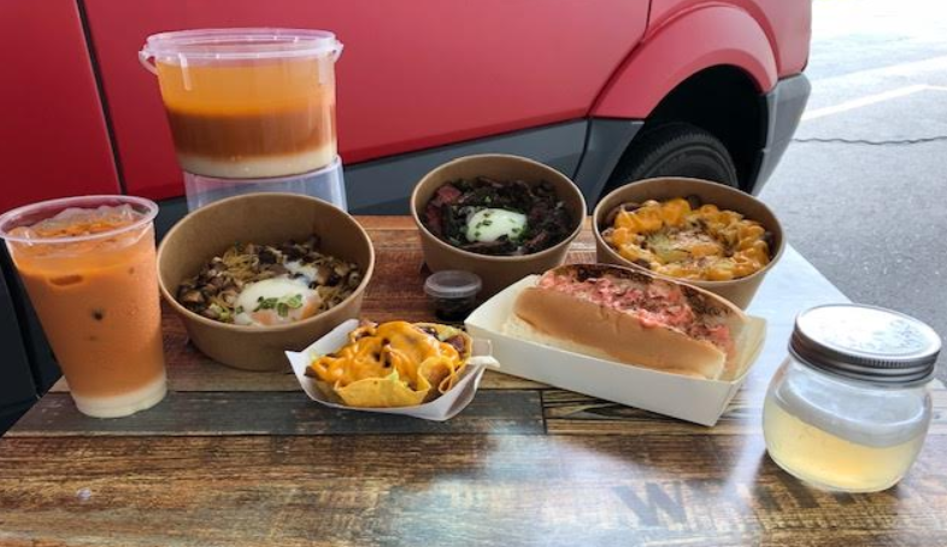 It is not often that the Bukit Timah Campus is visited by food trucks. Therefore, on 20 January 2020, it was utterly delightful to see The Travelling Cow on campus, bringing along an array of mouth-watering dishes.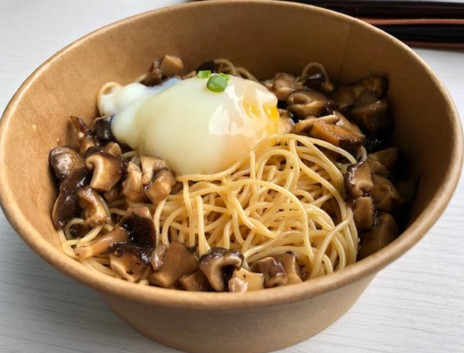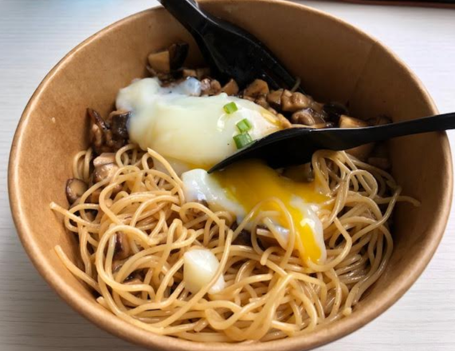 Overall: 4/5 MUST TRY!
Starting off with my personal favourite, the Truffle Scented Cold Capellini with Forest Mushrooms and Onsen Egg ($8) struck me immediately with its deep earthy scent. This is attributed to the truffle oil that was added to the dish. Even though I am not a vegetarian, I loved this dish given that the mushrooms are well-seasoned and has an almost meaty texture. The Onsen egg is a perfect addition, with its ooey gooey yolk melting into the dish.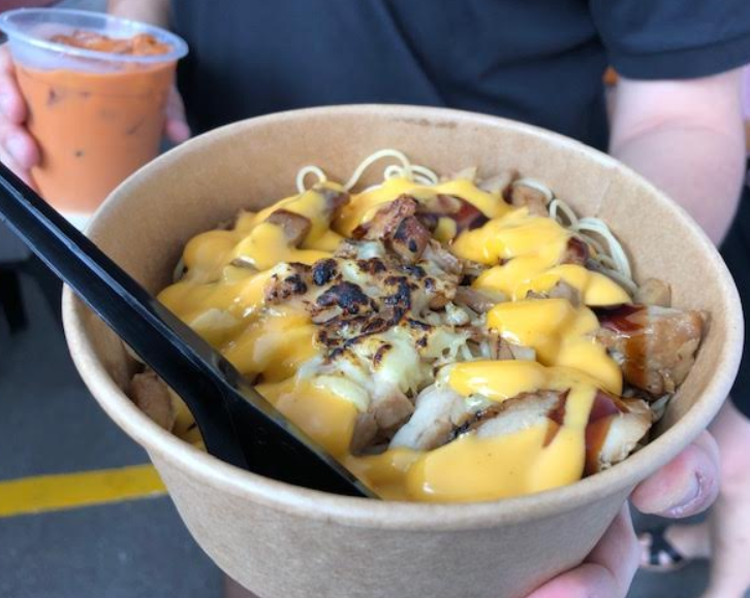 Overall: 3/5
Next, we have the Super Cheesy Chicken Donburi [noodle] ($7). Visually speaking, it does have a 'wow' factor. The cheesy goodness gives the dish a hearty taste that blends well with the chicken. However, unlike the capellini, the spaghetti is springier and not as silky smooth.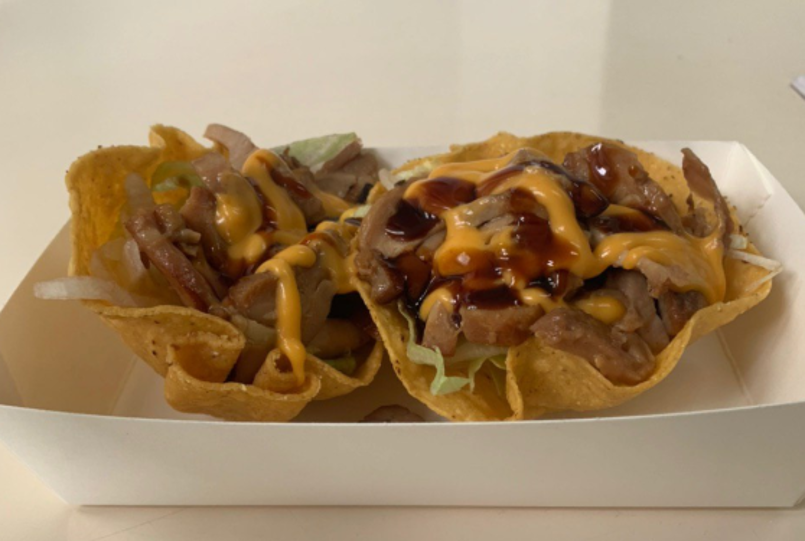 Overall: 3.5/5 stars
Following which we have the Super cheesy chicken in a crisp taco bowl ($10 for 2 or $6 each).
First impression would be that the portion was a little smaller than expected, considering the price of the food. Without this prior knowledge, I bought a set of this with a friend, with the intention of each of us having one taco. This of course resulted in 2 people being left hungry instead of just 1.
Notwithstanding the size of the portion, it is rather decent taste wise, with the mix of BBQ Sauce as well as Nacho Cheese complimenting well with the flavours of the tender chicken, on top of the fresh lettuce. All this being held in a crispy tortilla taco bowl, a very good interaction of flavours, leaving one craving for more (possibly because of the small portion as well).
Overall a very simple yet decently good dish, perhaps not for a full meal but rather for a snack instead.
[Credits to Edwin for the review]
Overall: 3/5
6 Inch Mentaiko Fresh Crab Roll ($10)
The dish comprises a hotdog bun filled with a generous portion of fresh crab coated in what appears to be their own blend of mayonnaise. As a finishing touch, a layer of mentaiko sauce is added over the top of the crab where a blowtorch is used to give it a nice char.
I did expect the bun to be more unique but considering that it was at an affordable $10, (which i think is quite cheap for a fresh crab roll) it did make sense that the bun had to be kept simple.
As for the crab, I would like to commend the chef for giving a generous portion (they certainly did not scrimp on the crab). The bun had an even spread of meat which I enjoyed. I was also pleasantly surprised by the mentaiko sauce which arguably is the star of the dish which coupled with the char by the blowtorch, gave the dish a whole new dimension. My only reservation is that they did not add enough of that sauce which I preferred over the mayonnaise blend that they used to coat the crab. Furthermore, while the crab was light and refreshing, it did have a fishy aftertaste.
Overall, it was not a bad crab roll considering its price. While I did expect more from the taste of the crab, I certainly was not disappointed by the mentaiko sauce. If you are new to crab or mentaiko sauce and would like something affordable, I would definitely recommend this dish.
[Credits to Jarren for the review]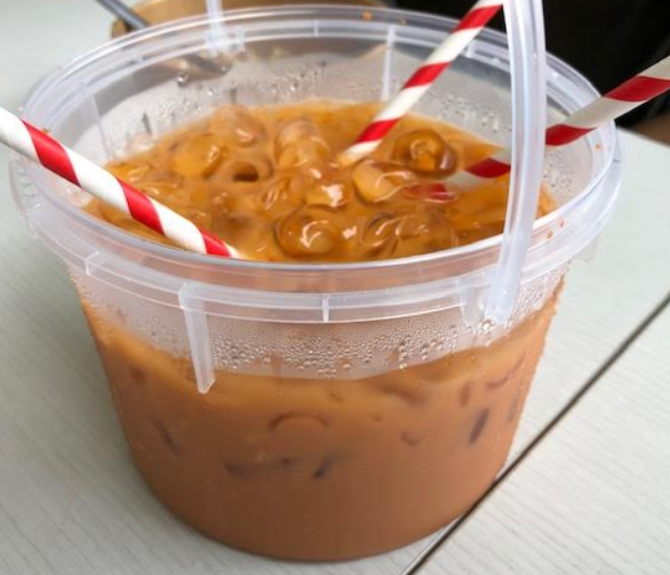 Overall: 4/5
Finally, we tried the Thai Milk Tea Bucket 1.5L ($7). Let's just say this thing is HUGE! It tastes awesome and great for sharing with your friends. Furthermore, it is a sweet and satisfying drink for Singapore's hot climate. Given that it is quite pricey, my advice is to find a large group of friends (I.e. LARC group) to share with and split the cost.
Ending thoughts
The Travelling Cow has a great concept going and I hope to see more of such food trucks at the Bukit Timah Campus. There were some other options that were not covered in this article such as the signature 18-Hour Slow Cooked US Angus Beef Ribeye with Onsen Egg ($12) and Butterfly Pea with Milk in Bucket ($7) but if the Travelling Cow is back, do pay them a visit and try out these dishes yourself.
*All opinions and images are that of the authors. This was not a sponsored review.