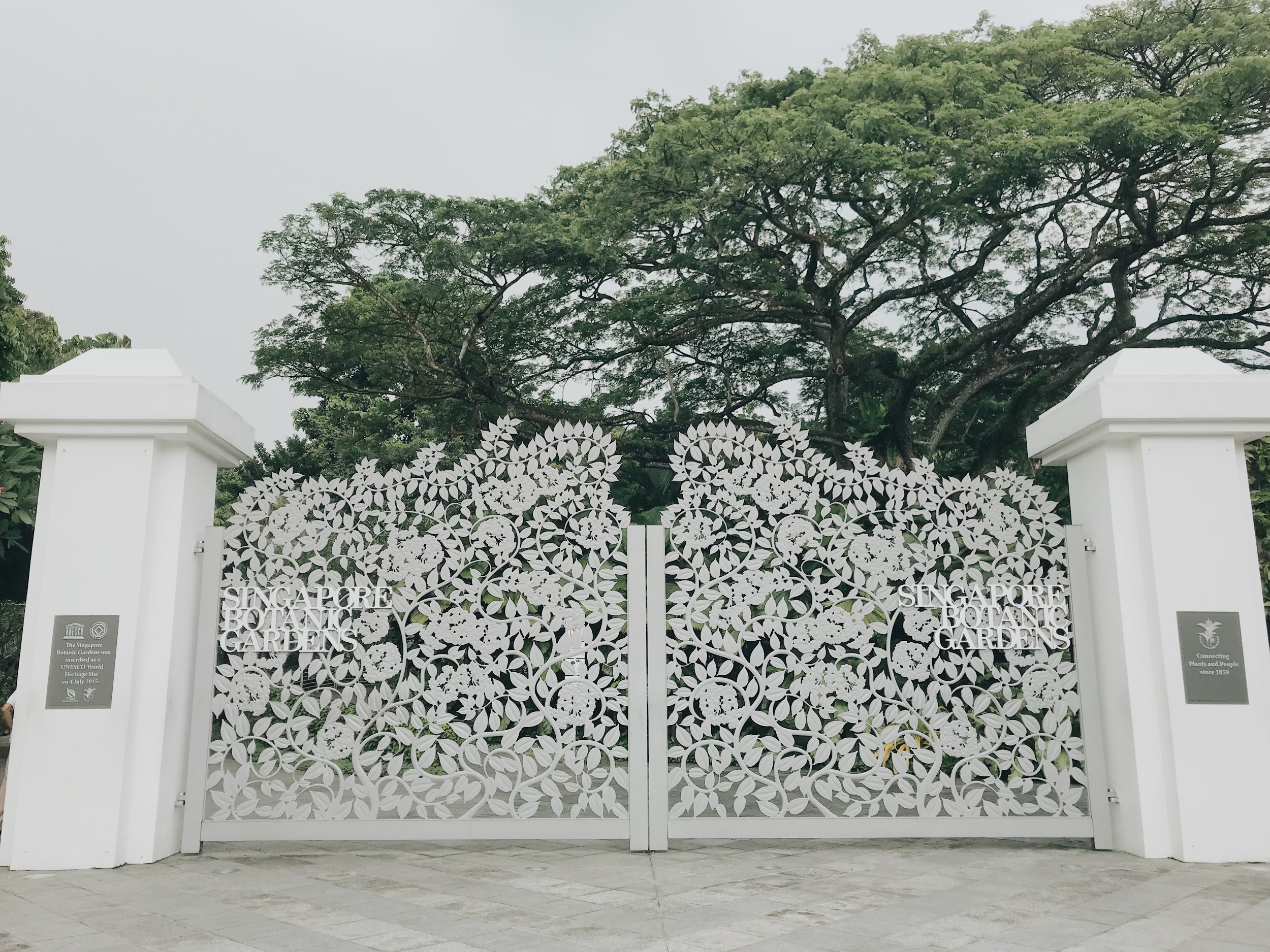 We've all endured that arduous 5-hour wait between a morning lecture and a night LARC session. Going home seems too much of a pain, studying a bore and BTC rather… meh. Life at this moment just seems more dull than a House of Lords judgment. We are, after all, in the middle of nowhere, aren't we?
If you think Botanic Gardens is nothing more than gimmicky tourist traps and bloodthirsty mosquitoes, think again. In an effort to combat law school blues, we've sussed out some lesser-known activities in this green paradise for you to catch up on all those eye breaks you've missed since primary school.
Hint: Some of these are very well-hidden and "off the beaten path" – literally!
1.   Slide down from the top of a tree-house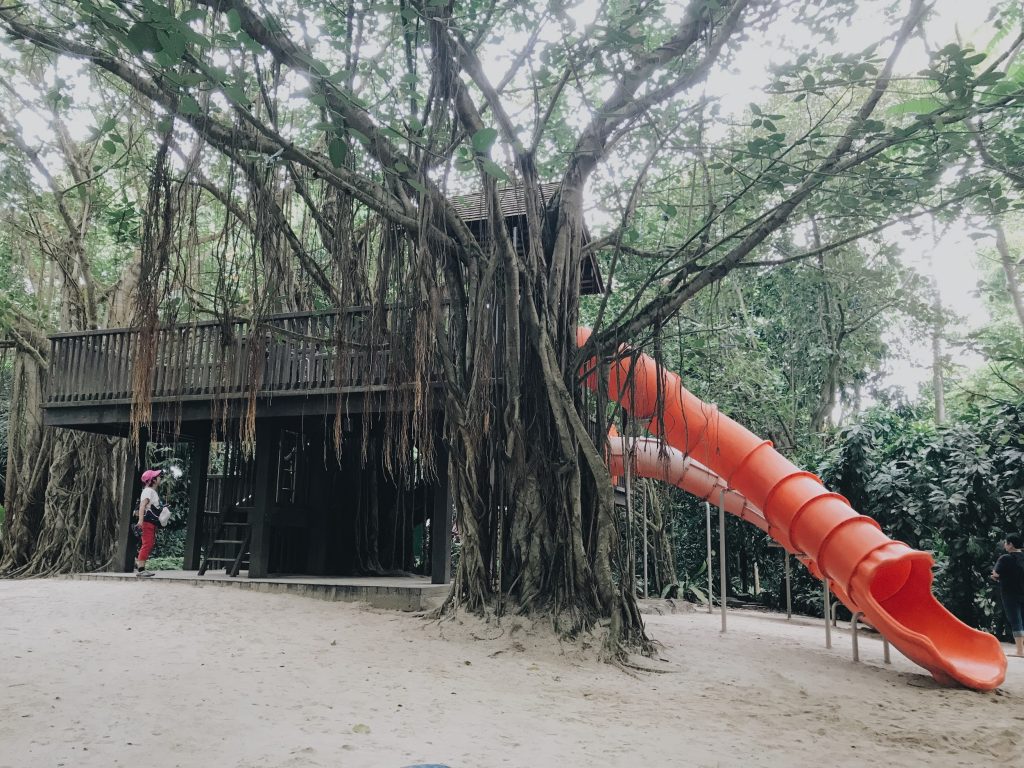 If you're someone whose head says "lawyer" but heart says "member of a nomadic tribe in the Amazon rainforest", this one's for you. Escape from the hustle and bustle of BTC for a few hours and set up camp in this quaint tree-house, tucked away in a corner of the newly-renovated Jacob Ballas Children's Garden.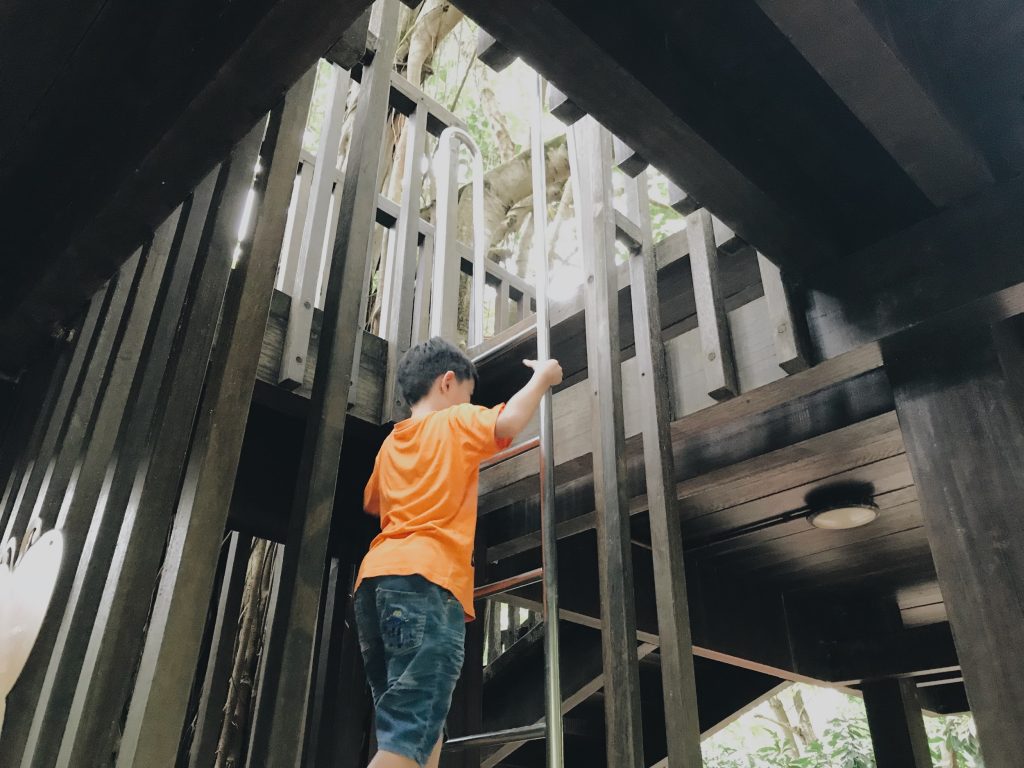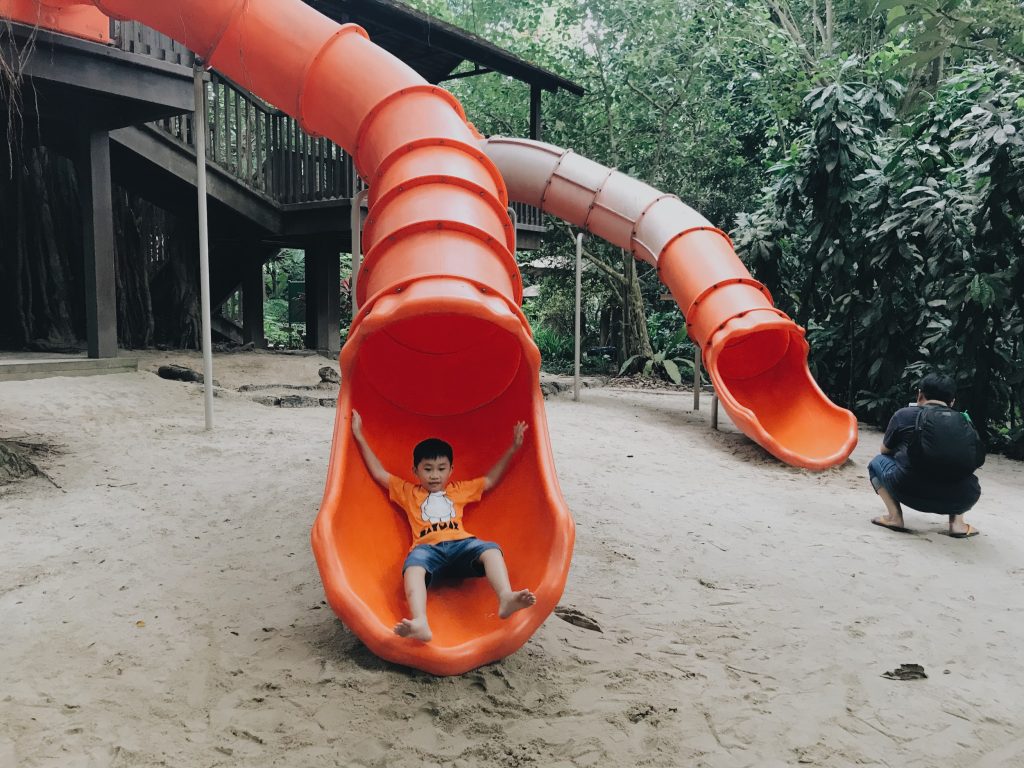 And the best part: make your great escape from the stresses of law school by screaming out your frustrations as you whizz down two killer slides!
Disclaimer: Don't scare/ trample/ emotionally scar little kids on your way up/down.
2.   Tiptoe across a suspended rope bridge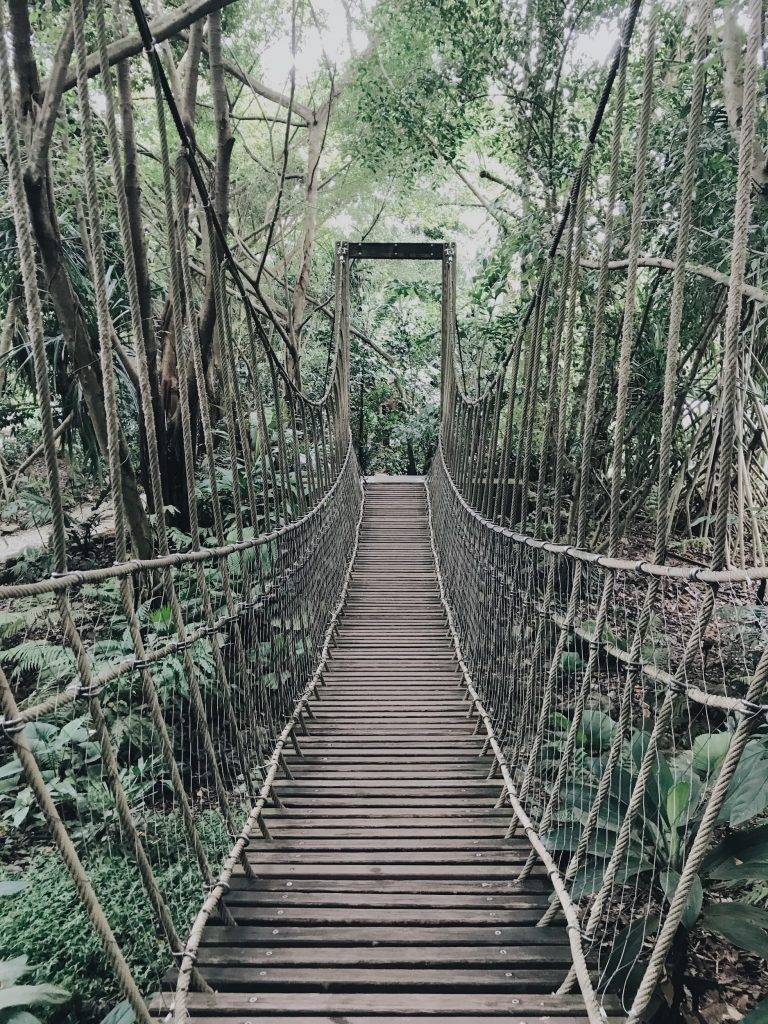 The next time you feel the impending danger of missing an assignment deadline, how about some death-defying stunts to put things into perspective? Enter this suspended rope bridge just a stone's throw away from the tree-house.
Further your thrill-seeking nomadic tribe dreams by tiptoeing across rickety planks that creak and sway with the wind. Feel the adrenaline rush to your head as you experience vertigo at this jaw-dropping 2-metre height.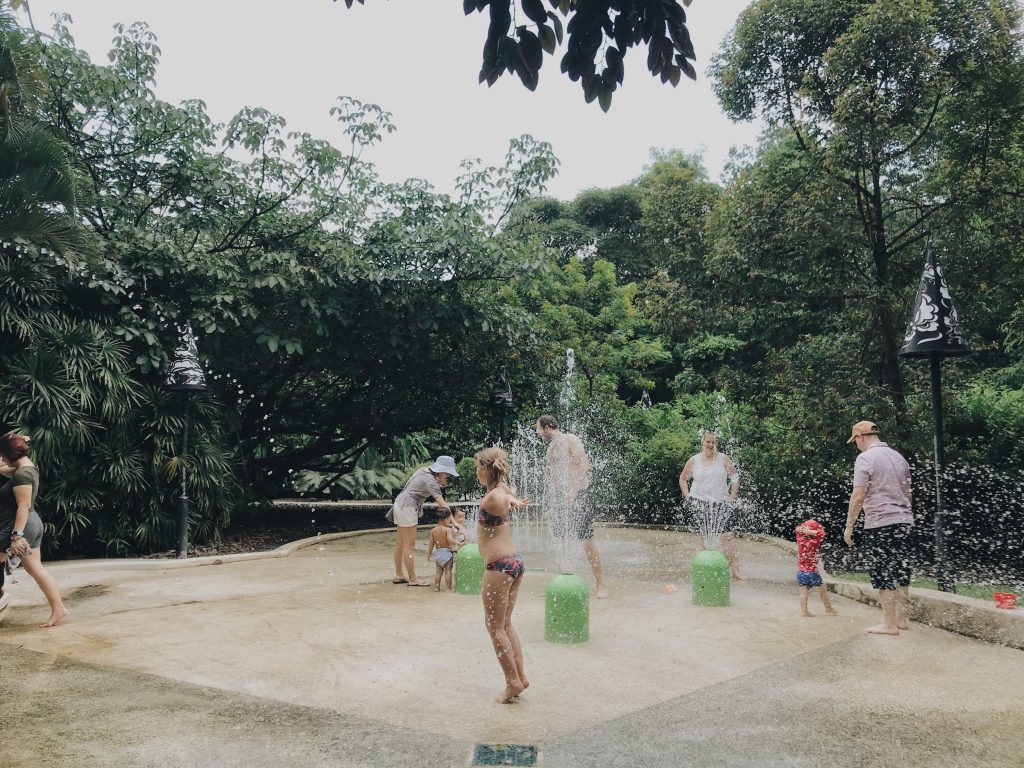 And when you've had enough, what about washing off some of that cold sweat at this water playground?
3.   Hide out under a waterfall cave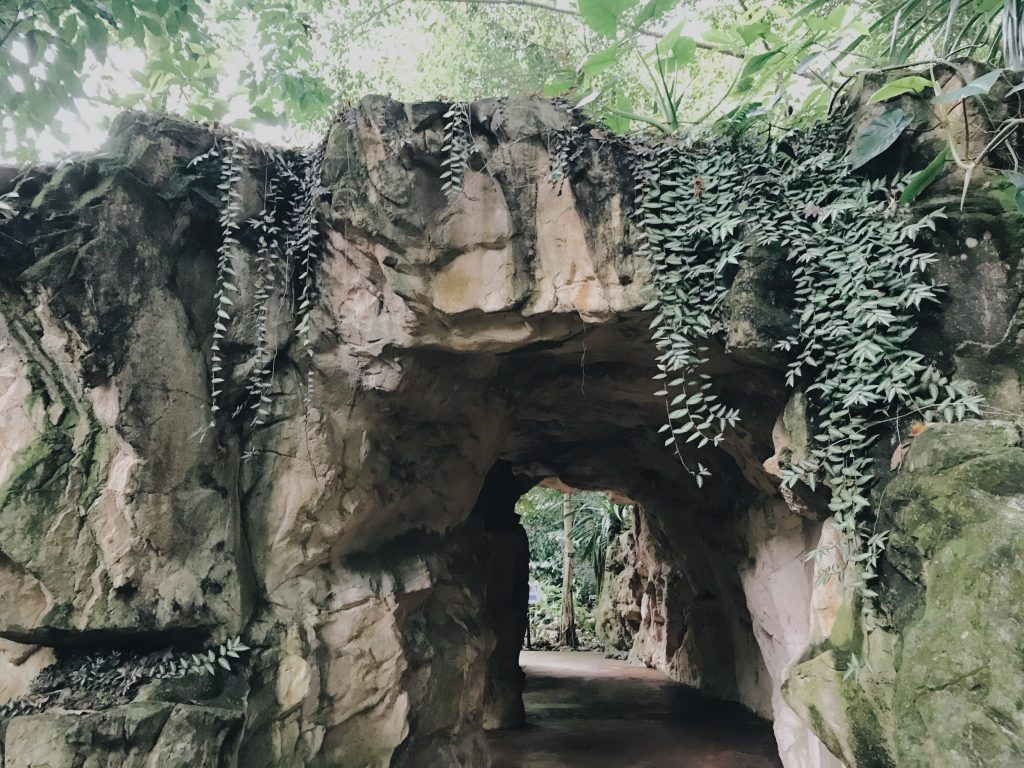 Rounding off the sights at Jacob Ballas Children's Garden is this hidden cave spot. It doesn't look very extraordinary at first, until you hear the unmistakable rush of water.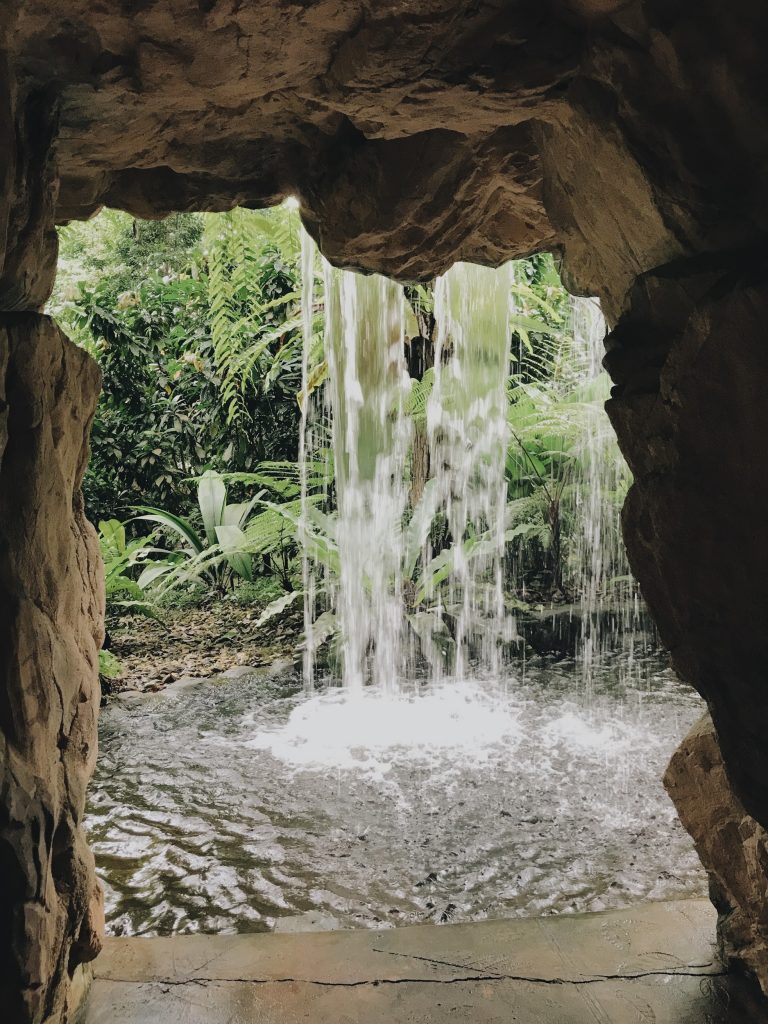 Enter the cave and you'll be treated to the spectacular sight and sound of this waterfall. Rest your tired bottom on the ground and soak in the soft splash of water on your skin. Ah, the life.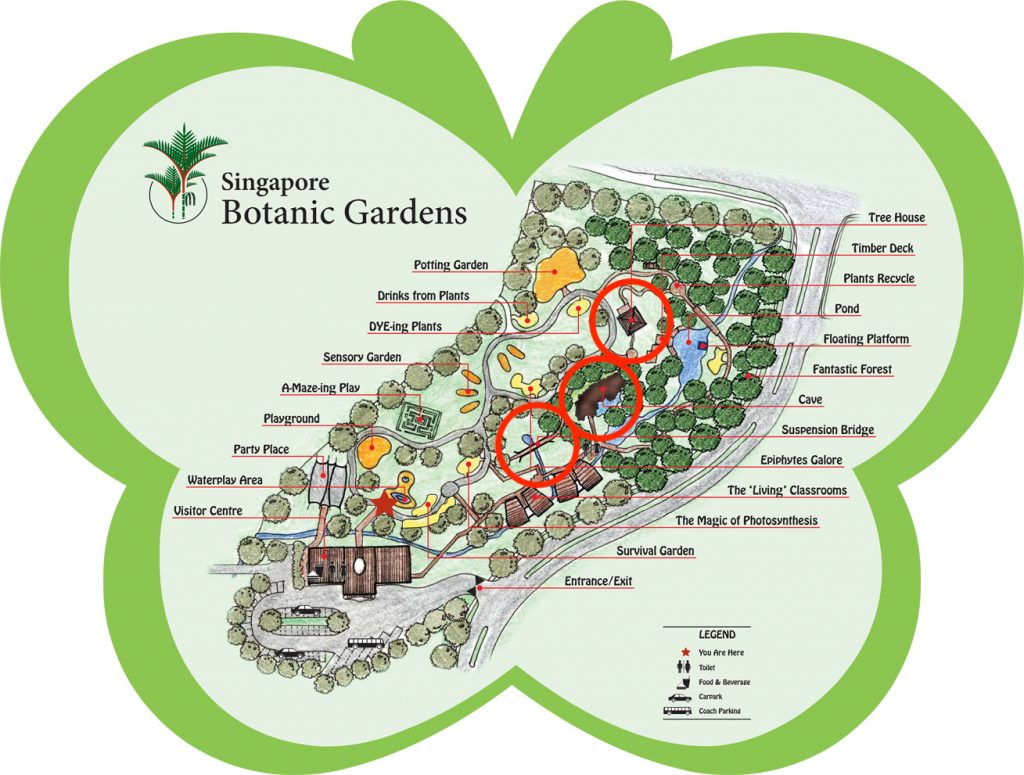 Adapted from source
Here's a map of all 3 locations we've covered in the Jacob Ballas Children's Garden (circled red). They're all really close to each other, so go ahead and unleash your inner kid!
4.   Meet "Jackie Chan" and "Stefanie Sun" at the National Orchid Garden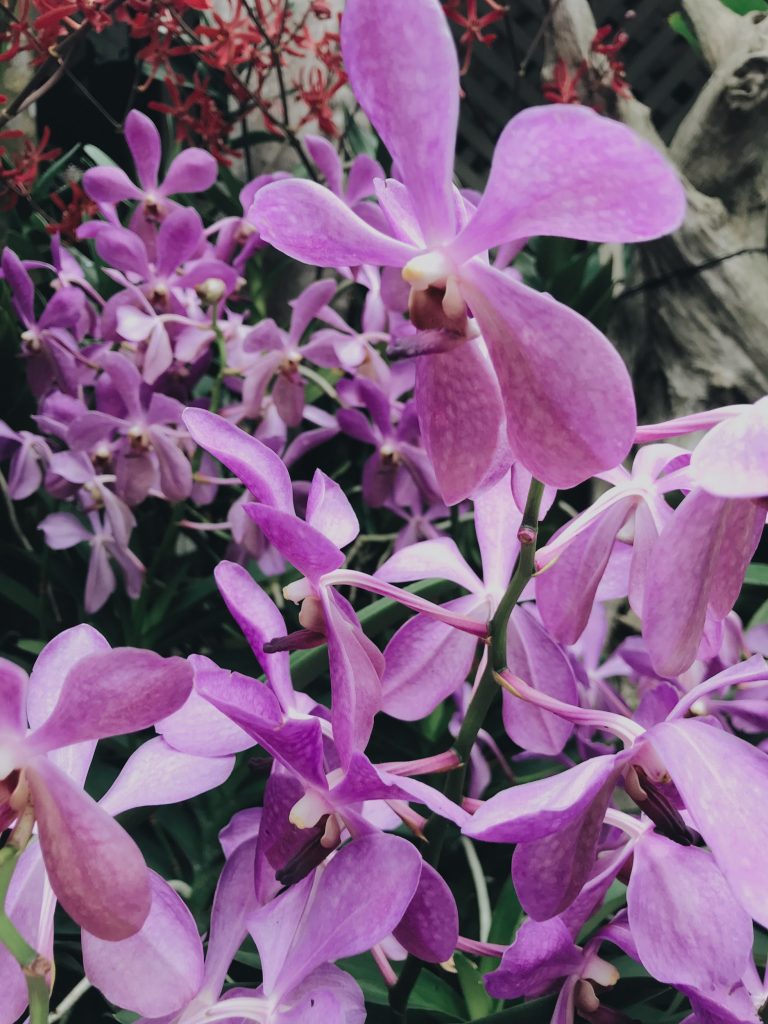 We may not all be successful paparazzi, but maybe you can catch the next best thing – orchids named after celebrities at the National Orchid Garden.
Inhale the sweet floral scent of orchids as you go all paparazzi over the Dendrobium Jackie Chan and Dendrobium Stephanie Sun. Nature enthusiasts would love some shots with the Spathoglottis Jane Goodall too!
Students (yes, tertiary included) get FREE ENTRY from now till the end of the year, so hurry down this break and save up on that regular $1 entrance fee!
5.   Be transported to a wintry forest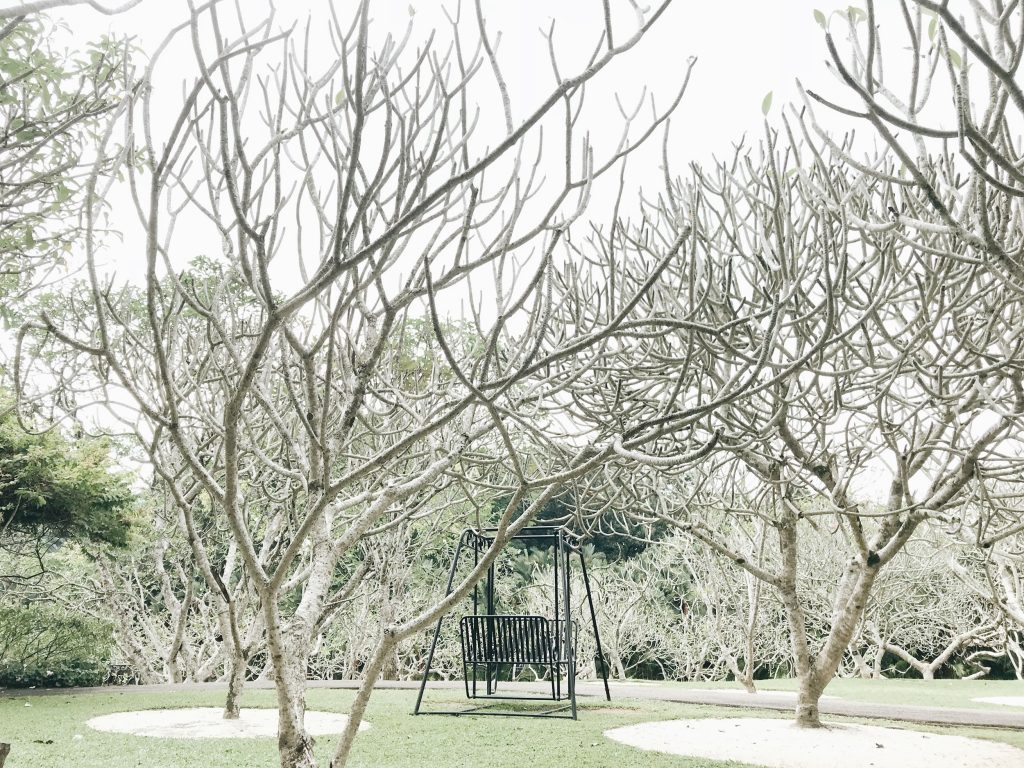 Prepare yourself for a scene right out of a Korean drama. Spindly, leafless trees wrapped with a white-hued bark surround little swing sets, making this Frangipani grove your next go-to paktor location.
And if the sheer sight of this beauty isn't enough to make your date fall head over heels, the natural honeyed aroma of frangipanis is guaranteed to make him/her sniff you out as the one. Trust us on this.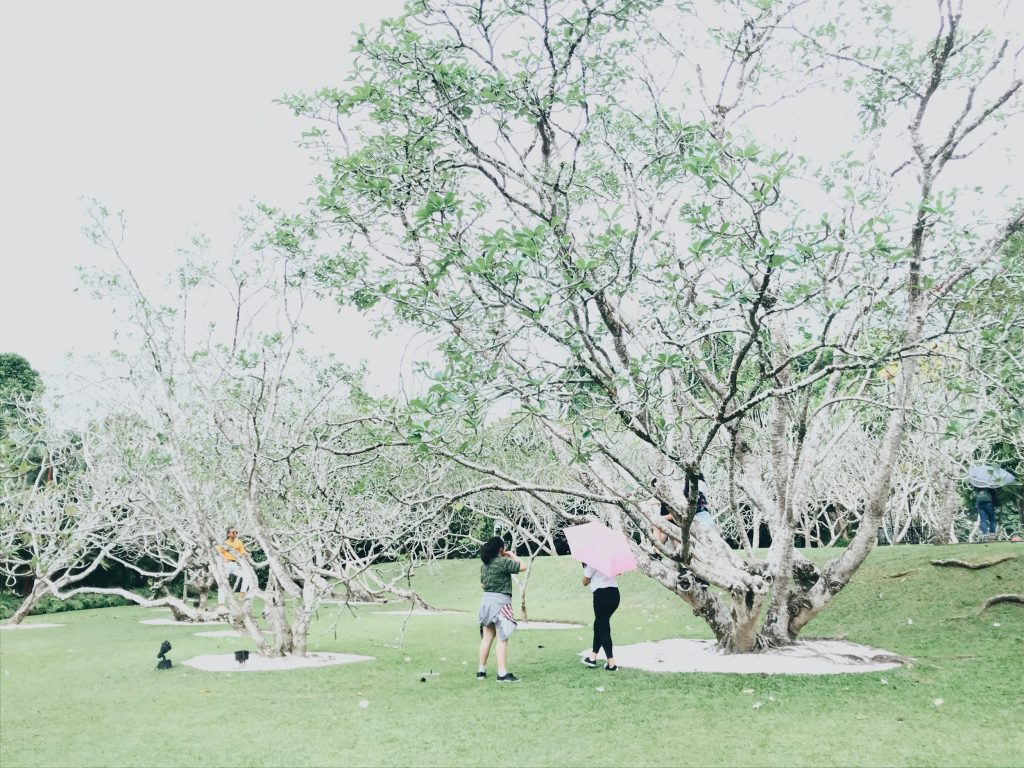 The garden is not only popular with couples either – we caught quite a few groups snapping some ootd shots. So skip Manassah Meyer for your next OG group shot and come to the Frangipani Collection instead for a real out-of-this-country feel.
6.   Traipse through this French-inspired garden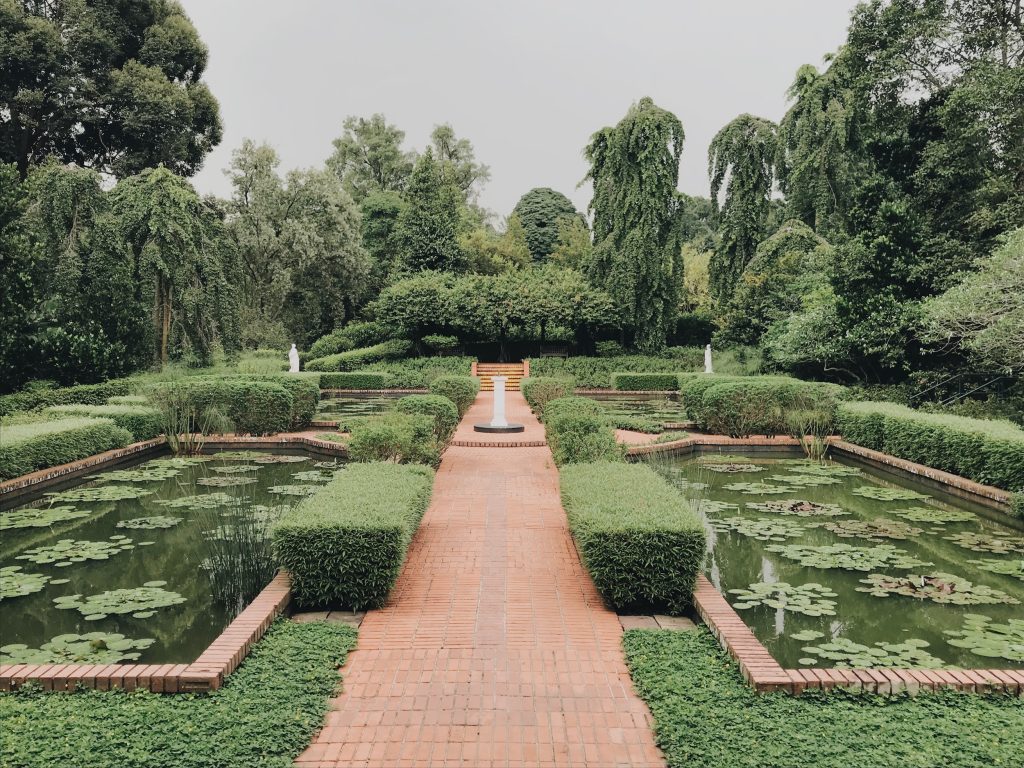 So we've covered an Amazon rainforest and a Korean winter garden. Be transported to yet another different continent, this time with this French-inspired garden that takes its cues from the swoon-worthy symmetry of French palace grounds.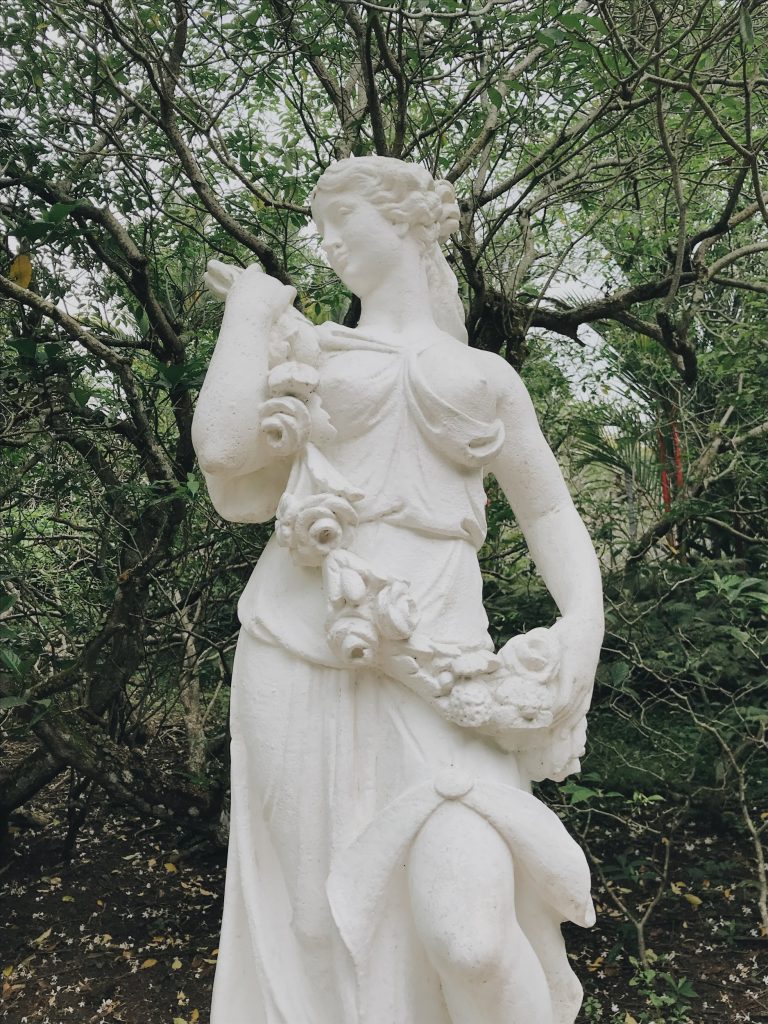 Be wowed by these architectural beauties surrounding the Sundial Garden!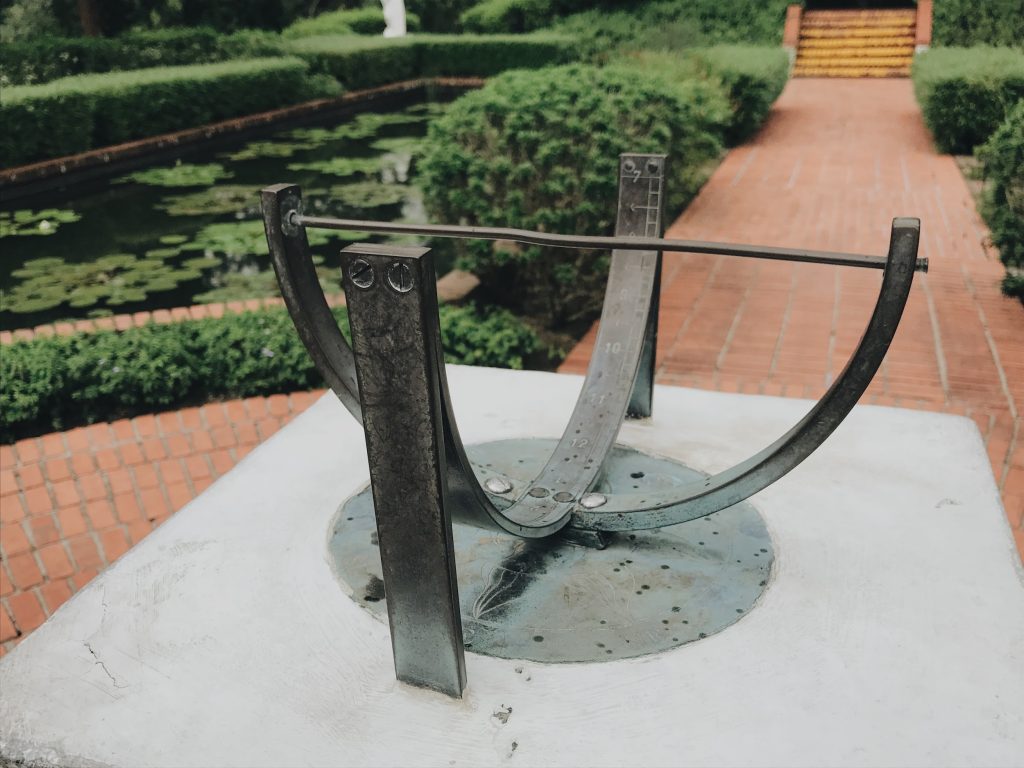 Ditch your Daniel Wellington and tell the time like true hipsters do – with this ancient sundial that serves as the garden's centerpiece.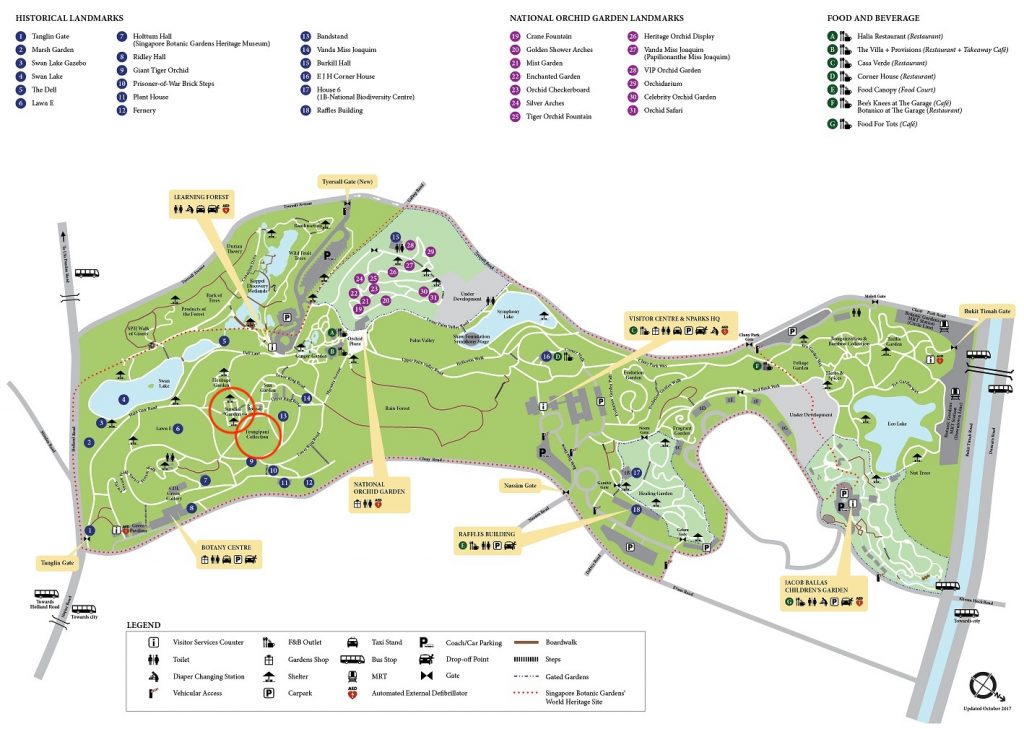 Adapted from source
Here's a map of the Frangipani Collection and Sundial Garden circled in red. Two lesser-known, hidden spots nestled close to one another — you can't miss them!
7.   Live in a garden fairy's house for an afternoon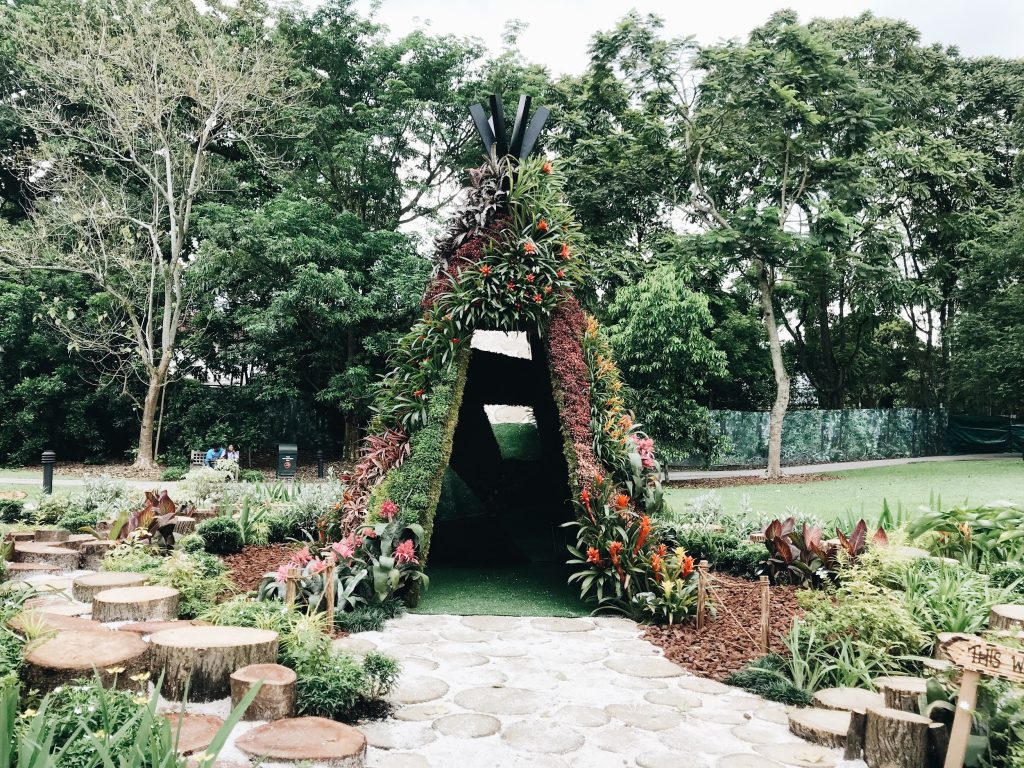 You might have seen this fixture on your way to Botanic Gardens MRT a few times. Good news: there are plenty of these "garden fairy houses" scattered around the entire garden for you to live out your fairy-tale royalty dreams.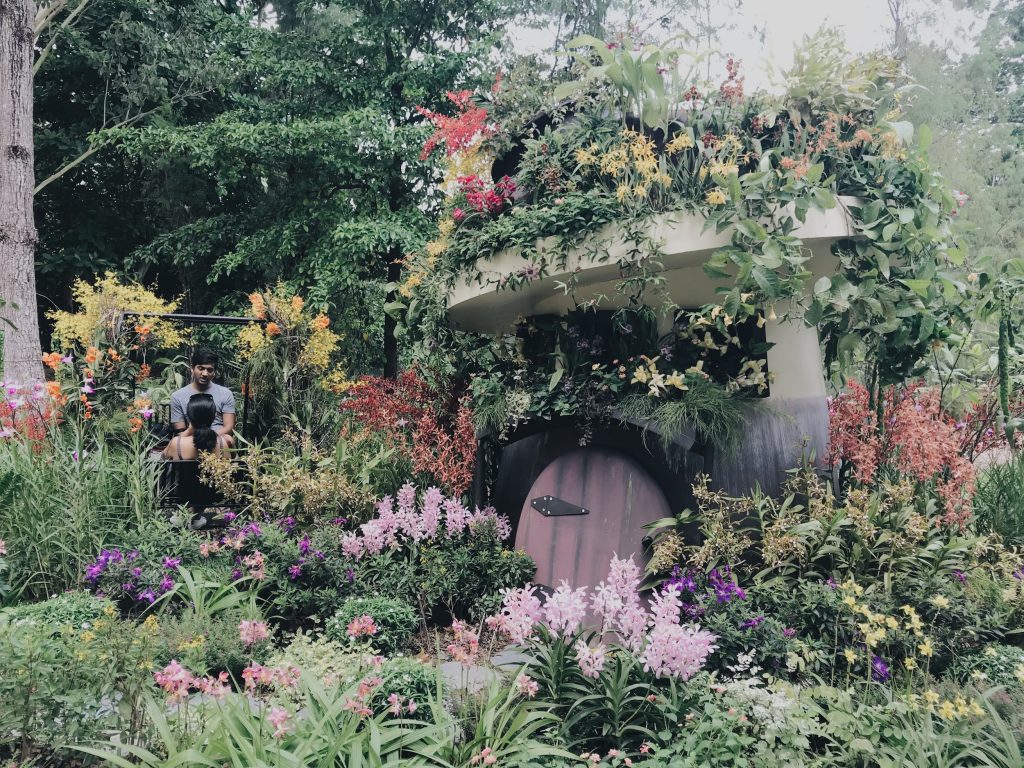 This one near the Jacob Ballas Children Garden even comes complete with a backyard swing set! Bring your bae here to emulate the cute couple feels, just like these two. Aww.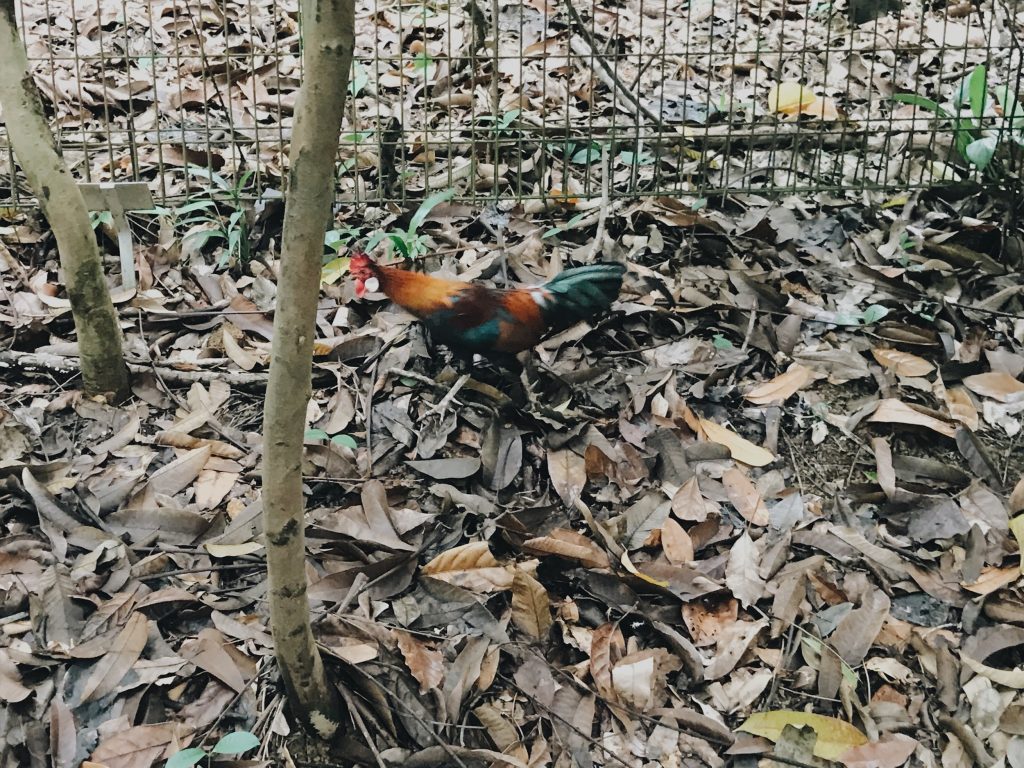 P.S. Roosters often pop up as uninvited guests!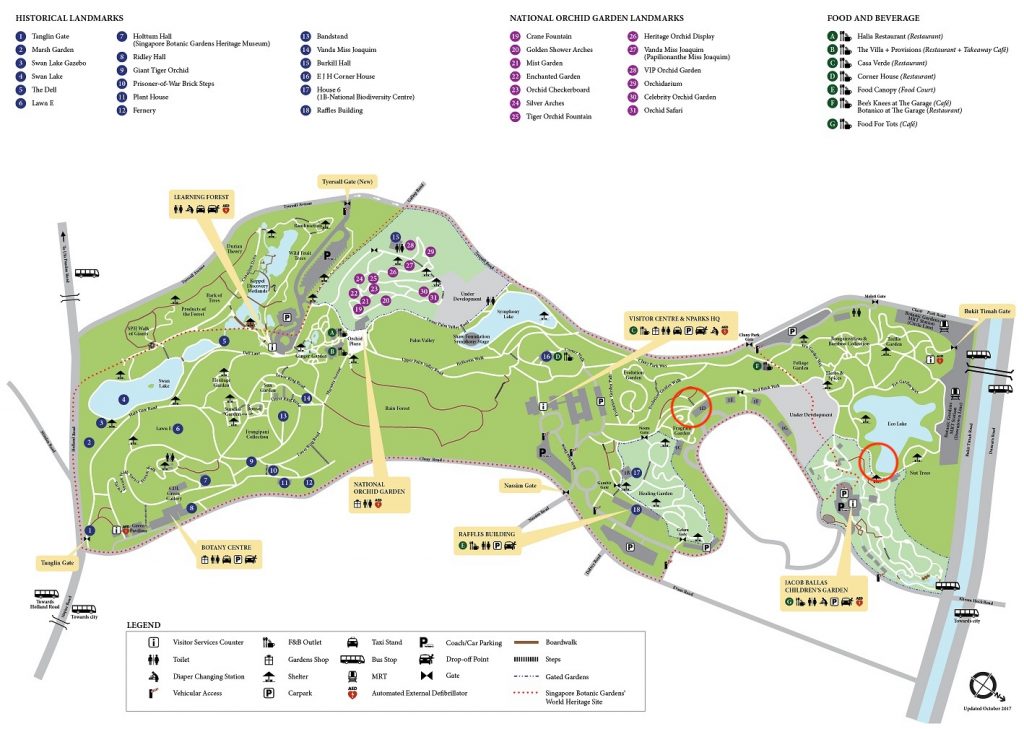 Adapted from source
The red circles mark where we found the fixtures.
8.   Catch a free concert at the Shaw Symphony Stage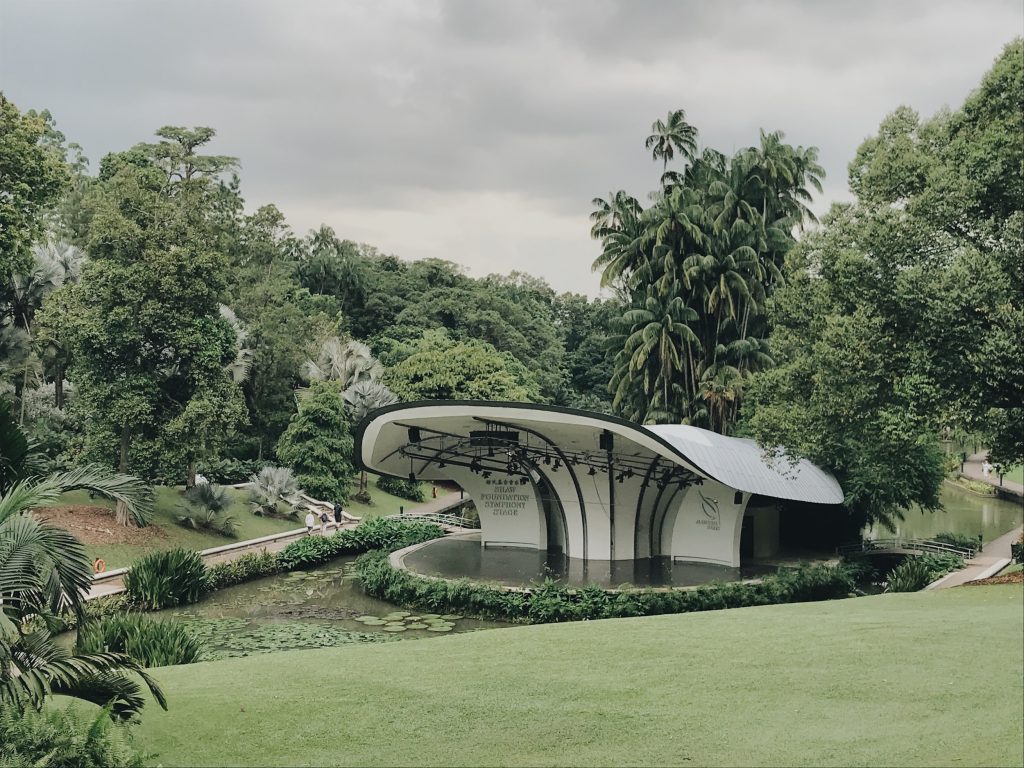 The Shaw Symphony Stage is well-known and well-loved by many Singaporeans as the go-to outdoor place for free concerts and performances. Don't FOMO on this Singaporean pastime, take some time off to catch a show here and check this one off your bucket list.
Regular updates on events and performances are posted here. Psst… OG outing idea!
(Practically) Cheap Outdoor Botanic Gardens Ideas
We may not be in the most haps urban parts of Singapore, but hey, it's clear that Botanic Gardens is a kind of happening on its own. Whether it's for a run or a short exploring session, there are tons of little hidden gems around that'll thrill and delight the nature-starved law students in everyone of us.
Explore away, my young padawans! Nature calls. (pun not intended)
All photos processed with VSCO with A6 preset.