Let us all first thank the heavens that Summit finally has a Halal food stall. As most of us within the BTC community may know, the Muslims among us have struggled with the lack of available Halal-certified food at the Summit, since the first successful bidder for the Muslim food stall withdrew unexpectedly.
Much to the delight of many, the newly-opened stall offers the usual nasi padang, but the food is certainly more than average. There are a variety of food sides to choose from, including my favourites: deep-fried chicken wings and sambal eggs. Additionally, there is quite a large selection of vegetables for the vegetarians among us. There is also an assortment of noodle dishes, like mee goreng and mee siam. This varies from day to day.
Before anyone thinks this picture was taken halfway through the meal, au contraire. This is how it looked, au naturel.  Those are fish balls for those who might think they're quail eggs. Their 'sambal' is damn shiok for anyone who wants that extra kick of spice. This dish cost roughly $3.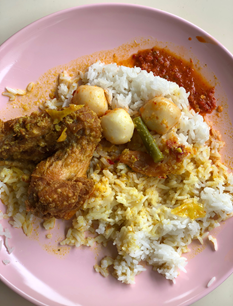 In my opinion, the Muslim food stall is definitely one of the better selections at the Summit. Business is brisk, but the queues are usually short, which is always important for us time-starved (and starving) students. (Of course, after this article is published, the crowd might increase tremendously). The food is good, the price is reasonable and the portion served is very generous. Here's another example: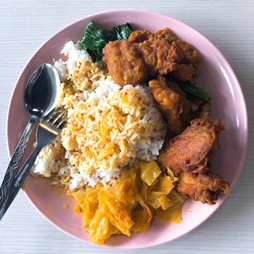 Looks appetising, I know. This dish was around $3.50 for two servings of meat and veggies – so, definitely worth the 'moolah'.
Granted, the food here is not the healthiest choice within the Summit. However, this writer will venture to argue that the taste is darn worth the few extra calories. Admittedly, this may be a biased opinion, but this writer loves their chicken wings. After all, who can resist a succulent, juicy piece of deep fried chicken? Further, for those who want something light, this stall also sells different types of colourful kuehs. These traditional desserts are sure to be a treat for those who want something light!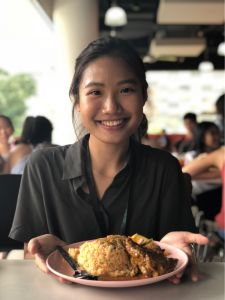 This happy girl over here had biryani which was part of the daily specials from the Muslim stall, so make sure to look out for it. She is sweating because the curry was spicy but again, the food earned the rating of shiok as the chicken was so tender. 
Popular dishes tend to run out fast; do not blame me if there are no dishes left later in the afternoon. In fact, when I visited the stall today, most of the gravies and vegetables were running out, so business must be really good!  I leave you all with this photo so you can dream of it in your sleep. Sweet dreams everyone!