As with every year, the graduating batch demonstrates their "free time" by showcasing a musical to the school. The batch of 2017, being the first batch to go through the mandatory Pro Bono scheme, decided to dedicate their play to the fund going towards Pro Bono projects by NUS.
Months of work was distilled into a 2 hour play for our benefit. Held during recess week, this was a gesture of goodwill not just for us, but for the public good as well. Kudos to the Year 4s for investing their time for our entertainment!
An uncle once asked me, "boy ah, that mee siam got standard anot?"
To which i replied, "the mee siam mai hum still shiok eh!" Translation: You're not watching something professionally made, but passionately made. So even if there's no hum, we still gucci. Truthfully, I never knew my seniors could sing so well, dance so flamboyantly, or act so convincingly.
I liked the play.
It had humour, albeit humour that was sometimes a little confusing because I did not have an understanding akin to my seniors. Thank goodness they had placards indicating when it was time for me to laugh.  Insert nervous chuckle hoping no one notices i didn't get the joke.
It had drama, and as with most murders, there are implications of justice interfering with morality. Not wanting to bore you with legal theory, let's move on. I will say this, however – M. Night Shyamalan may have had a part to play with the ending.
It had a muscular guy with a nice gluteus maximus. Our very own Joshua Woo acted rather well, showing that buff guys like myself, are not just meatheads with zero depth.
But most importantly, it had a message. Remember Aristotelian stories? They were anecdotes with a message hidden in them. I quite enjoyed them when I was young – it was about trying to apply the facts of the story to my life, a somewhat LARC-esque skill no? The story in Law IV fit well with the purpose of the play and its message was clear, simple and something that guides our thought processes implicitly everyday. Humanity is fallible; we require compassion and understanding, and someone to take into account our shortcomings coupled with our principles. Jesus Christ? No, not really, but a judge, and he unties the Aegean Knot with the sword of mercy. He finds out that people have different stories, and that we should endeavor to listen to others' stories and see the world from their perspective. Basically, what Tyrion Lannister does in Game of Thrones.
Spoilers:
Before I jump into the play, Here is a warning that spoilers are coming. If you have not watched (or were too cheap to buy a ticket), feel free to read what I have to say. Also, if you are not cheap then be a supporter and purchase their CD and prove me wrong. All proceeds go towards the Pro Bono Fund!
Synopsis:
A judge, Jack (Joel Tieh) becomes fed up with his job and quits, deciding to be a talk show host instead. The show then explores the love life of the Intern (Wang Chen Yan) and Julio (Joshua Woo). Throughout the production of the talk show, death threats come causing the Producer (Lee Shu Qing) and Jack distress. The play then hints to Rachel (Shermaine Chng), an up and coming star, to be the cause of all the commotion. Jack confronts Rachel and she explains her past to him: Her father was sentenced to rot in jail by Jack who always applied the law strictly, void of mercy and compassion.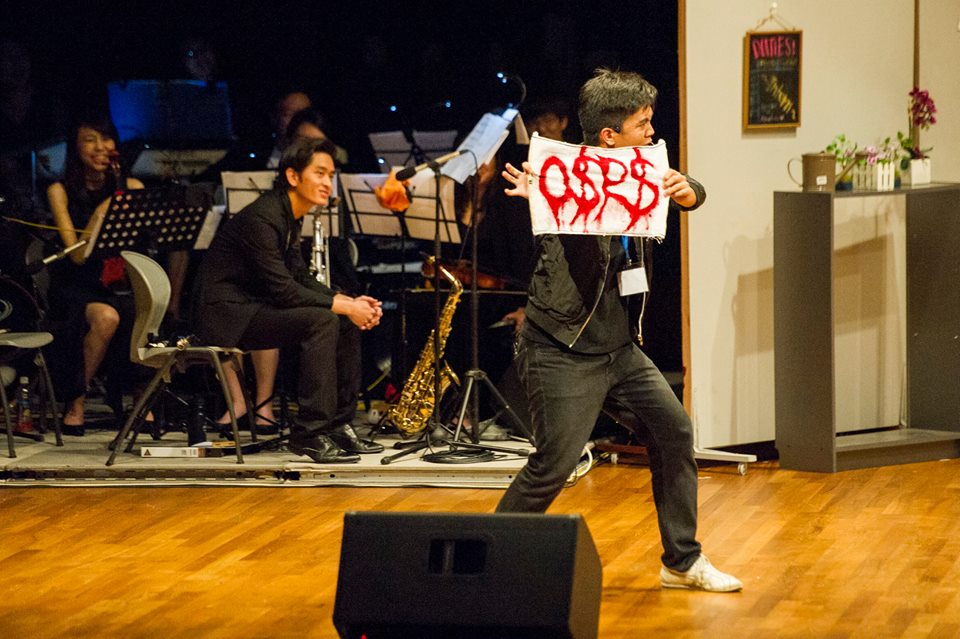 Rachel had come to the show to present Jack a letter by her deceased father, the letter was actually directed at Rachel. Rachel's father intended for Rachel to find forgiveness when confronted face to face with Jack in that he was only acting within his official capacity.
Rachel reveals she was not the mastermind of the death threats and the play reveals it to be… the placard holder who is a character from the Producer's past.
My two cents worth: what I thought about the play and its characters
Per Stanley Hudson, from The Office, "Get to go sit in an air-conditioned room, downtown, judging people, while my lunch is paid for? That is the life." (The Office, Classy Christmas, Season 7, Episodes 11&12. NBC 2011).
I thought to myself, why would a judge become disillusioned and end up hating his job? A probable explanation for this is, to not ask too many questions and just accept it for the story to progress. Surely, a law student cannot be so naive only to be disenchanted when called up to the bench and find out the world is not as perfect as his bourgeoisie life made him believe? Alas, this the hubris of the protagonist, to which I see the story is founded upon, for it is only a story.
Nevertheless, Joel's acting was entertaining when he accurately portrays himself to be a man of order, rather than oppressiveness. Also, not sure if anyone noticed, I counted the number of times he put his hands on his waist throughout the show, 22?
The ambitious producer is said to be stressed out of her wits. If you have ever interned or heard stories of overly harsh handlers who demand the moon from you, that's her. She's the stereotypical auntie who has nothing better to do but breathe down your back and remind you of your impending doom. In the play, she's constantly hounding the intern, delegating everything to everyone and never taking responsibility for screw-ups. But that's rather unfair to the character no? I believe she represents the hope in all of us, a drive that keeps us sane in all the chaos despite the lack of knowledge and skills. She didn't seem ambitious to me, though she was clearly reaching out of her depth. If she were truly ambitious, she'd be doing what The Matrix did, 360 slow motion fights. She just seemed hopeful that she could make her mark in the industry. In the play, she felt like she was reaching for a teh-ping two tables away in the Summit.
I felt that Shu Qing was actually casted very well for her role in the play. Her small stature required her to compensate with an overbearing nature which she pulled off with much passion.
The Intern. Remember the 2015 movie with Robert De Niro? Yeah, it's nothing like that except we find out the nameless character is old and suddenly unrelatable.
Let's ignore the fact that she's 43, I have always had a peeve about the helpless little girl story. What I mean is the classical "Disneyed" story of Rapunzel, where a helpless girl is kidnapped in a tower only to be rescued by a knight in shining armour. Why must the relationship seem so imbalanced? Where is Mulan in all of this? The intern had a lot of potential, but inevitably became someone who could not take charge of her own fate and was subject to the tempest of life. In the Shakespearean play of Romeo and Juliet, Juliet showed herself to be the author of her fate when she decided to die rather than live and become subjugated to her circumstances. The issue here is, "Why can't females be portrayed with more assertion?" Are we that helpless only to relate ourselves victimized characters? I know I'm being a little critical about the portrayal of the Intern, but i genuinely felt that this character was a little too cliché and expected her to drastically contribute to the story's arc.
Still, I think it is noteworthy what the Intern brings to the show, she represents the stereotypical Singaporean student – a butterfly within its cocoon. The portrayal of the Intern by Chen Yan was actually powerful. I could feel her intense frowns from the back. Her strength lies within her subtlety and I think Chen Yan's acting was the most difficult because she had to show capability and potential, whilst also forcing herself to be reserved and hide away these traits.
Rachel gave the show ambiguity. Initially, when she came onstage to sing, I was perplexed at who this new character singing in front of me was. She was essentially a red herring to the murder mystery theme. But therein lies the foundation of the show, true, she is for all intents and purposes not the perpetrator of the death threats, but she represents the reality of law and its effects on third parties.
Shermaine's portrayal of Rachel was intense. Coupled with her Lana Del Rey-esque singing, this really added a lot of depth to her character. I could feel the hurt in her lyrics. Rachel did not seem important to the story in my original assessment, but her character was a ticking time bomb which eventually exploded into a flurry of emotions. Enhanced by Shermaine's powerful chords, this forced me to realize that Rachel's character was central to the play. Props to casting and writing in their ability to find such an apt star to portray someone so pivotal to the story.
The Slapsticks of the show added comedy to the mix – in my opinion, rather aptly when the scene got too serious. With all the drama of ups and downs I sought refuge in the wit the writers weaved into the dialogue. The police interns (Calvin Lee and Priscilla Goh) went together really well. They were like Pinky and the Brain to me, except both were Pinky. They reminded me of Rowan Atkinson's Johnny English – clueless yet competent. Also, Warrant Tee (Chua Jun Wei) actually meant something deeper to me. He reminds us all of the sage wisdom of elders; where philosophy can be imparted by a farmer in the country.
Shout out to the backstage crew, lighting managers and band! I must say, to turn an auditorium into a theatre is no easy feat. It's also difficult to make props which so effectively help the audience imagine the setting and are mobile to allow for transitioning between scenes with such limited resources. The band was great! They were skilled and brought together by a great conductor. One of my favourite parts was when the band had to execute a disorganized segment when the talk show could not get its act together. To coordinate this requires creativity, mastery of individual instruments, and the knowledge of a competent conductor who understands the intricacies of every instrument.
Overall, the script writing, choreography and singing did make me slightly uncomfortable at times. I understand we're not professionals here, but I felt that the story jumped around from character to character and there was no real transition from scene to scene. The dialogue sometimes seemed forced, with characters saying what we expect of their stereotype. (Example: Julio.)
The choreography, on the other hand, was really interesting. The coordinators managed to portray different genres that were rather polar. The 80's Boogie is way different from today's contemporary style, and to teach both to a group of law students deserves commendation. Also, the Commercial Angels' commitment to character was praiseworthy. The singing was great, to be frank, and I could really sense their passion for the songs composed. Unfortunately, with a live band and poor acoustics, the singers had to use microphones. The mics had technical hiccups at times and I could not hear what the singers were singing. Nevertheless, the group did a great job with what they had and delivered songs which were original, witty and catchy.
Verdict:
The play was phenomenal in my eyes. Consider this, a bunch of law students, with amateur experience in theatre, making a script, creating songs and writing scores alongside their own busy schedules. This should not be a recipe for anything watchable. But they pulled it off, with a catchy list of songs to boot (once again, buy the CD)! The play deserves recognition and holds itself to the legacy of Law IV.*
Best Joke: Make America great again
Best Character: Warrant Tee
Best Song: Judicial Review
A+ with Honorarium.
The sentence "It only makes it better that this time, we have a noble cause to dedicate the play to." was deleted. Law IV is always for a good cause, and it is a tradition where the graduating batch gives back to the wider community.
Photography by: Leung Liwen
Writing by: Norman Ng (Y1)