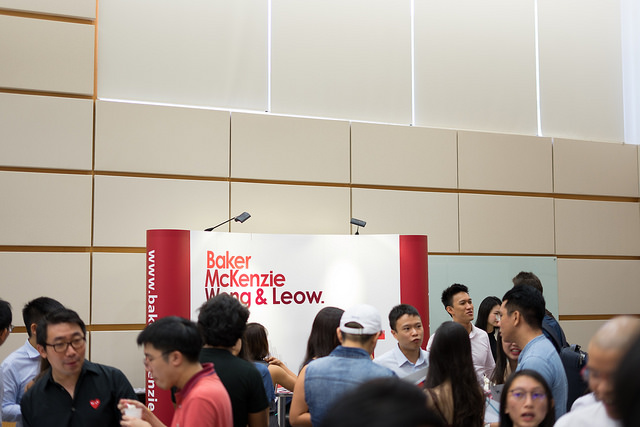 Baker McKenzie is a leading global law firm, with over 60 years of history and 77 offices across 47 countries. The firm specialises in a wide range of practice areas, including corporate transactions and taxation laws. Baker McKenzie has been ranked by Thomson Reuters for eight years running as the Number 1 Firm in the world by the number of cross-border deals.
The Singapore member firm, Baker McKenzie Wong & Leow, has more than 30 years of experience in this market and advises many major Singapore companies, multinationals and financial institutions that use Singapore as the hub for their Southeast Asia operations.
J: How long have you been working in Baker McKenzie Wong & Leow?
Wen Yu: I've been working with the firm for 2 years.
Tim: 3 years for me.
J: In your experience thus far working in Baker McKenzie, what do you think is the most unique point about the firm?
Wen Yu: Many transactions that we work on are cross-border or cross-practice. It won't be confined to one practice group and if there are relevant issues we seek advice from our colleagues in other practice groups or jurisdictions. As such our work is largely based on collaborative effort. This allows us to provide one-stop solutions for our clients.
J: How long was the training period and how was it like for you?
Tim: 6 months of mandatory training period. There is usually 1 month in between before you are called to the Bar, usually in August. So that makes a total of about 8 months of gestation period before formal practice.
J: What kind of work have you done on throughout the years you've been with Baker McKenzie?
Wen Yu: It'll depend on the department you're joining. I do advisory work and tax planning for clients. We also have a wealth management team which provides wealth planning and estate planning for individuals. The team also handles trade-related work as well.
J: So there's a lot of client management going on?
Tim: Just to share a bit on how our firm works: we have 9 practice areas broadly categorised into transactional and non-transactional practices. We are able to assist clients on both domestic and international matters ranging from corporate transactions and major project financings to complex disputes, IP protection, and tax planning and structuring.
I deal with corporate matters, handling a broad range of work that spans general & corporate advisory work to capital markets. Our team also handles IT communications, commercial regulatory work and financial regulatory work.
J: Do you normally get rotated around the different departments or get to choose which one you prefer?
Wen Yu: There is no mandatory rotation. For TCs, trainees are usually involved in different files from different practice groups, at least to some extent, though they will always be allocated to a specific department — that's your primary so-called 'job allocation'. If you join Baker McKenzie Wong & Leow during both the RLT and training stages, it's likely that you'll usually be in different departments.
Tim: This RLT probably doesn't apply to you guys because NUS students come in as practice trainees, so they just need to do 6 months of practice training. Part of the practice training contract requirement is that you're exposed to work from other practice groups. We call this cross-PG exposure. For me, even though I was primarily part of the corporate team during my training, I also did some disputes work. In the process, I often reached out to my disputes colleagues, including disputes trainees. That's a mandatory part of your practice training contract.
J: So from interacting with your colleagues and seniors, what kind of people do you think would fit in Baker McKenzie?
Wen Yu: There is no fixed rule on the specific kind of persons we are looking for. From interacting with colleagues from different departments or even within your team, you'll realise each person has his/her own personality and working style. If you have good communication skills, are able to work well in a team, you can fit into the team better
Tim: Complete agreement – and just to add to what Wen Yu said, we actually look out for nice people. Part of our performance assessment is your personality and whether you're a collaborative person does play a part in your formal assessment. We look out for people who can work in a team, and are cooperative because we want to build a culture of friendship. This understanding actually permeates throughout the global law firm, not just Singapore. We work regularly with colleagues in other Baker McKenzie offices and after a while we also get to know them as friends. This really harmonises the processes and makes work life a lot easier and interesting.
The second thing that stands out to me after three years of practice is that a commercial mind-set is very much appreciated by our clients, because most of our clients are corporations and businesses. The challenge here is how to integrate law with practice. Law, of course, is important because first and foremost you're a lawyer. However, your legal advice cannot be given in a vacuum — it has to specifically address the client's needs and be relevant to the context within the industry or environment that the client operates in.
Our clients appreciate that we are able to provide solutions which both address their legal needs and are commercially pragmatic. If you are able to do that – then, we will want you.
How do you familiarize yourself with industry-specific knowledge?
Wen Yu: We do have industry working groups within the global law firm and we are building up knowledge and information for specific industries. As you progress along your career, you may choose to specialise in industry-specific groups, so you are most likely going to be updated on a regular basis on some of the most pertinent legal issues. After you have worked for a while, some of the knowledge acquired will also be transferable. For the commercial aspects relating to the specific industry, you will have to build up that knowledge over time and there would be opportunities for you to do that when you either meet with the clients or discuss certain issues with your colleagues.
Tim: Part of it is experience. Along the way, you gain more experience as you work with more clients. We have a business development department, so let's say if you need to meet or pitch to a new client,  we typically ask our business development colleagues to help conduct research on publicly available information, such as annual reports, or some research on the client and the environment in which the client is operating in. This allows us to have the necessary background to brainstorm issues that the client might face.
What is the number one thing you think students can get away from this career fair?
Tim: To keep an open mind. Traditionally, some bigger firms have been more popular than others in terms of TC applications. Looking at the other firms around, there are many options available. Going big is not the only way to go. It is not necessarily a bad thing that you don't end up training or working in a big law firm. It's a matter of knowing what is out there and trying to get a better sense of which place will suit you, in terms of work environment and culture.
I think what is also important is the environment, the people and how they are treated in the firm. These are things that I feel law students sometimes overlook. Naturally so for lack of experience but it'll be good if they start having this kind of awareness.
So that's where the internships come in.
Tim: Yes, part of internships is about the work. However, other than simply picking up legal or technical skills, internships also provide the opportunity for you to immerse yourself in the environment and to observe what is going on and whether you are a cultural fit.
Is an internship at Baker McKenzie the first step to getting a TC?
Wen Yu: An internship is a useful step to get to know the firm and for the firm to get to know you better. I think having an internship is always better than not having an internship because it gives you the chance to find out more about your potential workplace. Having said that, I won't say we only hire people who have interned with us in the past — I, for one, didn't intern with Baker McKenzie before joining them.
Tim: I completely agree with Wen Yu. I was an intern at Baker McKenzie. So, for our internships, we don't normally take in a very large group of people, unlike some of the bigger firms with more capacity. We tend to take in fewer interns and practice trainees as well, but with a view of getting to know them in greater depth –  hopefully with the view of awarding a training contract in the long run. The internship is a good platform for us to get to know how you are as a person and to asses whether you will be a good fit for the firm.
Because you have graduated only recently, how was it like back then when you were looking for a job opportunity? Do you have any advice for people who are about to graduate?
Wen Yu: I think for all graduates, you will have some inclination as to the practice area you want to go into and which area of law you want to specialize in. But, thinking back on that point (for myself), you may not have all the knowledge you need to make the decision.
So, my advice would be, when you are choosing modules in Year 3 and Year 4, don't limit yourself to the choices that you think you should be making simply based on what you think you would like to practise at that point. Try to explore based on your interests because you never know when those kinds of modules might come into play. This is especially so if you want to work in an international firm – some of the areas of law, whether you are in corporate or tax, will come into play sooner or later.
Do you have any other advice to share?
Tim: My advice would be to try to find something about the law that you really like and are passionate about. This is something that people like Professor Tan Cheng Han and Professor Simon Chesterman have mentioned about the profession because having been in the practice, you'll realise that the hours can be very long. The profession is notorious for its long hours, as with the case of most professions (in Singapore), because we are a knowledge-based profession. The more time you spend at work, the more skills you acquire to become a better practitioner.
The hours can be long, and there may be times when you'll feel unsure; there may be times when you feel like giving up. But what keeps you going ultimately is something about the law that you like — maybe you find it intellectually stimulating or maybe you like the fact that you are able to help your clients navigate difficult problems. Whatever the reason, having some intrinsic motivation, rather than being driven by external factors like compensation, will get you farther in this line of work. It is something that may be good if you can start finding the motivation early while studying in school.