Many of us are — understandably — no stranger to the winter law firm internship rush. That said, for those with the insatiable itch to tread off the beaten path, Justified is here to inspire you! We caught up with Tristan, who spent winter break at the Future Law Innovation Programme (FLIP), by the Singapore Academy of Law.
Name
Tristan Koh
Year
LLB1 (YNC2)
Employer
FLIP by SAL
Duration
Dec 2019 — Jan 2020
Job Scope
Helping out with:

White Paper on role of Legal Engineers
FLIP Christmas Party!
Tell us about yourself.
I'm Tristan, studying in the Yale-NUS Double Degree Programme — currently in Year 2 Yale-NUS, Year 1 Law.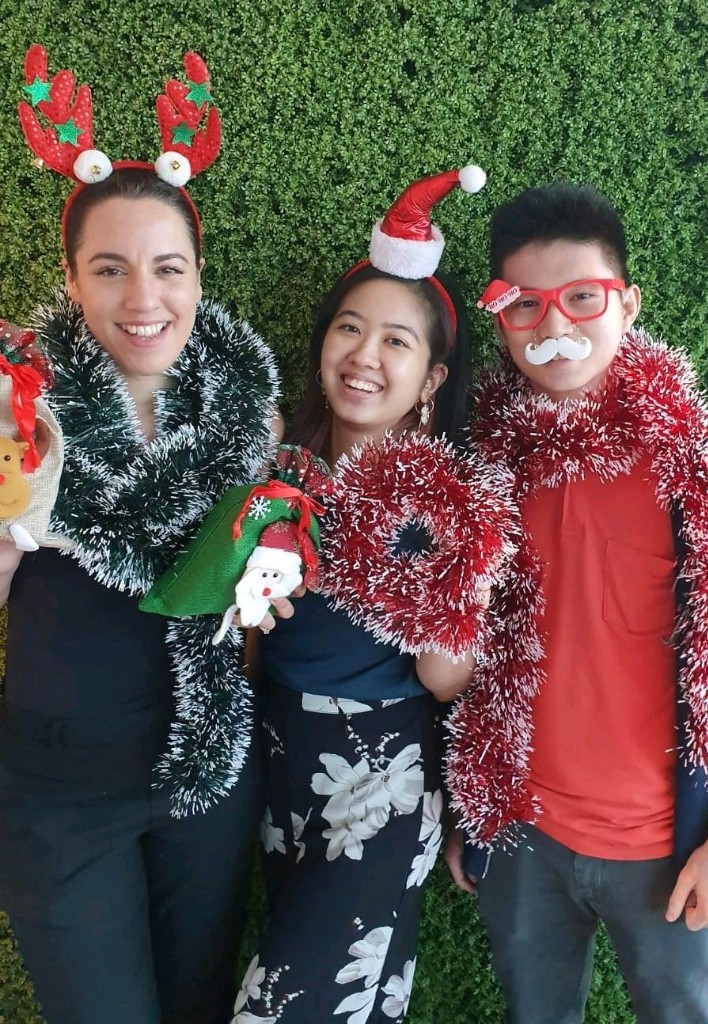 I took up the DDP in Law and Liberal Arts specifically because of the possibility of studying the intersections between philosophy and law, perhaps through a minor in philosophy. In particular, I am intrigued in the fields of epistemology and ethics, and how these subject areas interlink with jurisprudence. That being said, because of my experiences in legal tech, I'm now considering a minor in Mathematical, Computational & Statistical Sciences (MCS) at Yale-NUS!
Out of school, I am a member of LawTech.Asia, an online publication that aims to drive thought leadership in the use and development of legal tech in Singapore and the region. I'm really grateful to have been given the opportunity to be part of such a wonderful team, as it was one of my first forays into legal tech.
Separately, I have recently rediscovered my love for playing indie games, and I view them more as interactive art than traditional mainstream games. Another great love of mine since Secondary 1 is Shooting. I was delighted to be able to shoot again last academic year as part of the NUS Varsity Shooting Team after a hiatus in JC and NS. As I've had increasing academic and extra-curricular commitments, I'm currently not on the team but I'll definitely want to shoot again sometime in the future.
What got you interested in legaltech?
It was borne out of a vague understanding of legal tech. I knew nothing beyond what the term stated — it had something to do with the intersection of law and technology.
After I ORD-ed from NS, I was looking for internships that could be relevant towards my law degree. As many would know, it was difficult to find actual legal internships for pre-law students and so I had to look for alternative industries that would be connected to law. Since I knew that there was something called "legal tech", having read about that in the newspapers, and so I tried applying to LexisNexis, primarily because I also knew that they were a provider of legal databases.
I was lucky enough to be accepted as a Marketing Intern and that started my legal tech journey.
Looking back, I think what drove me to explore legal tech (and still drives me) is that I enjoyed piecing together a cohesive narrative of what the legal tech scene entailed. If you consider the fact that SAL's Legal Technology Vision was launched in 2017 and FLIP just one year later, the local legal tech scene is very nascent compared to the legal industry. I particularly relished that every time I was involved in a legal tech initiative, I was putting another part of the "narrative" together.
How did you chance upon the internship?
Before the internship, I was already part of LawTech.Asia. LawTech.Asia had recently established an internship portal for legal tech opportunities, and I was browsing through the list when I saw FLIP, at which point I reached out to Noemie (the Assistant Director of FLIP and one of my two great bosses) to ask if they were keen on taking any interns during the Dec period. Luckily for me, I was accepted!
What was a typical day-in-the-life during your stint?
It's hard to define a "typical" day at FLIP — a day could be spent sourcing for Christmas decorations at Bras Basah and on another I could be interviewing lawyers and legal engineers for the White Paper!
If I had to break down my time at FLIP, it would be in two broad segments: Half of it was spent on organising FLIP events (which included the logistics and designing marketing collateral) and the other half was working on a White Paper that aimed to elucidate the role of legal engineers.
My short stint at FLIP coincided with their big Christmas Party, and so I was heavily involved in the planning and execution of the event! Hedy (the Community Manager of FLIP) and I literally spent close to a week sourcing the Christmas decorations which led us to places like Chinatown and Bras Basah. Back at the office, I was practicing my (rather mediocre) arts & craft skills by preparing the stuff needed for the games that we designed for the party guests.
The other half of my time I was in-charge of drafting a one-page summary for a White Paper that FLIP was intended to do on Legal Engineers. Briefly put, the objective of the paper was to define and learn more about the job scope of what such professionals in the legal technology space are currently doing in their respective organisations. We named such professionals as "legal engineers" for simplicity's sake as even the nature of such a profession is not well-defined.
FLIP had already conducted one group interview with 10 participants and so I was given the opportunity to conduct the follow up one-to-one interviews that went focused more on their day-to-day roles in the respective organisations. Hedy would schedule the interviews and we would head down to their offices to interview them. I was certainly fortunate to be able to meet a few established names in the legal tech space and hear about their experience first-hand.
What did you expect to learn? What did you end up learning?
My expectations going into the internship was simply to increase my exposure to the legal tech space in Singapore and meet more like-minded people. I thought FLIP was the best organisation to be in as they were literally founded to bring together disparate professionals and organisations that were interested in legal tech to form a community.
In that regard, my expectations were more than met, as the day-to-day work was all focused on fostering that community. Though half my experience at FLIP was preparing and executing the Christmas Party (which was decidedly non-legal work), it still gave me invaluable opportunities to meet other people interested in legal tech — from the public sector, startups and even other current law students.
I was once again greatly heartened at how the community was so welcoming and willing to share even though I was merely a student that had not much to show for myself besides some enthusiasm in legal tech.
What was your most unexpected lesson?
The most unexpected lesson has to be the insights I gained about running startups — specifically about running it as a business. My perception of legal tech was always that it was about either substantive law or technology (i.e. legal regulations / data analytics), but I had never seriously considered that legal tech is a business sector itself that came with its own attendant considerations about making the legal tech solution a sustainable business venture.
As FLIP's GLIDE (the legal tech startup accelerator) demo night was to be held one week after my internship, I was also involved in the planning. In brief, such demo nights are when startups present their solution to a group of potential investors to obtain funding to scale their solutions. Part of my job then was to research on investment statistics in legal tech companies, which was when I read up more about Angel investors, seed funding, Series A / B / C funding and more. It then struck me that legal tech also intersected with the greater startup scene and having knowledge of scaling businesses and seeking funding opportunities could also be complementary.
What did you most appreciate about your work culture?
More than anything, I appreciated the vibe that my bosses Noemie and Hedy brought to the work culture. They created a working environment that made me feel that my opinions were valued, especially when they had meetings with external parties like potential investors and I was given many opportunities to directly ask these investors questions. Moreover, I was given plenty of latitude in completing tasks. Overall, I was treated less like an intern and more like a colleague and a friend, which was an empowering culture to be in.
Other than that, the great thing about FLIP is that it is run like a startup — it's located at a fancy co-working space at High Street Centre called Found8. The day-to-day operations are essentially run by Noemie and Hedy, and so because of the lean manpower, I was able to be involved in almost everything that they did.
What was your most memorable moment or project?
My most memorable moment was compiling the interview notes from the various interviews I had conducted for the White Paper on Legal Engineers. What struck me was that though these interviewees were involved in legal tech, their scope of their work was so diverse. Some played a more advocacy role within their law firm in terms of changing the mindsets of partners to rethink existing processes. Others could actually be working with legal tech vendors to integrate technological solutions into the firm's current systems. In that regard, I realised that first, it was possible not to have technical expertise in technology to be able to contribute to legal tech (though still highly encouraged), and second, technology is only an enabler of change. The processes which technology is applied upon must still be well-thought, and even more fundamentally than that, there needs to be an organisational mindset of improvement. In this regard, legal tech is more about understanding people and organisations to foster innovative cultures and mindsets with technology where applicable.
What are some benefits, especially unexpected ones, of doing a non-law internship as a law student?
The first and most important benefit to me is the opportunity to broaden my perspectives. I have heard some people note that the demographics of legal practitioners are pretty homogenous — one downside of that is the diversity of experiences and opinions are lesser than that of the legal tech space, or any other less regulated industry. Doing a non-law internship exposes me to people of different backgrounds and therefore different opinions — I think that has helped me to grow the most in developing a more cohesive view of the world. In fact, such exposure not only helps me grow professionally, but personally as well.
The second benefit is to build a diversified skillset. While law is indeed pervasive and has far-reaching impact in everyday life, I believe that we must not also forget that the legal sector is not the be-all and end-all of career opportunities. Indeed, merely having a monopoly over legal knowledge as legal practitioners does not seem to be sufficient in the near future with the commoditisation of low-level legal tasks through legal tech. Already the Big Four accounting firms have obtained licenses in the UK to provide legal advice, which allows them to provide the full suite of professional services (accounting, legal and consultancy) to clients. To me, that entails finding another comparative advantage, and so I've decided to diversify into technology through legal tech.
Let's pick your mind! Any predictions for the future of Singapore's legaltech sector?
Haha, I wouldn't consider myself well-informed enough to provide responsible commentary on the sector's future. But I guess from the perspective of a current law student with some basic experience in legal tech, the technology driving legal tech solutions will grow quickly in maturity as more sector specific data becomes available. This mirrors the growth of the larger technology sector because of the huge increase in investment and talent going into the sector.
Whether such technologies are adopted in legal practice at a much greater scale than the current uptake is anyone's guess, as I personally think that the cultural mindset shift in firms to become keen to uptake legal tech solutions would take a longer time. Nevertheless, I'm merely using the technology sector as a benchmark, which has always been at the forefront of change.
[free space to ramble]
Shameless plug: I've recently co-authored a thought piece for LawTech.Asia on "The Epistemic Challenges Facing the Regulation of AI" on how our limited knowledge of neural networks may pose challenges for the regulation of such technologies. Do check that out here, along with LawTech.Asia's other thought pieces!
Lastly, if you're interested in legal tech, I'm always happy to have a chat!
Tristan can be contacted at: [email protected].