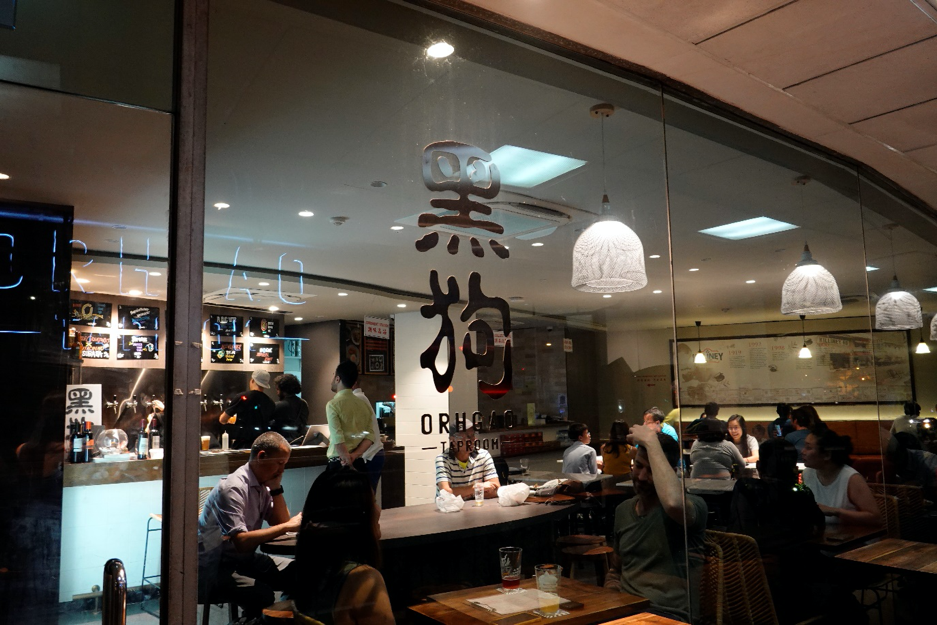 Nestled within Serene Centre, a comfortable 5-minute walk from Botanic Gardens MRT is Orh Gao Taproom. Having opened near the start of the year, it has replaced the unit formerly occupied by Island Creamery (which has since moved to Holland Village and still sells amazing ice cream but that's not the point), sharing the premises with Killiney Kopitiam. As you step into the bar for the first time, it's hard not to notice the way the entire place has been furnished, with old-school marble-topped tables and wooden benches harking back to a time when hipster cafes hadn't yet popped up everywhere. Having visited on a Friday night, we found the bar crowded, though we were nevertheless still able to grab seats with very little wait time. The atmosphere was bustling as the bar continued to fill with people throughout the night, adding a distinctly Singaporean coffeeshop buzz to the place. Prior to opening a tab, the bar required us to leave a card at the counter, and without much ado, we got down to the important work: food and booze.
Food
Having decided to maximise the amount of food we could taste in one sitting, we ordered several of the bar bites, along with 2 mains (Mac N Cheese & Angus Beef Burger)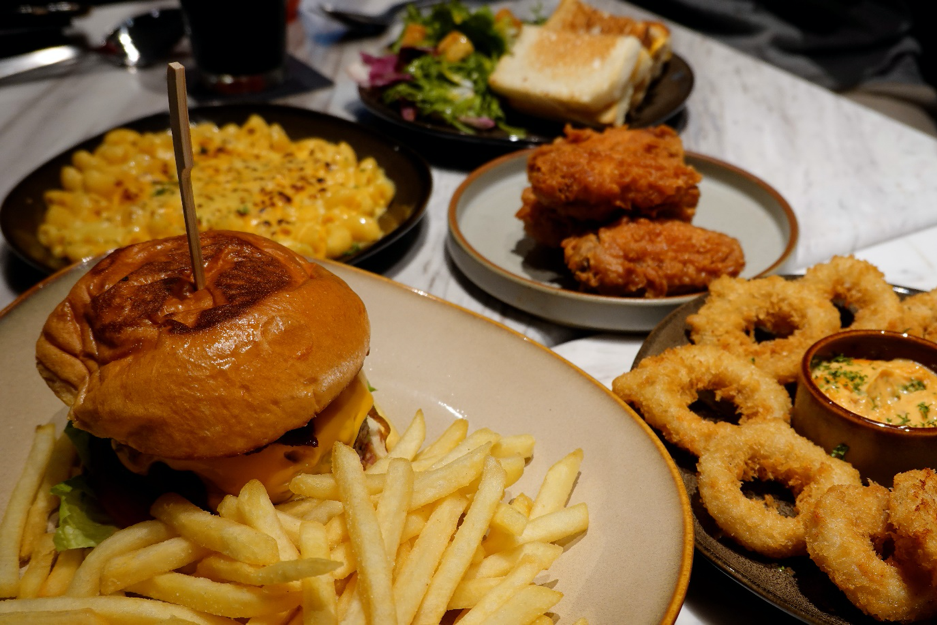 Cheesy Corned Beef Toasties ($8): Pleasantly toasted, with a rich, creamy smoothness that was contrasted nicely by the diced onions.
Mac N Cheese ($12): An acquired taste which you will either love or hate — unfortunately here the majority (2) ruled that the taste of nacho cheese was simply overpowering, with the dissenting side (1) arguing that the flavour really grows on you over time. Plus points were, however, awarding for the aesthetic cheese pull factor.
Angus Beef Burger ($20): A medium-sized burger, topped with bacon, caramelised onions, lettuce, and cheese. The patty was a tender, well-executed medium-rare, and was seasoned well with black pepper, while the sweetness of the caramelised onions added to the overall taste of the burger. A piece of advice would be to quickly eat the burger before the juices from the patty soak into the bun, after which it morphs into a dripping, but still rather delicious, mess.
Calamari ($10): The batter on the calamari was light and provided a great amount of crunch, while the freshness of the calamari jumps out at you with the first bite. The accompanying sambal tartar was rather indistinct — not that you'll need it though since the calamari is good enough to eat on its own!
Har Cheong Gai Wings ($10): Saving the best for last, this was hands-down the best dish of the evening. The batter was a perfect golden brown, with a crust that was absolutely spot-on. The wings were well-seasoned and were incredibly tender. A brilliant pairing with a good pint of beer.
Alcohol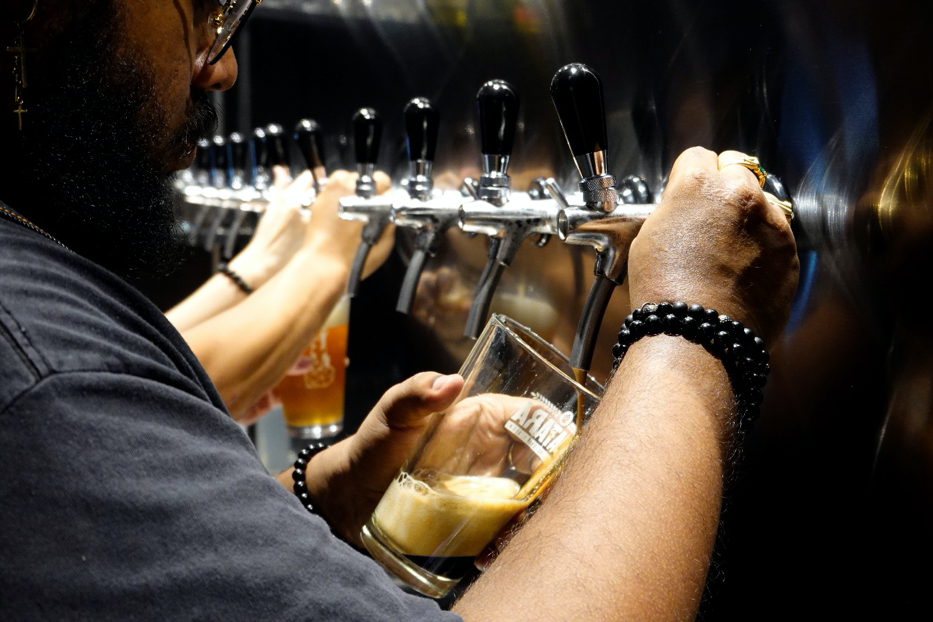 We consulted the friendly and helpful staff before deciding on our picks for the night. Alcohol was slightly pricey because Orh Gao specialises in craft beers, constantly rotating their offerings for both draft and bottled beer.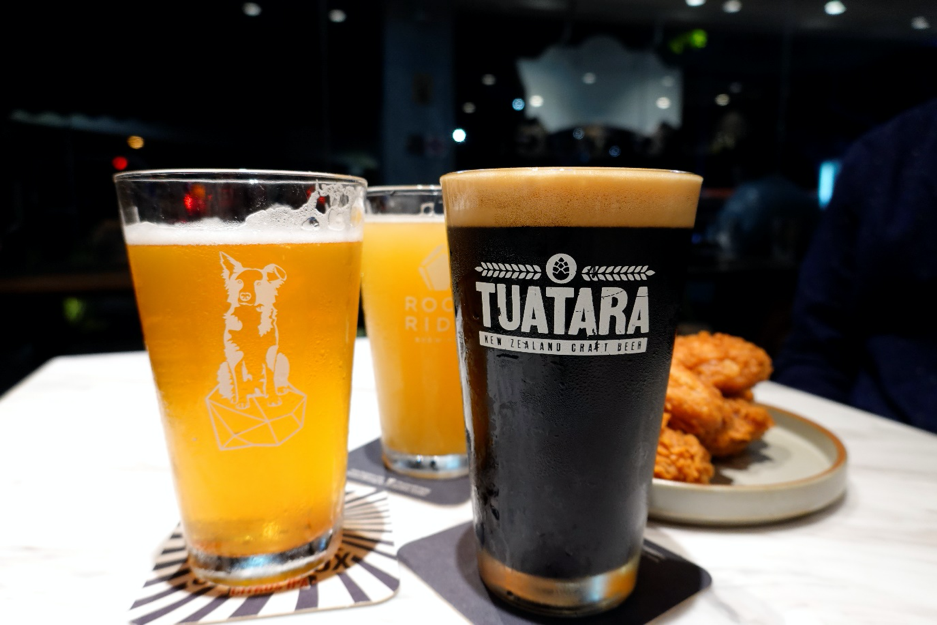 DUA Fermentation 2 (NEIPA) ($18): A locally brewed beer, this was a fragrant pale ale that was very fruity and, unlike most other pale ales, did not leave the bitter hoppy aftertaste one would expect. Refreshing particularly on warm, humid evenings such as this particular evening, but it was very sweet, which definitely took some adjusting to.
Little Creatures x Hitachino Nest Tsubasa IPA ($16): Light and very clean, similar in many ways to a Japanese beer (e.g. Asahi, Sapporo). Good without being spectacular.
Nøgne Imperial Stout ($20): An import from Norway, it was dark and rich, with a creamy texture and an intense roasted malt bitterness. Though we were given assurances that this was also a sweet stout, an assessment some might possibly agree with, the intense flavour was definitely not for inexperienced, unseasoned drinking.
Verdict
Orh Gao Taproom is definitely not somewhere to visit while on a budget, but amidst the hustle and bustle of Law School, it can't hurt to occasionally treat yourself, right? The mains might not be spectacular, but the Har Cheong Kai Wings definitely are, and paired with a good beer served up by the friendly staff in this bar located a stone's throw away from Botanic Gardens MRT, provides that "wow" factor to potentially turn your Fridays into FriYAYs. It is advisable to call ahead or use Facebook to make a reservation in advance so as not to be disappointed.
*All opinions and images are that of the author. This was not a sponsored review, and the opinions expressed here are those of the author.
Address:
10 Jalan Serene, #01-03
Serene Centre
Singapore 258748
Phone: 8749 2755
Opening Hours: 4pm — 11pm (Tue — Thurs, Sun), 4pm — 12am (Fri — Sat), Closed Mon
https://www.facebook.com/orhgaotaproom/