For the adventurous, who have plenty of time to kill before a lecture, you may take a short trip to Holland Village!
———
Dessert Stall @ Holland Village Hawker Centre
1 Lorong Mambong
If you're desperate to retain your Chinese heritage, order a bowl of Cheng Teng or Ice Kachang ($1.60 each)! The friendly storekeepers will be happy to decipher your broken mandarin as you order too. *Evil laughter*
Price: $1.60-$2.10 per bowl of dessert
Rating: 3/5
———
Everything with Fries
40 Lorong Mambong
Holland Village
You have two types of fries to choose from — shoestring & straight cut, of which there are five different flavours: Original, Curry, Salt & Vinegar, Sour Cream and Onion, Garlic and herbs.
For those who frequent EwF, you will know its famous for its Nutella Tart with Ice Cream [$9.90]. The rich chocolate flavour and sweet vanilla ice cream was a delight. It would be better if there were multiple scoops of ice cream though!
Price of desserts: $7.90-$9.90
Rating: 4/5 – Affordable, nice ambience, what can we say? Perfect!
———
 Cupcake Engineer
501 Bukit Timah Road, Cluny Court,
#01-03A, Singapore 259760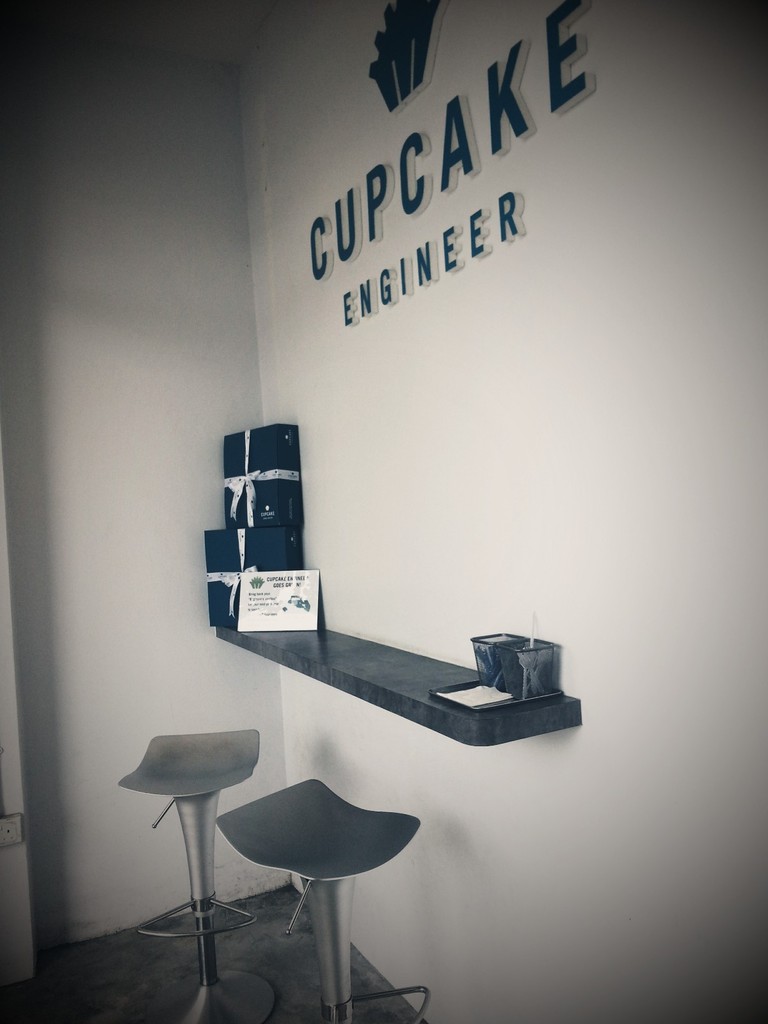 It takes great skill to bake a decent cupcake. All that effort gone into creating the frosting, albeit more worthwhile compared to doing a LAWR assignment, results in a wondrous work of art. It is no wonder cupcake making is a form of engineering at the Faculty of Cupcake Engineering …
For those who desire a quick snack, cupcake engineer's for you! A selection of 14 flavours to choose from, you will be spoilt for choice.
So, we decided to be adventurous to taste the sweet or salted? Cupcake (Price: $4). No, there was no typo there. The cupcake is literally called "sweet or salted?". We had to choose between the sweet or salted cupcake. Yes, one cupcake flavor shared between two cupcakes… *what sorcery is this* It's basically a chocolate cake with caramel Swiss Meringue Buttercream frosting and caramel sauce.
First bite and you will realize how light the frosting is. However, after munching for a few seconds, it starts to get real oily — not exactly what you will look for in a cupcake. Nonetheless, the luscious caramel sauce is good fuel to survive a contract lecture!
Price: $4 per cupcake.
Rating: 2.5/5 — The frosting was a tad too oily for our liking. Also, $4 was a tad too expensive.
 ———
Plain Vanilla Bakery
34A Lorong Mambong
If you like plain and vanilla things, Plain Vanilla Bakery is certainly not the place for you. (Un)true to its name, this bakery, which is popular for its cupcakes, does not contain a single cupcake that is plain nor vanilla in flavor.
For the uninitiated, hot favourites include 'Red Velvet' and 'Cinnamon Brown Sugar'. If you're sick of eating birthday cake… these cupcakes make the perfect budget option to celebrate a friend's birthday. Just put on some candles, and voilà ! A happy friend and very happy tummies.
Price: Cupcakes are $3.50 each or $19 for every six.
Rating: 4.5/ 5. – Pssst…. We heard that they have the best cupcakes in Singapore. Of course, the muffcakes (muffin/cupcakes, we don't really know) at the Summit are pretty legit too. Ask the Column Editor.
———
Mu Parlour
16A Jalan Mambong, Level 2 & 3
Well, if you're craving gourmet desserts under $10… We say head down to Mu Parlour, a newly opened café and dessert bar which serves an array of delightful little desserts in a rustic, cool ambience.
We decided to try the Chocolate and Black Sesame tart with Passionfruit Ganache ($8) and Passionfruit Cheescake ($6). The Chocolate tart did not disappoint and was satisfyingly rich and smooth. The Passionfruit Cheescake, on the other hand, could have done with a bit more flavor, but was nonetheless light and tasty.
If you're sick of reading Law books….. Head here to just chill over a good cup of coffee and dessert with a novel in hand.
Price: $6-$10 for individual desserts
Rating: 3.5/ 5
———
The Daily Scoop
#01-78, Chip Bee Gardens
43 Jalan Merah Saga
As the wise saying goes… "An apply a day keeps the doctor away". Well, we say that "an ice-cream scoop a day sure chases the LAWR blues away" too! I'm sure the Daily Scoop would agree with us on this. 😉
We tried the junior scoop of the Lychee Martini flavor and the Salted Mr Brown flavor ($2.20 each, including cone). The Lychee Martini flavor was divine: silky smooth with a subtle hint of vodka. For those with sweeter taste buds, you might like Salted Mr Caramel, which consists of sea salt, brown sugar with surprise brownie bits in between — Fantastic!
Prices: $2.20 for a junior scoop and $3.50 for a normal single scoop.
Rating: 4/ 5 – Affordable prices, great ice-cream, and a stone's throw away from school.