Law Camp 2015 happened this summer from 2nd to 5th June, involving about 200 enthusiastic freshmen!
This year's camp was closely tied to the storyline theme Revelations. Freshmen assumed the role of a newly minted junior public prosecutor, who then becomes the lead investigator of an exciting new case upon the death of the chief prosecutor. The freshmen had to overcome various roadblocks placed in their way to find out who the mastermind was — and as the theme suggests, they were in for a surprise!
Special shoutout to Allen and the storyline team — they came up with a very elaborate, well-planned hypothetical involving the offence of criminal breach of trust! After countless of retakes and many days of filming, the finished product (of the storyline video) can be seen here:
Meeting each other for the first time ever, the freshmen immediately got down to bonding through a series of station games. The entire BTC was a flurry of activity as OGs went from station to station to play games that tested their teamwork and built camaraderie.
Girls looking like princesses upon their thrones until they start to hurl their slippers from their feet in a most unglam fashion.
Credits: Jordy
The freshmen then got to meet their Secret Pals for the first time! After going through an intense blind speed dating session, the guys and girls settled on their ideal partner based on nothing but their voice and the touch of their hand. They were also aided (or hindered) by the fairies who were floating around in hopes of matchmaking some new couples!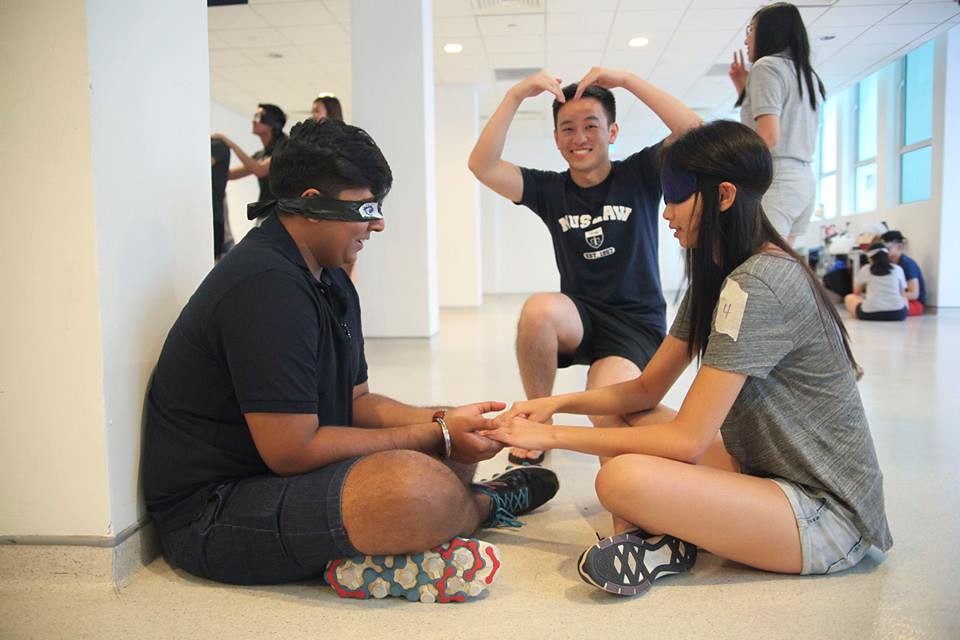 Sparks fly as the SPs hold hands! If only Chong We wasn't lurking behind to ruin the romance.
Credits: Allen Sng
On the second day, the freshmen headed over to Siloso Beach for the external event, which was a huge success thanks to the great weather and fun games planned in store for them! After the initial Captain's Ball game (with a variation in round 2), they then embarked on a grueling race to determine the winning clan, culminating in a clan cheer by the waterfront.
Sun and sand at Sentosa! Little did the freshies know that they would have to leopard crawl through rows of legs. Thanks Chester.
Credits: Joseph Gwee
Of course, no camp would be complete without some wet games! The afternoon's wet games ensured that not a single freshman was left dry. Everyone (including the seniors) were soaked by the end of the games, a clear indicator of how fun it was.
The mood was not dampened at all on day three although the freshies were pretty damp from playing wet games.
Credits: Melissa Tham
Finally, we got down to the War Games, which would determine the ultimate winner of Law Camp 2015! The freshmen toiled to make as many water balloons as they could before mercilessly attacking the other clans while valiantly defending their own structures, all while avoiding being sent to jail to be dealt with by the seniors. After a hard fought battle, Clan 5 consisting of OG 9 and 10 emerged champions!
This photo barely shows what was actually going on but that's because war games were too fun and nobody had time to take photos of the action.
Credits: Melissa
Finale night was held at the exotic and beautiful Altimate! Located on 61st floor of One Raffles Place, the freshmen were treated to a 360 degrees view of Singapore's skyline at night, and an exciting evening of activities including games and the pageant preview awaited, not to mention prizes to be won!
Everyone looking their dapper best and bringing their A game to finale night.
Credits: Jian Yang
NUS Law Orientation 2015! Thanks to all freshies, councilors, OGLs and FOCC for making it a huge success! Hope everyone had fun J
Credits: Allen
Written by: Nadene Law (Year 2) and Joshua Suwe (Year 2)