As promised, Team Law has delivered yet another outstanding finish to land ourselves another medal! Promising results from this year's IFG Atheletes. Check out all the thrills and spills as we bring you the final roundup of the season.
Table Tennis
6 Months after emerging victorious in the highly competitive Lawmed games, the Law table tennis team entered the IFG scene, ready to smash their tiny white balls into all who stood in their way. Alas, just before the competition, the team was decimated by a spate of withdrawals -through a combination of injuries and random last-minute commitments (including a certain Yin-ing Low who had decided that Mallals was more worth her time). The end result was a team that went into battle with just enough players for 3 out of 5 matches (each match a best of 3 sets), meaning every single player needed to win their match in order to secure a team victory. With the team motto, "For shirt and glory!" at the back of their minds, the team made their grand entrance in the dank air-con-less MPSH2.
Engineering: 0-5 (2 walkover)
 Law kicked off their first match against perennial powerhouses Engineering. Y2 Captain Lim Wei-Qi led the charge in the men's singles and was promptly demolished 2-0, as he came to the rude awakening that playing against the likes of Kashib Shareef and Phoon Wuei in the BTC lounge was not nearly enough training for the crucible that was IFG.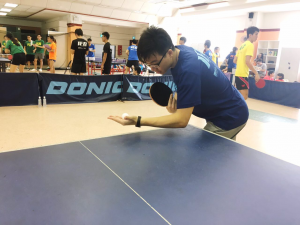 Stung by this ignominious defeat, the team set off on the path of redemption by engaging in the traditional pastime of IFG teams — beating up Dentistry.
Dentistry: 2-3 (2 walkover)
 It was at this fateful moment where Y1 pings superstar, Joshua Ng, stepped up to the plate. Deciding that he was done with the captain's incompetence, he requested wrested the heavy mantle of men's singles from Wei-Qi, proclaiming that he would "systematically dismantle Dentistry" and reminded everyone to "take notes so that Justified will write a glorifying article about me".
Only one of those two things happened.
And so Josh, brimming with confidence, faced down his Dentistry singles opponent, ready to play the match of his life that would get him immortalised in the annals of Justified. To his horror, it turned out — against all odds — that the Dentistry singles player was not simply some scrub who had picked up the sport last week, but the legendary 2010 Youth Olympics Silver medallist Isabelle Li…oh wait that was Yale-NUS. Suffice to say, Josh's opponent was actually a very decent player and not the pushover he was gleefully anticipating.
The match started slow, with both players gingerly testing the other's skill level. Dentistry then drew first blood with a skilfully placed forehand smash down the line and into Josh's soul. Josh was shook. He had come into this match with dreams of glory, but now he was fighting for his life. Not wanting to be cowed, he unleashed a few smashes himself (that flew out). Josh then decided to change tactics, bringing out his patented (cowardly) defensive playstyle.
On the sidelines, his teammates cheered him on, shouting in culturally inappropriate fake-Chinese accents. Alas, their efforts were wasted as Josh's defence proved to be more unstable than the bell curve at a Walter Woon seminar group. The rest of the set was a masterclass, except the master was getting outclassed, and it was with another precise smash that Dentistry took the first set in the men's singles. During the momentary time-out, even the honourable referee broke all covenants of impartiality as he tried to give Josh coaching advice (this actually happened) to stem the Dentistry onslaught.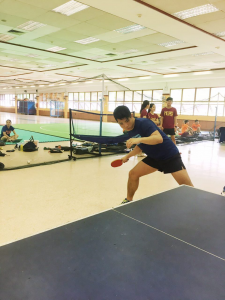 The second set saw Josh produce the fire that he was missing the entire first set, as he schooled his opponent with a barrage of topspin forehands that would have made Feng Tianwei proud. "COME ON!" he screams as he smashes home another backhand winner, taking the second set — "LET'S GO!", he shouts, but he's not specifying a destination yet.
The third and final set was do-or-die time for Josh and he responded to the pressure empathically (by going back to the defensive turtle playstyle that got him rekt in the first set). Perhaps he was planning to 'bide his time'. Perhaps he never recovered from the first set tilt. Needless to say, it didn't work. Thus, after three sets, Josh (and the rest of team Law cheering him on) was put out of his misery by Dentistry (of all opponents).
Meanwhile, Men's doubles Y3 Enoch and Wei-Qi (freshly demoted from singles) salvaged a sliver of pride for Law as they defeated their opponents 2-0, and Women's doubles Y4 Janessa Sit and Y2 Joan Chew likewise won 2-0.
In the aftermath of this crushing defeat at the hands of Dentistry, Josh pleaded "prior engagements" and withdrew from his remaining matches in the afternoon. But not all hope was lost as Law still had a trump card who was on his way to save the day.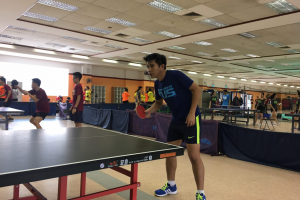 Medicine: 0-5 (2 walkover)
Life is tough when you're up against Medicine in IFG.
Life is even tougher when your team's 'trump card' turns out to be Darren Low Jun Jie.
USP: 1-4 (2 walkover)
In spectacular fashion, Y4 Darren 'Timo Boll" Low continued his "we played a good game but still lost" streak as Men's doubles Darren and Enoch took a set off their opponents but ultimately lost. Men's singles Wei-Qi scored a victory against his opponent while Women's singles Joan, despite a valiant effort, got crushed by her USP opponent.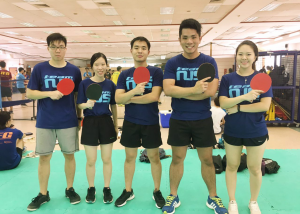 With that, the championship dreams of Law Table Tennis were duly postponed to the 2018/19 season. Even though the team was not at full strength and suffered crushing losses, we take solace in the lesson of humility, and the fact that Josh's exploits against Dentistry will forever live on in Law IFG pings legend.
Contract Bridge
It was third time lucky for the Contract Bridge team, which for the past 2 years had missed qualifying for the finals by the slimmest of margins. The team, comprising of disgruntled veterans Simon Poh (Y3), Kenji (Y4), Shaun Lim (Y4) and rising star Nigel Cheong (Y1), resigned themselves to spending an entire weekend together in a stuffy MPSH4, having no expectations of themselves whatsoever. It was exceptionally tiring as the Law team was the only team to not have any reserves, as the faculty was (probably) too small to have enough people excited at the prospect of playing cards without being labelled as illegal gambling.
USP: 9-12
Our first opponent were the boys in (the much milder shade of) blue, the defending champions from last year who employed a motley crew of students, who were probably missed by their home faculties but had no other choice in the matter. They were led by Singapore's U25 player Kenneth Chan and national JC circuit player Benedict Lee. True to their reputation, they prevented us from benefiting from a healthy start to the morning, but were kind enough to not leave too deep a mark on our brains. We lost by a narrow margin of 3 IMPs (International Match Points, the "currency" for points in a bridge tournament. There is no limit on IMPs earned during a round, as each board contributes an amount based on individual performances). Perhaps fighting law first thing in the morning was too strenuous a task for the incumbents, who then had a series of unfortunate matches and eventually bowed out of the entire tournament.
ENG: 40-3
Our team went into Round 2 eager to recover from our slight deficit and faced the Engineering team who were filled with players who (honestly) did not know how to play the game, having only a week's worth of introduction to the mind sport. It was not easy playing against a team who wasn't even playing the game, so we were caught off-guard and conceded 3 IMPs to the opposing team. That being said, we did earn 40 of our own to win the round.
MED: 13-3
Struggling to rein in the food coma, we faced our eternal rivals who were angry at our players for defeating them so badly in last year's LAWMED event, it was said they had to self-treat their wounds. We won the round with a comfortable 10-point gap, although on hindsight we probably celebrated too early (see below).
YNC: 33-23
Round 4 was against the YNC team, who were our friends and trained together with our team on certain occasions (with Simon having a mysterious history with the opposing faculty, such that he was actually invited into their team picture). Perhaps this was why Simon caved in and conceded hard-fought points to make the round a close game. (He insisted that a win was a win, and it was true anyway.)
FASS: 38-14
Round 5 was against the FASS team, whose captain Tony Tan once played with Simon in the JC circuit. Putting their friendship aside, Simon and his team put up a good fight before Simon went to a side with the presidential figure to discuss post-war reparations.
BIZ: 23-5
Day 1 ended against the Biz team, whose captain Jonathan was also Simon's teammate in the JC circuit. The IFG event was basically a textbook example of conflict of interest situations, which Simon duly declared to his team and proceeded to prove it actually didn't really matter. We ended the day excited and hopeful, resting comfortably in first place. This was already better than any of the two previous IFG attempts.
SCI: 14-25
True to the pattern of having our morning ruined, we started Day 2 against the eventual champions from science. Nothing much is to be said, for nothing Law has in its books could stand against the might of a team full of established Contract Bridge players known in the JC and national circuits. If this was David and Goliath, David failed to live up to his reputation and failed to bring down the giants in a hard-fought battle.
SDE: 13-2
We then proceeded to recover our mental selves against SDE. After some friendly banter, the round ended uneventfully with a victory.
SOC: 17-1
With our entry into the semi-finals definitely sealed, we played against SOC, who did remarkably well, consisting of players who were relatively new to the scene but were able to bring down some giants to share a guaranteed spot in the semi-finals with us. This round was hence a relaxed round, since neither of us could really knock the other off the semi-finals spots either way. This didn't stop our team from winning with a convincing margin.
Semi-finals: MED (Loss)
We started the semi-finals against our rivals, who were eager for revenge and brought in their A-team of doctors to the game. Their reputation for precision helped their players rein in several crucial boards in the round and confused our players, who displayed questionable judgement (someone said there was a strong chemical smell, but perhaps it was just a cleaner and her equipment outside). Unfortunately, doctor handwriting proved to be the usual, and we were unable to provide an accurate score of our loss as we could not decipher the numbers on our score sheets.
3rd/4th placing: SOC (48-16)
Having nothing to lose and given this was our best showing in 3 years, we had our rematch against SOC and ended it quickly (so that Nigel could return back to his LARC memo). We finished our tournament run with a Bronze medal and a contented team.
Captain Simon would like to thank his crew of legal professionals for surviving 2 straight days of bridge without any rest or reserve, and will work with the team to figure out a way to return the favour to MED during the upcoming LAWMED event without using too much force, border-lining on multiple counts of battery.
Women's Volleyball
Excited to retain last year's 4th place position, the Women's Volleyball team was up bright and early for our first match of the day — against Medicine, the reigning champions. With two new freshies (Yixi Wang and Michelle Chua) in tow, the day was looking up for us.
MED: 0-2 (13-25, 17-25)
A minute before the game's starting time, the team decided to change strategy and decided to wear out our opponents' nerves. And that was exactly why star player Julianna Ho (Y2) and exchange student Isabelle Ong were half an hour late for the match. Keeping in mind that the team only comprised of 7 girls, the 2 absentees effectively stalled the starting time and kept Med on the edge of their seats.
So the game went on and the team lost! However, that was not the important point. Law had put up a tough fight against the fully knee-padded team and their relentless spikes to go down admirably in both games.
DEN: 2-0 (25-7, 25-4)
After 2 hours of rest and digesting our lunch, the team was ready for some serious smack downs and vengeance. Unfortunately, this aggression was channeled towards the pitiful (and truly harmless) Dentistry team. Our goal for the match became to win without Dentistry scoring double digits, which in retrospect was unpalatable, seeing as Dentistry was so happy whenever they managed to hit a ball over the net. However, we later redeemed the altruistic reputation of lawyers (see end of this article).
In the meantime, competition demanded for a little cold-bloodedness, Captain Yin-Ing Low (Y2) dealt a grand total of 14 serves in a row without much opposition from the other side of the net and both games were easy notches on Law's belt.
ENG: 0-2 (very close i.e. "Why is this rally so long, can it stop?")
Every story has a climax and this game was Team Law's. Having both fallen to Medicine, this was the semis qualifying match for both Law and Engineering. The games were intense, with neither team ready to give up the ball without a fight. In fact, Law's three extremely under-attended trainings and lack of conditioning left us lacking in stamina. Power hitter Kethlyn Gayaratiri Koh (Y3) was overheard complaining (see quote above), amidst a point and right before she smacked the ball back to the other side.
From an anthropological perspective, the match was an extremely interesting one. Engin kept yelling "接好", "慢慢" and "把握", which when mirrored by seasoned JC players Yixi and Juliana, was met with blank stares and 'whaaat?" from Yin-Ing. Therefore, Law regressed to a more primal form of communication — utilising varying pitches of screams and squeaks when informing team members that a ball was coming.
Unfortunately, despite our valiant efforts, Team Law ceded the game to Engin after a long 45 minutes.
COM: 2-0 (Law's self-declared "for fun" match so who cares about the score)
Having lost our chances of proceeding onto semis, Team Law was in the mood to cheer themselves up. Setter Juliana decided that she wanted to finally put her spiking power to use and entrusted not-a-setter Yin-Ing with the position of setter for the next match. The outcome of this experiment? Team Law won, Juliana has decided that she likes spiking a lot and has convinced Yin-Ing to start training as the new setter, aka please send good thoughts to Law for their matches in LawMed.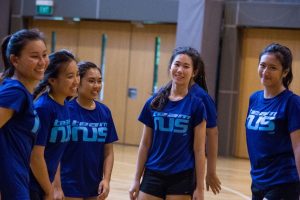 After retiring for the day, Law decided to stay back for a bit and cheer on the persistently happy Dentistry for their match against Engin. The team then carried on its friendly streak and made friends with the photographer from Computing who provided Law with the amazing photos (all picture credits to http://kianweeyeo.wixsite.com/kwsphotography).
The team would like to thank supporters Jyh Howe Foo, Jeremy Songern Ng, Utsav Rakshit and Rakesh Vedam for coming to watch and joining us for post-IFG indulgence. No thanks to Maverick Tan (Y2) and Yap Shi Kai (Y2) for ball-hogging. Captain Yin-Ing would also like to personally thank Michelle Chua (Y1) and Alison Lewis (Y2) for that last intense training and Norman Aziz (Y5) for coaching them.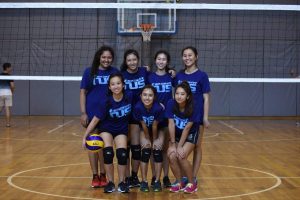 Catch us next year for our climb back to the semis!
---
And with that, Team Law has shown much fighting spirit and determination in achieving a respectable position on the medal tally (and of not finishing last).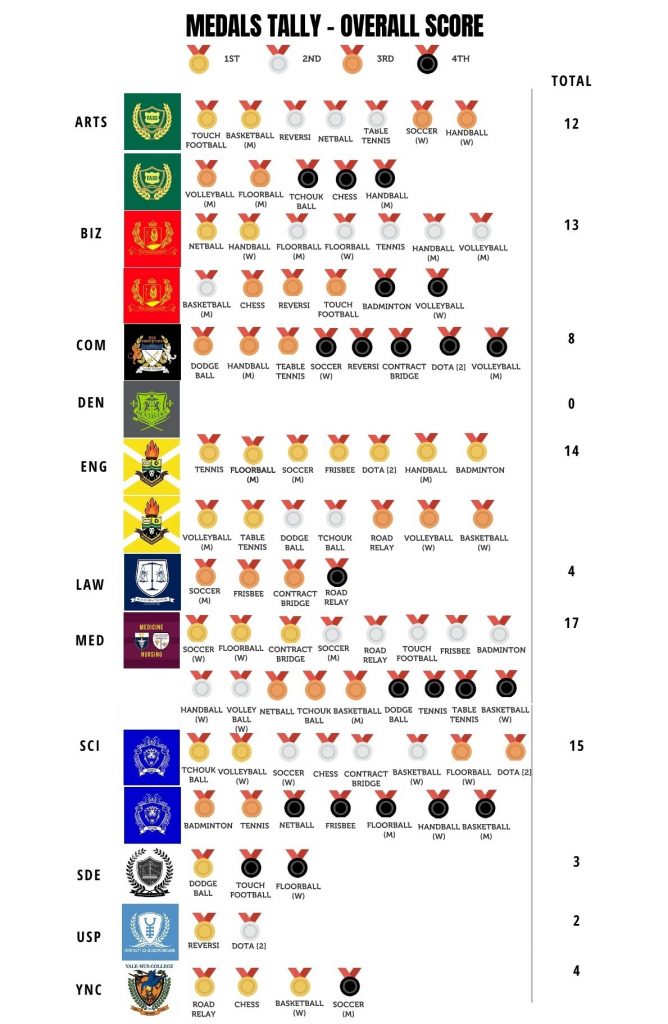 Kudos to all our teams for the amazing effort and to all the captains who have contributed to bringing you the highlights the past few weeks! This wraps up the IFG 2017 season but it's not the end as our teams continue to train hard for the Lawmed games in hopes of taking home the Lawmed 2k18 trophy. Stay tuned folks! Thanks for reading.