On Sunday 24 February, I caught the well-anticipated musical Valediction, produced by the graduating batch of NUS Law students. It is a long-standing tradition for the Year 4s to stage a musical, also known as Law IV, for a good cause. This year, all proceeds from Law IV will go to Hagar Singapore, a non-profit organisation dedicated to helping human trafficking victims in Singapore. You can read a behind-the-scenes account of the wholly student-run musical here!
LAW IV 2018: Valediction is set in an alternate Singapore, where the government has developed an algorithm which allocates an entry-level job deemed most suitable for each graduate. Only the Valedictorian will have a choice over his future prospects. At the same time, each graduate is also born with something missing. These missing features all come into play in the characters' bid to become Valedictorian in the School of Logic, Arts and Work (LAW School).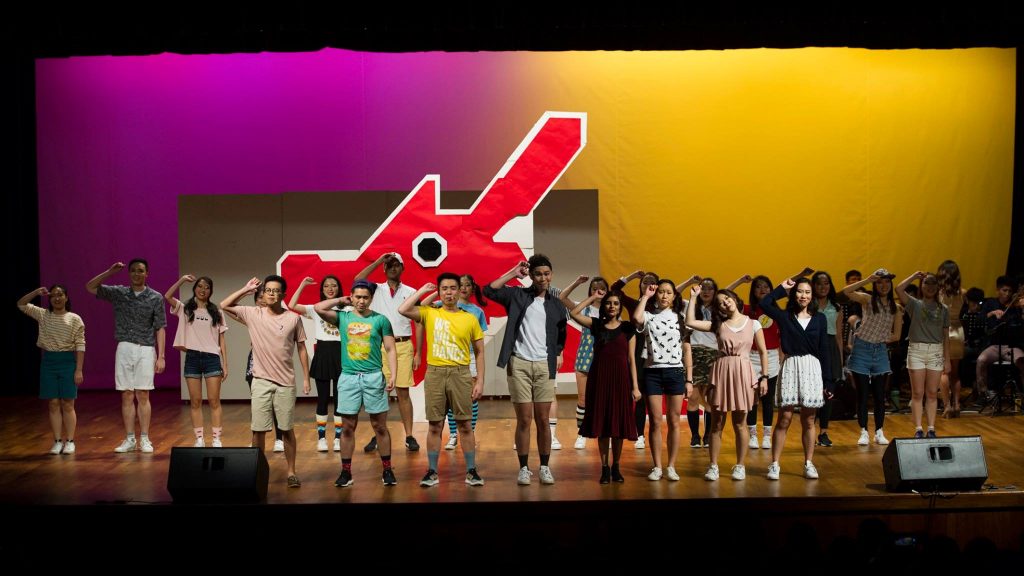 The musical opens with a flashback of the characters in primary school. Against a backdrop of Singapore's iconic dragon head playground, Emily (played by Nadene) meets a group of kids (played by Marcus, Bertrice and Aniket) and asks if she can join them. Unfortunately, she is bullied for her inability to dance and her quiet demeanour. To add insult to injury, she even gets her teh ping taken away. However, justice is but a short while away, as Tehlor (played by Janessa) appears and dismisses the bullies with extraordinary confidence and mettle. This fateful incident sows the seeds of a close friendship between Emily and Tehlor.
Cut to the next scene, and we see Victoria (played by Kinnari) having difficulty making friends with others, as she is disliked for her inability to empathise with others. She then meets Jamie (played by Yeung Kai), who himself is missing a sense of identity. They strike up a conversation and Jamie kindheartedly allows her to play with his toy. For the first time, both find comfort in being able to relate to someone as a "friend".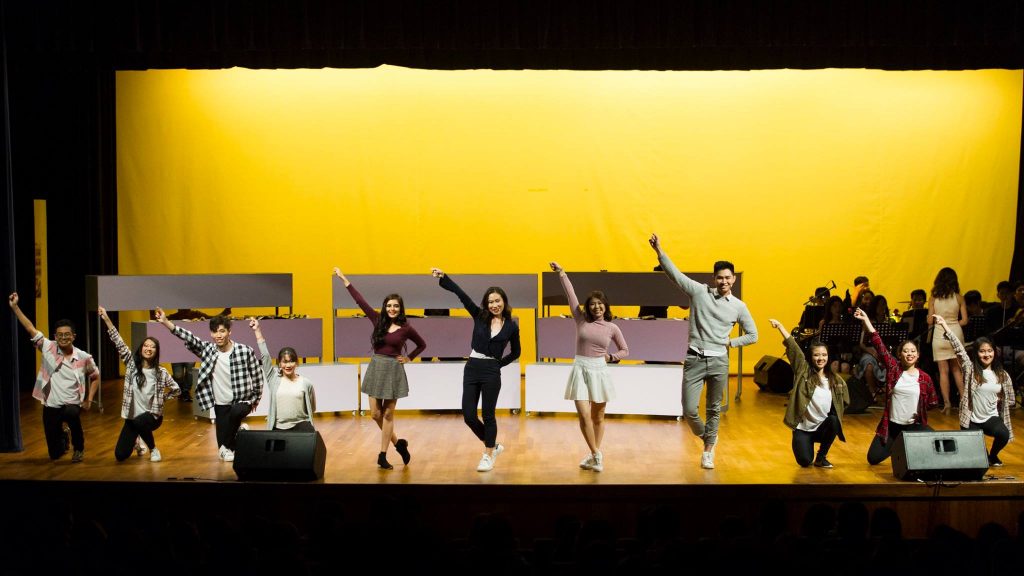 Years later, the four characters cross paths again in the School of LAW. They go through their first lessons in LAW School with the serious Tutor Tan (played by Chelsea), who introduces them to the algorithm and the exception. One of the classmates, Hugh (played by Jethro) takes an interest in Tutor Tan, as they both share the same lack of humour. However, Hugh is all too intimidated by his tutor and finds himself at a complete loss for words other than, "Teacher, I need go toilet!"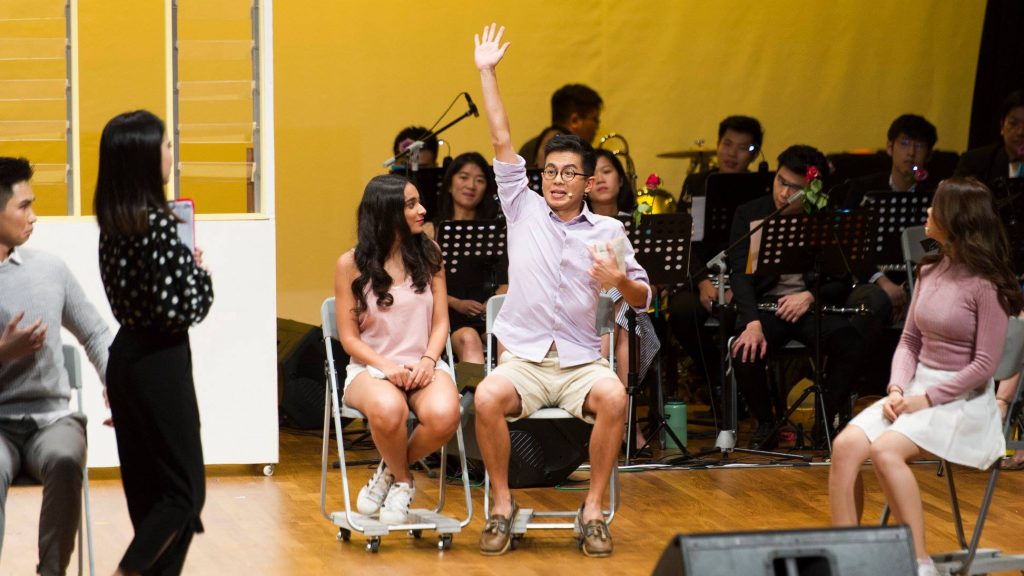 And of course, the students have their faire share of lessons. They soon learn that in LAW School, "snaking" is not merely an adjective used to describe the queue outside the Student Services Counter, for tickets to the National Rounds of the Jessup Moot Court Competition. Tutor Tan describes, to the horror of the students, the lengths that people go to to outdo others — some would take students' items, steal notes from others' letterboxes or God forbid, sneak worms into another's caipng. On our part, we hope that's not a valid reference to what goes on in the Summit.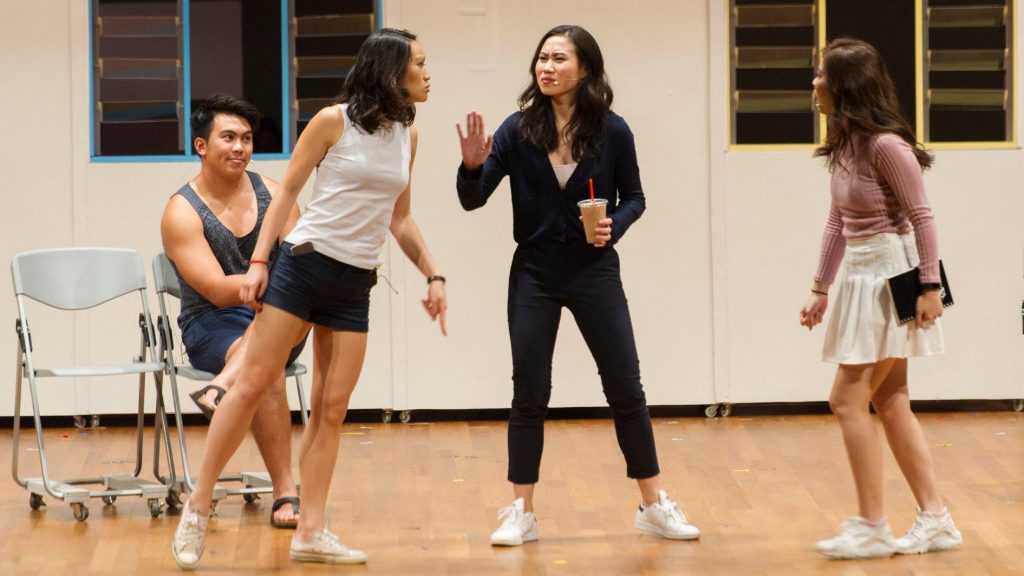 The students' friendships were thereafter tested to see if they could withstand the test of time. We see their struggles as Emily grows increasingly annoyed at Tehlor for her narcissism and tactlessness. She meets "the buff person and the guy with no thumbs", the dynamic duo that is Harriet and Jotham (played by Elizabeth and Russel). The duo shows an understanding for Emily's frustrations, encouraging her to face her problems by going to dance classes together.
The turning point occurs when Tehlor unapologetically makes fun of Emily's newfound friends for their missing brows and thumb, as Emily holds her own grounds and stands up for them. Meanwhile, classmates Jasmine (played by Sarah) and Hugh eagerly watch the drama unfold.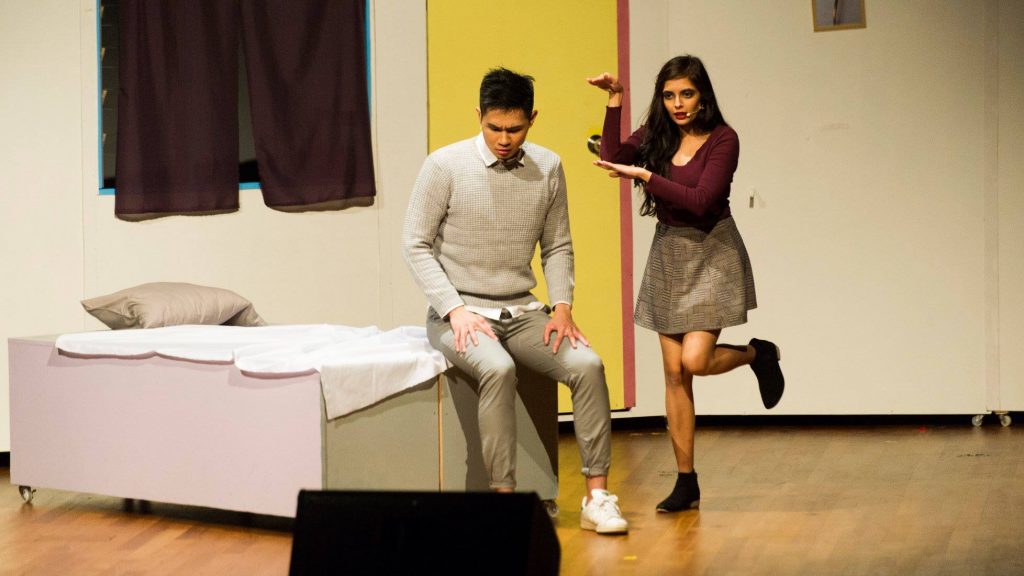 Victoria has now acquired a steely resolve to do whatever it takes to become Valedictorian. Upon finding out that a popularity poll on Eavesdrop (LAW School's Facebook group) is indicative of the next Valedictorian, both Jamie and Victoria decide to boost their popularity in school. Much to Victoria's dismay, Jamie easily fits into all the different cliques of friends in school. Realising that Jamie may win the poll and derail her from her goals, Victoria exposes Jamie to be a fake with an anonymous post on Eavesdrop, causing Jamie to become the most despised person in LAW School overnight.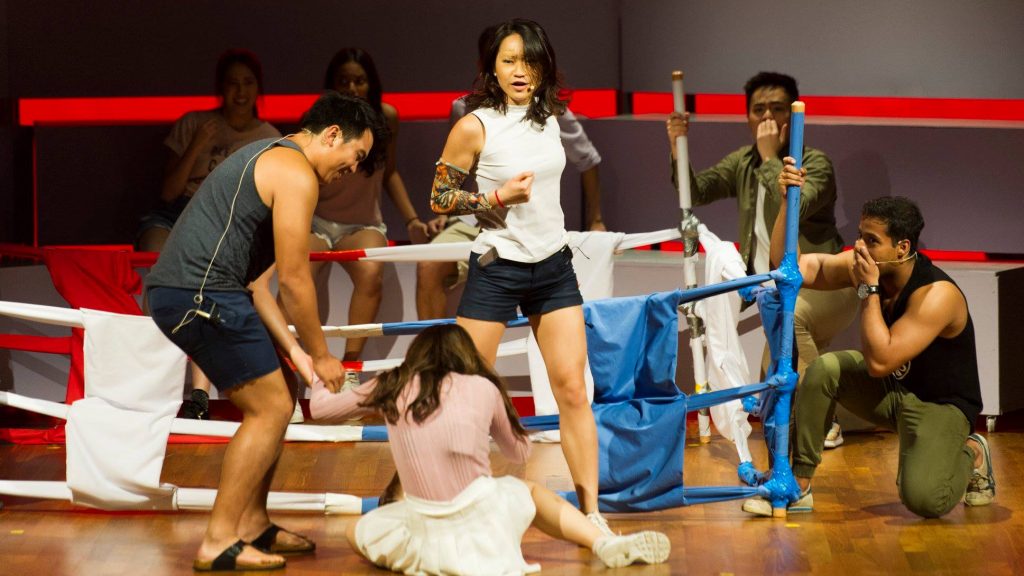 These conflicts soon began to spiral out of hand. Harriet and Jotham conspire to (and eventually do) shave off Tehlor's on fleek eyebrows, an extreme attempt at letting her have a taste of her own medicine. As tension hangs thick in the air, Emily and Tehlor individually meets up with Jamie, who calls them out for being hypocrites in failing to accept their own flaws.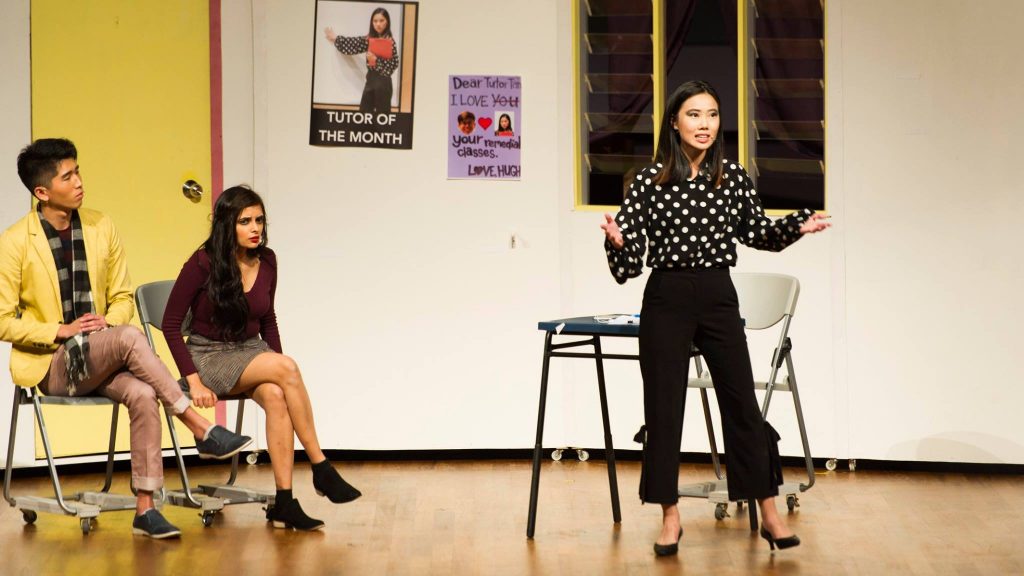 Eventually, the final exam comes around. Each character, in their monologue, reflects that they might have made a statement — but at what cost?
Later, Victoria learns that the school has decided to name her the Valedictorian, but in her questionnaire, she left the "preferred career path" question blank. She learns from Tutor Tan that "freedom" is apparently not a career choice.
In a big plot twist, Victoria discovers that her father was not the Valedictorian, as she had always thought he was. Her father (played by Elliot) admits that he could not stand living a life he did not desire, and switched careers out of his own will. This brave choice makes him a success story out of all the cautionary tales of those who decline the career that the algorithm deems to fit them best.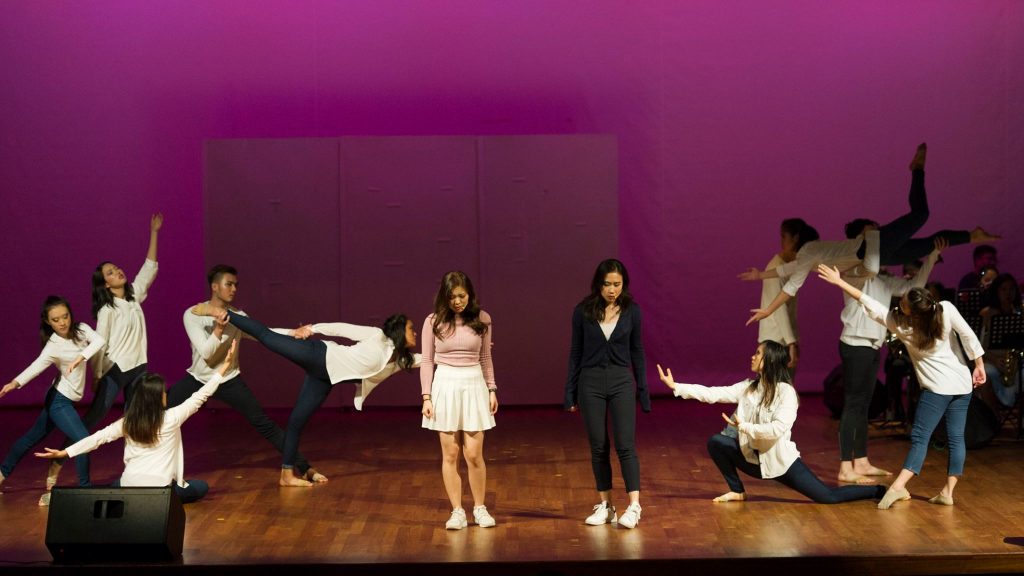 As graduation nears, Tehlor and Emily patch up their friendship, and Victoria tries to mend her friendship with Jamie. It is at this moment that Victoria reveals the school declined to make her the next Valedictorian, due to her reluctance in completing the questionnaire. The play ends on a suspenseful note as the audience is left wondering who the next Valedictorian may be.
Overall, I very much enjoyed witnessing the development of the cast, particularly Victoria. As the antagonist without a sense of empathy, Victoria was a cold and scheming character who manipulated others to her own advantage, even betraying her best friend in the process. Victoria's resentment of those around her seems fuelled by the desire to attain the same perfect image she had painted of her father, who she thought was the Valedictorian of his batch.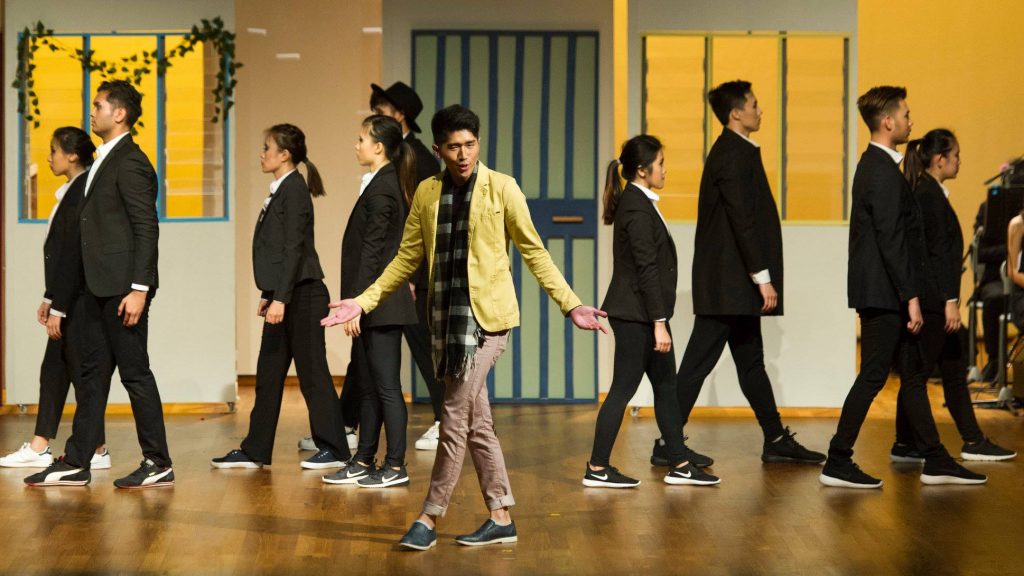 In the musical number Working Day and Night, Victoria's father struck the audience as the only employee who was enjoying his work. His multi-coloured attire, which was an obvious contrast to the other jaded employees decked out in the standard black-and-whites, further drove home his energy. The dance break in the song featured a solo "popping" sequence, which was not only an impressive display of dance skill, but also aptly encapsulated the "robotic" routine work associated with corporate life.
Personally, this routine made me feel sympathy for Victoria, as it was clear that she was inspired by her father to escape the seemingly grim fate generated by an artificial algorithm.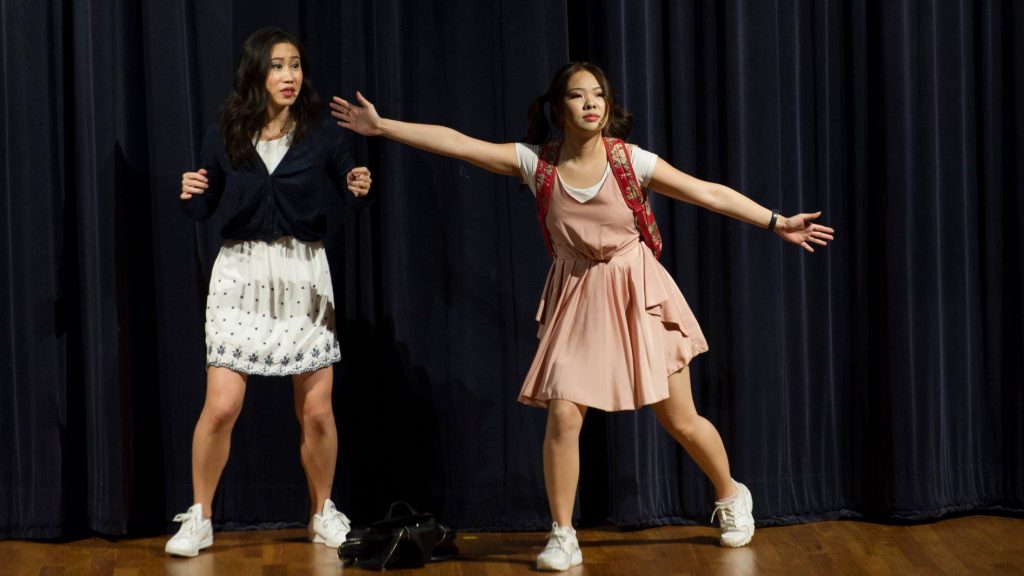 Tehlor was also an interesting character as her flaw was a double-edged sword. She was brave and daring, but at the same time, missed out on a lot of social cues, inevitably causing her problems. Despite her tough exterior, Tehlor was afraid of being left out by the few friends she had made, and desires to be Valedictorian to follow her friends. When I had the chance to speak to Janessa, I learnt that she was initially apprehensive, as the character was way bigger a diva than she had imagined. Her fears were however, unfounded. It was indeed an impressive performance that portrayed the role of Tehlor very realistically.
Emily, on the other hand, wanted to be Valedictorian to bridge the gap between her flaws and her dreams of becoming a professional dancer. While she finds a friend in Tehlor, she grew annoyed at her insensitivity as well, but felt that ultimately, she valued their friendship. During our previous interview, Nadene let in that "Emily is an exaggerated version of me, as she goes by the book. Even Emily's allocated outfit choices are what I would wear." For her performance at LAW IV, it was clear that despite having two left feet, she still got something right.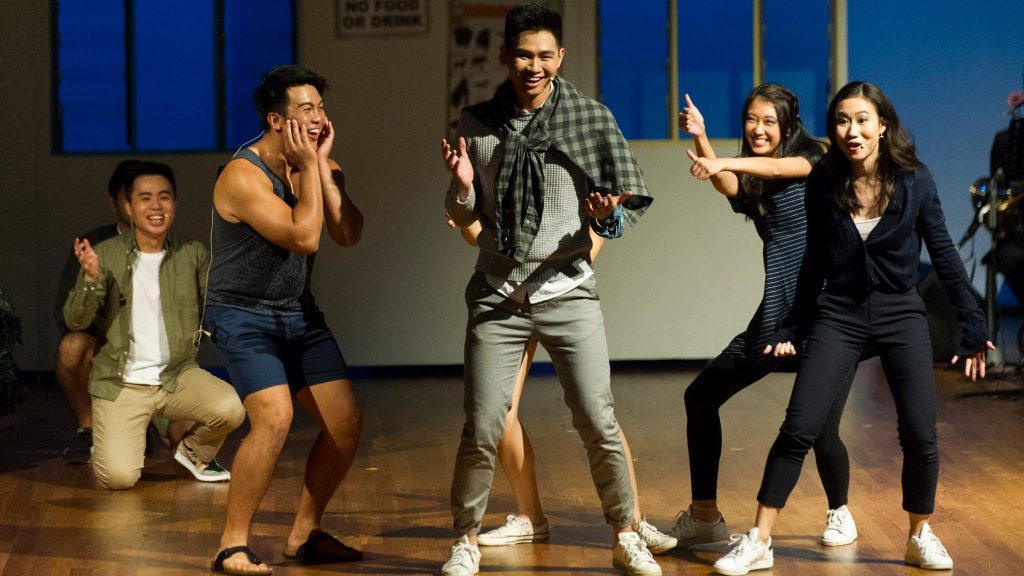 As for Jamie, he was easily influenced by others. Personally, I found him to be the most relatable. His character was a physical representation of the innate fear one feels of failing to find a sense of belonging. Jamie is a reminder that while we are unique individuals, we are still students who are finding our place in law school. Sometimes, it would be helpful to be kinder to one another and help a friend in need.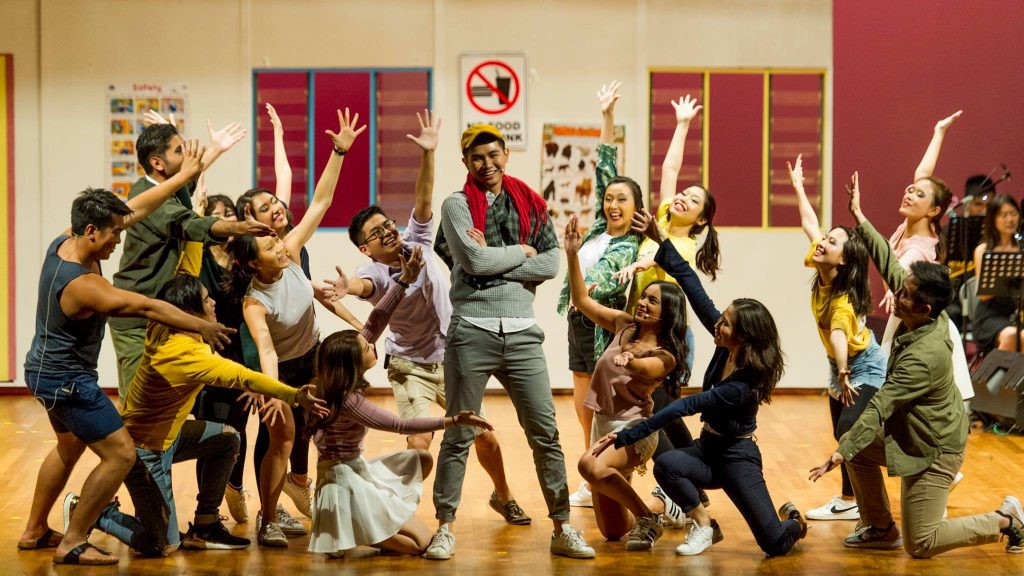 In addition to the fine work of the cast, I was also awed by the technical aspects of the show. During Jamie's attempt to increase his popularity at school, each group of friends donned on him a "physical identity" in the same colour as the costumes they were wearing, a symbolic affirmation of Jamie's sense of identity. From the thematic costumes of the dancers to the similar costumes worn by the younger and older versions of the cast, it is clear that a great deal of thought had been put in by the make-up and costume teams.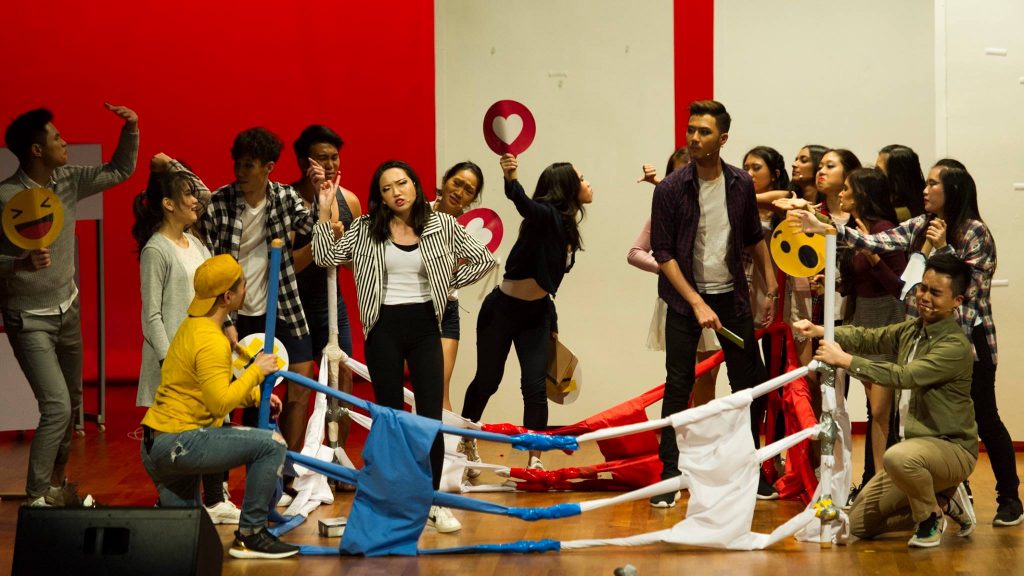 There was also an impressive use of sets, props and music. As the audience anticipated a "fight" to break out on Eavesdrop, the stage lights dimmed just as bright red lights started flashing. The band played action music as the actors whipping out a fighting ring, endlessly chanting, "FIGHT! FIGHT!", while waving Facebook react icons in the air.
For what it's worth, Justified agrees that this was a great satire of Overheard culture.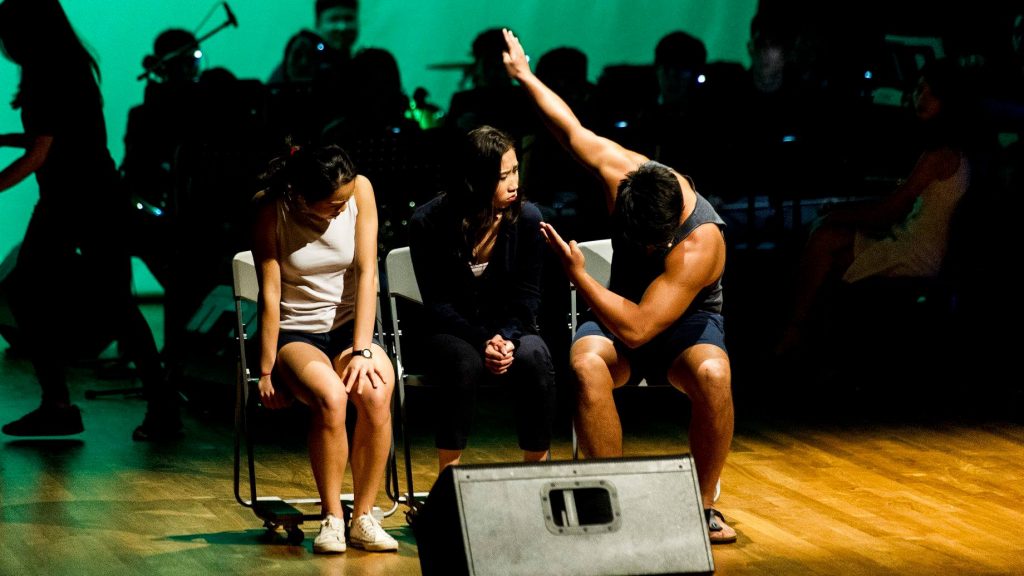 Undeniably, Valediction was an exaggerated version of law school where the writers had tried to include nuggets of law school life into the lives of those at School of LAW. Each person in law school carries with them their own talents and quirks. Despite our differences, one thing we all have in common is a desire to make our time here fulfilling. Perhaps, some people even learn to embrace their flaws in a fashion like Jotham's — babe, these guns don't need a trigger!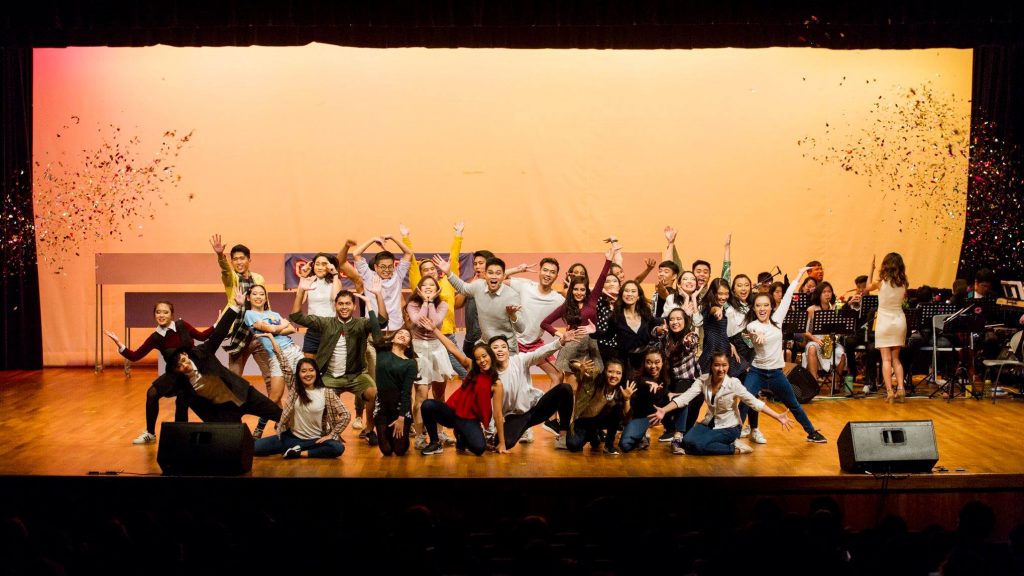 Beyond the laughs, LAW IV 2018: Valediction is a farewell song from the Class of 2018. It is one which sings the meaningful story of self-discovery and life as more than a rat race. Congratulations to the faces behind LAW IV 2018, you all are Valedictorians in your own right!
This is Part 2 of a series of post on LAW IV 2018.
Photography by Leung Liwen.